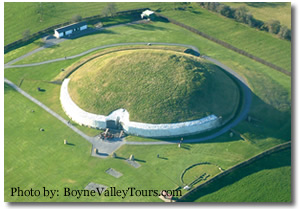 For something off the beaten path that may lead to a lifelong hobby, consider exploring Ireland's Neolithic past. The equipment is simple: sturdy walking shoes and a rain slicker layered over a sweater and your favorite camera. Why would anyone track the Neolithic in Ireland? Lots of reasons! First, the great Boyne mound assembly is famous, it is a UN World Heritage site holding the majority of Europe's prehistoric rock art. Second, most passage mounds have a high location with spectacular views and require only a moderate hill climb to access. These ancient sites are in the countryside where you are likely to interact with local natives. You can arrange to stay in lovely and unique country house hotels with a welcoming hearth and fresh cuisine. After dinner, enjoy the craic and trad music down the lane at the pub. There you may meet a ghillie who will gladly show you the fine points of local fishing, or you may learn of a links golf course nearby that will provide an uncrowded, relaxed round.
And finally, if you are in Ireland to find your roots you will have searched as far back as possible. The passage mound tradition began prior to the fourth millennium BCE. If you are one of 40 million plus Irish-Americans you may well share DNA with the bones honored at these ancient sites. Your surname may itself be thousands of years old.  If you can't find ancestors due to missing records give this a try. This experience literally goes to the bone.
Let's begin at the beginning, at the northwest coast. Though older sites have been discovered, the Neolithic village uncovered at Ceide Fields in north county Mayo starts at a good point in the human story for our purposes. This huge stone-walled field system of almost 6,000 years ago lies now under blanket bog at high cliffs along the churning coast. An award-winning modern interpretive center helps understand the pastoral culture that built the stone houses and cleared the fields and probably introduced farming to this area of Eire. The early farmers also may have introduced the first stone tombs. Pay attention, you'll soon see why that is important. You can google further information at http://www.heritageireland.ie/en/west/ceidefields/ and other websites. Portumna Castle, Boyle Abbey, and sights of more recent vintage are a comfortable drive if you wish to add variety while you are in Mayo.
That evening's delightful rest can be taken at sumptuous Newport House, or Enniscoe House, or Mount Falcon Castle, or any number of smaller country house hotels close to Ballina. Eat as much fresh wild salmon as you can get your hands on and preferably with the healthy brown bread. The morning's full Irish breakfast will tide you over for exploring and climbing to stunning megaliths as you head north to county Sligo.
Carrowmore megalithic "cemetery" has a concentration of small stone passage tombs dating to 4000+ BCE. The early, simple portal dolmen and court style of stone tombs elaborated. Passage entrances were an experiment. Several tombs line up with distant tombs on the horizon and hint of alignment with the skies. The visitor center, like most in Ireland, provides excellent flyers that you can read and use during a guided tour or to walk the area on your own.
Carrowkeel to the east in Sligo provides unforgettable views. Perched above an ancient stone village and Lough Arrow are large mounds with unmistakable passages and clear orientations to the sky. The astronomy, the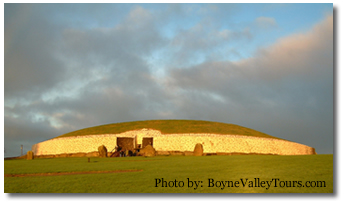 starwatching, had taken hold with the people who built these. This venerable landscape of passage mounds marking high places holds many secrets, empirical knowledge that is still being deciphered. If you can tear yourself away from a spot that connects your bones with both earth and sky and makes you feel conscious as never before, head southeast to county Meath.
Leave your bags at Johnstown House and venture to Loughcrew. Here the view sweeps literally to the Mourne mountains in the northeast and the Wicklow Mountains to the southeast. On a summer day the intense green of the plains below vibrates. Immense mounds with stone-lined passages dot these heights, called The Storied Hills. Modern archaeology no longer scoffs at the equinox and solstice lovers, the amateurs who frequent these mounds to watch light sweep over intricately carved backstones on certain solar dates. Here the ancients captured light and time itself into a calendar of seasons. Time your visit to have a tour for some of the mounds can be accessed by the public with a guide. Plan to spend at least a half day exploring.
Lidar technology is less invasive than excavating and can show hidden landscape features and patterns, what features are intervisible from these elevated megaliths. It may never be possible to understand what the ancients knew of the solar system after thousands of years of starwatching but science is at last giving it a go.
If the views from Loughcrew haven't raised the hair on your neck and your skin to goosebumps, you should eat some more wild salmon. The cheese plate after dinner at Johnstown House is also excellent and another fine Irish dining tradition. Sleep well, and tread softly in those dreams. The next day you may choose to visit Loughcrew a second time to better absorb its features, or journey on to the biggest passage mounds in all Europe.
Don't be put off by the narrow, twisting roads to reach the Boyne, or Newgrange as it is called though that is only one of the three major mounds set in a rough triangle at a great bend in the river Boyne. Park at the modern visitor center and arrange for admission to Newgrange mound and the tour at Knowth mound. It's hard to adequately describe the experience. Newgrange consists of hundreds of tons of layered turves (sod), clay, gravel, and stone slabs. It is simply enormous as are the other two mounds. Once you recover from the visual surprise, your tour inside impresses again. Through a passage 19 meters (around 60 feet) in length, one steps into the central chamber that rises to a height of almost 20 feet. That long stone passage and the inner chamber's orthostats (upright slabs) were constructed to stand independently. The passage and chamber have not one but 2 ceiling systems of stone built to keep off the weight of the overlying mound. The corbelled ceiling in the inner chamber usually drops the tourist's jaw for its simple but beautiful design that has kept this "passage tomb" dry for over five thousand years.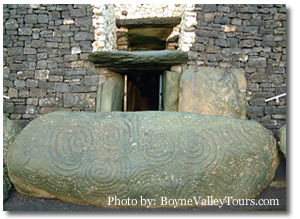 Newgrange, Knowth, and Dowth have stood since before the pyramids in Egypt, and Stonehenge. How did these great mounds come to be called "elfmounds"? That is some piece of propaganda! One answer may be the arrival in around 2200 BCE of metal-using traders, warriors who introduced horses, a new pottery style – and unfortunately, the long bronze knife for warfare. Along the north Atlantic coasts of Spain, Brittany, and Ireland, the megalith culture of astronomy lovers, the peaceable starwatchers, appears to decline or change once metal users arrive on the scene. These invaders chasing copper and gold are not distinct genetically but they leave a trail of abandoned and in some cases destroyed megaliths. A new culture and new beliefs; suddenly the engineered mounds that focus on the skies fall out of fashion only to be later dismissed as the home of elves and fairies.
From the Newgrange visitor center you are close to the battle of the Boyne and may want to make the short loop there in pilgrimage, or at least ponder the enormous significance of this area through all of Irish history. Tara is a short drive to the southwest and has a small Neolithic mound on its summit. An excellent Meath-based service is Boyne Valley Tours who can escort you to the sites of Loughcrew, the Boyne, Fourknocks, and many others. http://www.boynevalleytours.com/
On your way out of Dublin, do visit the National Museum on Kildare Street to see the polished stone axes, and the earliest copper axes and daggers in western Europe, and objects in dazzling gold. Many of these items come from the Neolithic sites that are fresh in your mind and will add depth to the experience. Weeks and months later, you may find yourself dreaming of starflung skies and joyous dancing around bonfires after a starwatch that took place in a pastoral, gentle and ancient era. You may find yourself buying a telescope or joining an astronomy club. After all, it is said we humans are made of stardust.