St. Petersburg is a city that has made one of the most remarkable urban turnarounds in American history.
I used to travel to St. Petersburg occasionally on business in the late-90's. Back then, it seemed a somewhat nondescript small city without a bustling business scene…but with an aging infrastructure and a quiet downtown after the sun went down.
But when I began visiting St. Pete (as the locals call it) again in recent years, I was astounded at the reawakening that had taken place in the previous years.
Today, St. Petersburg is a true-to-life story of a Great American Urban Revival. And it's now one of the coolest, most interesting, most vibrant cities in America. Something new and exciting – whether in the arts, the business climate, the foodie scene, the festivals, and special events, or the attractions – is always happening here. And along with neighboring Clearwater and Clearwater Beach, people from all over America are now visiting here.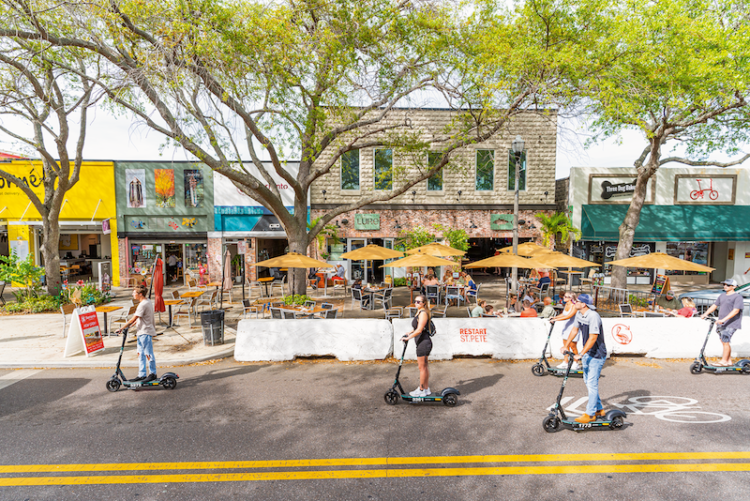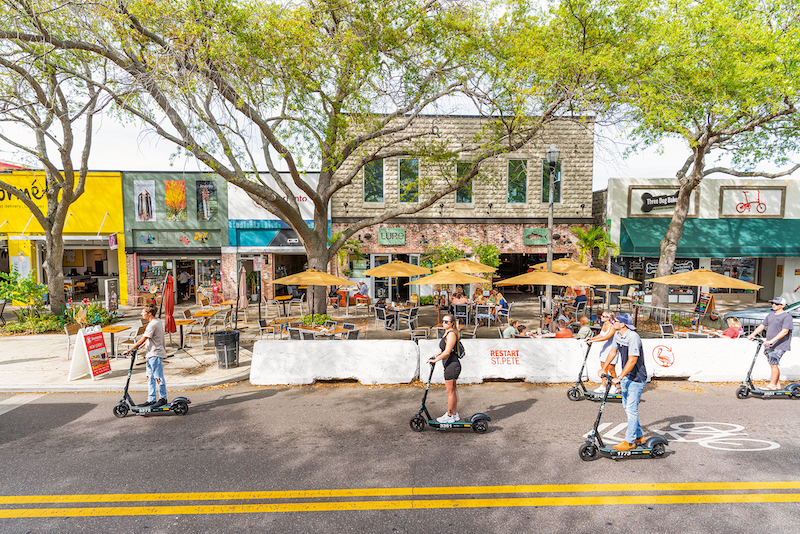 St. Pete is virtually a brand-new, youthful city, thanks in part to graduates of the local campus of the University of South Florida who've remained here. And in the process, their vitality and entrepreneurial spirit have contributed to the creation of this new St. Pete.
Those once-decaying downtown buildings have been beautifully restored to their original classic or Deco looks, and now house innovative start-ups and entrepreneurial ventures. And these once-drab streets are now filled by artisans who've created one of America's most exciting "street art" scenes. Central Avenue, once dark and quiet at night, is now lined with stylish restaurants and bars, interesting food halls and nightclubs, and very cool shops, in addition to those innovative young companies. And it's now filled with people, day and night.
Especially on the first Friday night of each month from February to November. That's when local residents celebrate "First Friday," a much-loved local tradition that's back after a COVID interruption. On "First Friday(s)," part of Central Avenue is closed to traffic, and lined with vendors, food trucks, street artists, special deals at restaurants and bars, samples of wonderful craft beers from a new wave of local breweries, and an atmosphere alive with laughter and fun.
The neighboring community to the north, Clearwater, has its own attractions, as well, both on the land and in the water. And it's the other partner in a region gaining great recognition.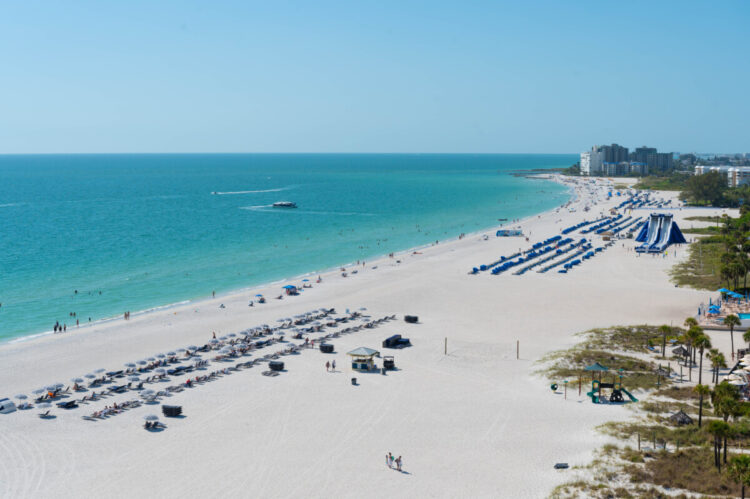 Although the St. Pete/Clearwater region has changed dramatically in recent years, it still retains one of its original treasures. St. Pete and Clearwater each front beaches to which people travel from all over America, and both beaches are consistently ranked among the best in the U.S. In fact, last year the region received more than thirty awards for its 35 miles of pristine white-sand beaches. TripAdvisor recently named three local beaches (Treasure Island, St. Pete, and Clearwater) to its list of the Top 25 in America.
You'll have wonderful weather in which to explore the beaches, too; St. Pete averages 361 days of sunshine each year and actually holds the Guinness World Record for the most consecutive days of sunshine. This beneficent weather, by the way, also helps make St. Pete and Clearwater great walking towns.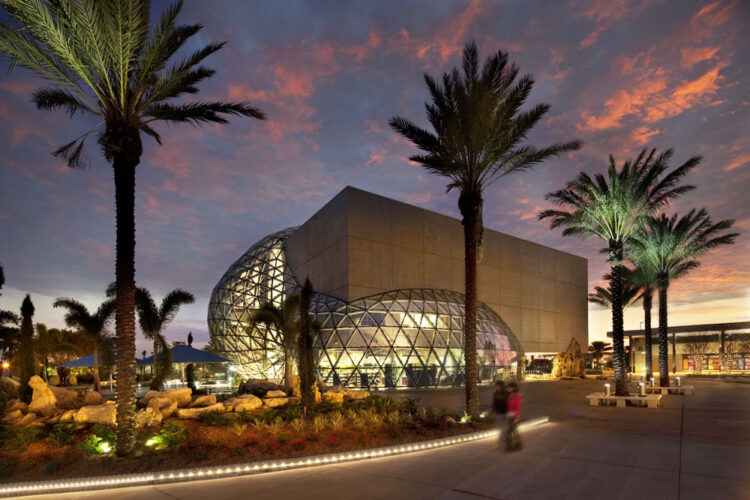 St. Pete has a ton of great cultural facilities for a city its size. In fact, it boasts one of only six Salvador Dali Museums in the world. This striking building, called "The Dali" by locals, is a building just as provocative as the works of its namesake artist. There's also a museum here housing the works of Dale Chihuly, widely considered the greatest glass-artist on Earth. Here, extraordinarily-hued colors and figurines will lead you to treasures each seemingly more stunning than the previous one.
The modernistic Morean Arts Center offers brilliant contemporary art, along with separate clay and glass facilities with up-and-coming artists. Other noteworthy local museums include the aptly-named Imagine Museum and the brand-new Museum of The American Arts and Crafts Movement. And interestingly, here, a few thousand miles from the sagebrush and canyons of the Old West, is the wonderful James Museum of Western & Wildlife Art.
In fact, St. Pete boasts more than thirty museums, performing arts companies, and cultural facilities, and "Conde Nast Traveler" recently highlighted this city in an article about small cities with big cultural scenes.
One of the region's newest – and most popular – attractions is St. Pete Pier, just opened in late-2020. This is a year-round outdoor venue filled with culinary treats and great local experiences. It encompasses 26 acres on the downtown waterfront, combining the blue waters of Tampa Bay and the brilliant greenery of downtown parks. Here you can bike, walk, jog or swim. And you can relax at more than half-a-dozen cool restaurants and bars, shop for unique gifts, listen to great concerts, browse funky artworks and sculptures, take the kids to the watery experience called the Discovery Center, or just soak up the warm Florida sun …or the bright stars and moon.
Clearwater, too, has its share of fun things to do. Be sure to spend an afternoon at the state-of-the-art Clearwater Marine Aquarium, dedicated to the recovery and the release of sick or injured denizens of the deep. A ride on the Clearwater Ferry Water Taxi is also a "must" while you're here. So is Pier 60, especially for the kids. Here you'll find a 1,080'-long fishing pier surrounded by water slides up to a few stories high. And you can cap off your day here with nightly sunset celebrations highlighting interesting local artists, craftspeople, and street performers.
And if you enjoy sampling regional brews, St. Pete's 3 Daughters Brewing – recently named Florida's No. 1 Tap Room – has opened a new rooftop tasting room in Clearwater Beach. Here you'll find dramatic views of Clearwater Harbor and Pier 60, and on-site brewing producing craft beers, hard ciders, and hard seltzers only available here.
In  St. Pete/Clearwater, there's a lot to do here for sports lovers, as well. St. Pete is home to the Tampa Bay Rays baseball team, who were in the World Series just a couple of years ago. (And there's no such thing as a rainout at their home park, Tropicana Field…because it's a domed stadium.) The Tampa Bay Rowdies professional soccer team plays at storied Al Lang Field in downtown St. Pete, which was the spring-training home of the Chicago White Sox for more than half a century. And Clearwater's BayCare Ballpark is the home of the Philadelphia Phillies Spring Training camp and the season-long home of the minor-league Clearwater Threshers.
St. Pete/Clearwater's calendar is also filled with great music, art, cultural and ethnic festivals.  Major events include the Firestone Grand Prix of St. Petersburg, the Valspar Golf Championship, Reggae Rise Up, and Johns Pass Seafood Festival in winter; Tampa Bay Blues Festival and the wonderfully-Scottish Dunedin Highland Games & Festival in springtime; and Clearwater Jazz Holiday and SHINE St. Pete Mural Festival in Autumn.
Just how "reborn" is St. Pete/Clearwater? Well, "Travel & Leisure" recently named it one of the 50 Best Places To Travel In the World.