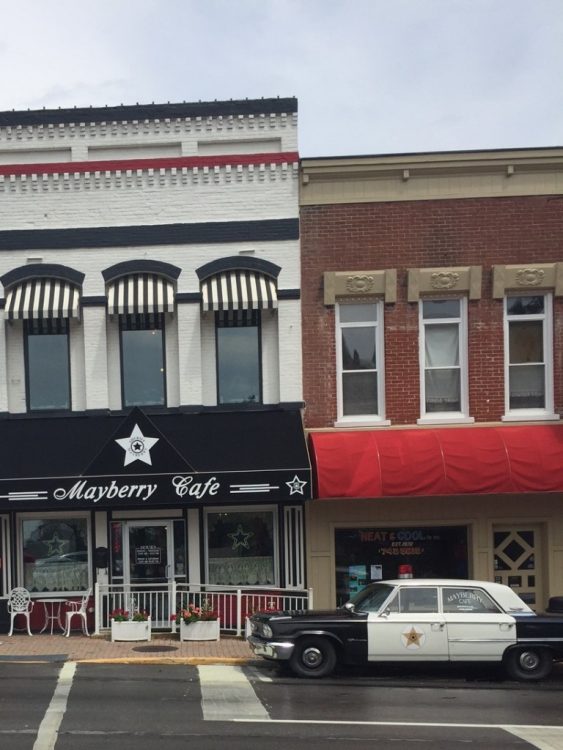 We learned about lovely Hendricks County, Indiana at a meeting for travel professionals so, when our 40th anniversary rolled around, it was easy to decide to take a few nights in this charming area which is an easy drive from our home in Lexington, Kentucky. We really knew nothing about the area so just put the address of the Visitor's Center in our map gizmo and let it take us right there. We drove right into downtown quiet Danville to the Mayberry Cafe, named for the famous Andy Griffith show, to meet up with Josh Duke from the local visitor's center, who we worked with when planning our trip. Anyone who loves this famous show will be familiar with the restaurant name and the many different, mouth-watering items on their menu. Parked in front of the restaurant is a police car, much like you would see when watching the show.
We have watched the show over the years and it was kind of thrilling to eat someplace that had Mayberry in the name. We went inside and settled in the waiting area, waiting for Josh who appeared shortly and escorted us to a table. Josh recommended some items from the menu and we were tempted by their famous chicken strips but he let us know we would be having chicken strips at the race track that night where we would learn about one of the most famous tourist draws in the area, The Lucas Oil Raceway. Our lunch was served quickly and time flew as Josh told us about the area and what we should see.
Josh had plenty of printed information to give us and, after we finished our scrumptious lunch, we headed out to stroll around the area and check out the downtown where there are plenty of shops and restaurants that Josh had mentioned. First, we headed to the Sheriff's Residence and Jail which had been renovated.
The sheriff's house and jail had been renovated and filled with fascinating items, many of which were donated by townspeople who had lived in the area for years. First, we checked out the kitchen which was filled with period furniture and interesting items from the time period. Then we wandered down the hall to the living room and other parts of the house, getting a feel for what it was like to live there. We wanted to head upstairs but first went down to the jails, which were small and didn't look too comfortable to spend much time in! We popped into one of the bathrooms – and were amazed at the heat! Then we checked out the bedrooms. The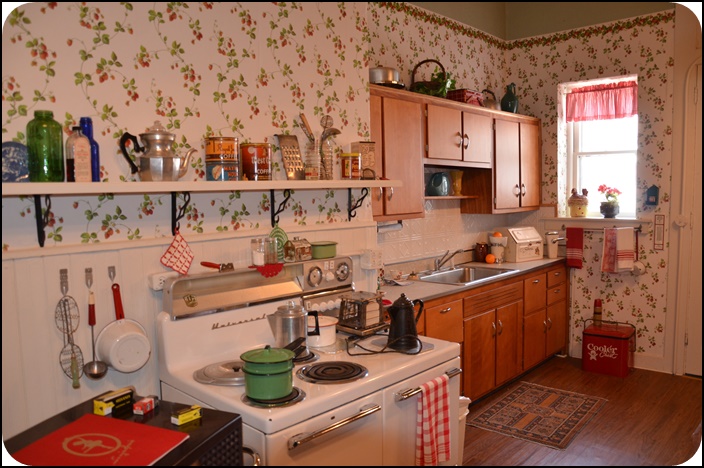 master bedroom had a fairly nice size, double bed. There were clothes of the time period hung up all around the bedrooms and it is amazing to think how difficult it must have been to simply get dressed daily. The kids bedrooms had lots of toys and looked very comfortable. There was plenty of furniture from the time period in all the rooms, both upstairs and downstairs. It was easy to visualize people living in this house and dealing with the prisoners in the basement. OK, now that we had checked out the house itself,  it was time to get checked into our hotel and get ready to see the Lucas Oil Raceway. Can't wait!
We checked into the wonderful and comfortable Hampton Inn Indianapolis – SW/Plainfield and were really pleased with our stay. Our room was large and cozy with plenty of space to spread out and relax. We were pleased to find out that a lovely, hot breakfast was included in our price and that you can even grab a to-go breakfast if you in a hurry. There is also a large parking lot with plenty of parking spaces, so no paying to park, which we loved!
There's plenty to do in the area but one of the most popular is the racetrack there. Honestly, I couldn't have cared less about sitting and watching some car race but I knew my husband Tom would be thrilled to see it, so I added it to our itinerary. It was the best thing I could have done for him. He loves car racing and was so excited about going to the race, more excited than any of the other events I had lined up. Early in the evening, we headed out to the race track and kept thinking we were in the wrong place or going in the back door or something else because it was so quiet and there didn't seem to be that many people there.
Boy, were we wrong.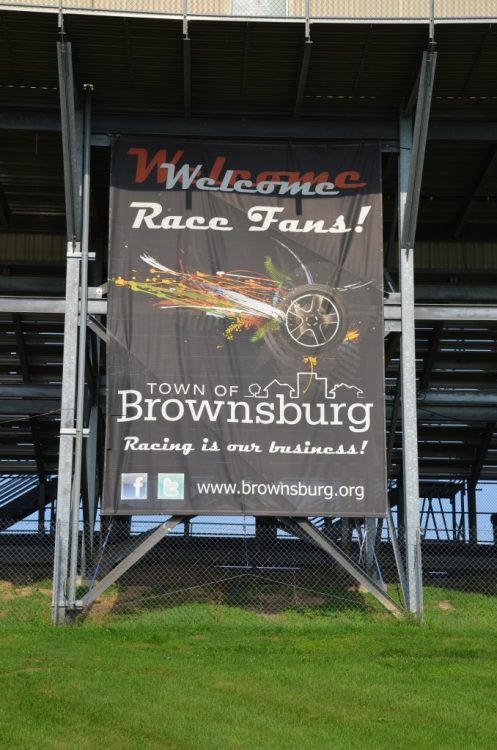 We parked in the lot that had been reserved for us, close to the track and began walking up to the seats. A huge, welcome to the race track sign was our first clue that this was not a small, intimate event but a big deal for the community and the entire area. The race track was begun in 1958 by Tom Binford, Frank Dickie, Roger Ward, and Howard Feiger, along with 15 Indianapolis area businessmen and racing professionals who invested money into what would become the Lucas Oil Raceway at Indianapolis. They found and purchased a 267 acre farm about 7 miles from the Indianapolis Motor Speedway and developed a multipurpose auto racing area. To make the track more user friendly, they added a drag strip in to the long road course design. The first event was held at the track in the fall of 1960 and the track eventually became the home of the NHRA's biggest annual event.
The facility was purchased by the NHRA in 1979 and the first major improvement came in 1983 with the construction and dedication of Parks Tower, the drag strip tower and in 1998, new grandstands, suites and a tower complex on the front straightway were completed.
We checked in and got our tickets for one of the suites where our group was welcomed with food, drinks, comfy seats, and a great view of the track. We found the stairs up to the comfy seating areas in the sitting areas in the suites which overlooked the track and headed up to the area after checking in and getting our tickets. There were plenty of very comfortable seats but we felt pretty smug to head up to our very nice suite overlooking the racetrack. There were plenty of cars on display as we walked up to where we needed to be. We found the stairs and climbed up to our palatial surroundings to view the race. With plenty of food, drinks, and lots of excellent company, we had the perfect surroundings. We spent the whole evening relaxing, eating, and just enjoying all the different races. Finally, there was a ceremony where special race car drivers were recognized and we decided to head out before the traffic got bad. I'm not a race fan of any sort, but I still enjoyed the evening and our lovely seats. Races are run all the time, so check them out. Even if you aren't a race car fan, you will still enjoy yourself!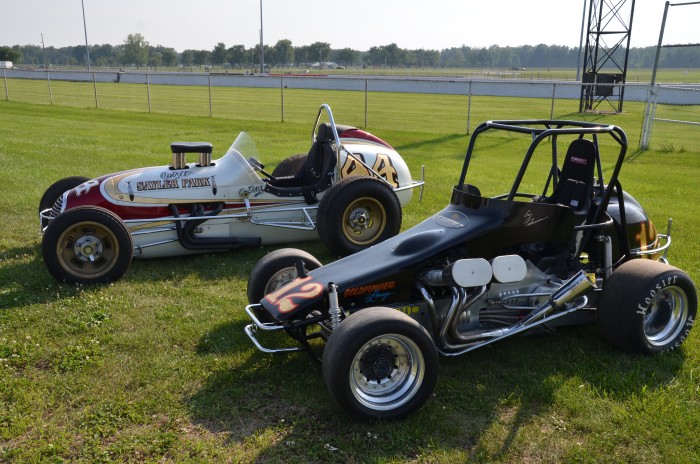 There's plenty of other activities in the area but one of the most interesting is seeing blown glass done by Lisa Pelo. It was our last day in the area and we were packed up and ready to head back home but we wanted to see Lisa Pelo's blown glass.
But we were just about ready to give up. We had driven back and forth on this back country road and never seen anything that looked like a glass blowing studio. Maybe we had the wrong directions? Maybe …well, who knew? Finally, I decided to call to get more specific directions and he directed us right to a driveway and told us to turn in. And there it was! Our contact person, Lisa Pelo, was waiting for us and ready to show us around. She wasn't impatient with the fact that we were late;  rather, she was thrilled to be able to share her love of creating things from glass with us.  Lisa was generous in sharing her history with us and how she got into working with glass as part of her love of art.
"Glass is its own inspiration. There is no other medium like it. The challenge of controlling it better and making more elaborate and complex forms: this is a lifelong project. Color in glass is fascinating. When the light can come in and out of the form through the color to create its own visual interest regardless of the form, that is a skill that has to be honed and sometimes never understood by other glass workers. What there is about glass-you have to master the medium…glass in motion and be able to tell it what to do. You have to know colors/not just the color wheel but what glass colors are chemically and what they do hot and cold and what colors do to enhance the form and then be able to put them where you want them. Then, make the form, an artistically complete form by knowing those basic rules and then create the final vision. The skill set is always in forward development when creating in glass."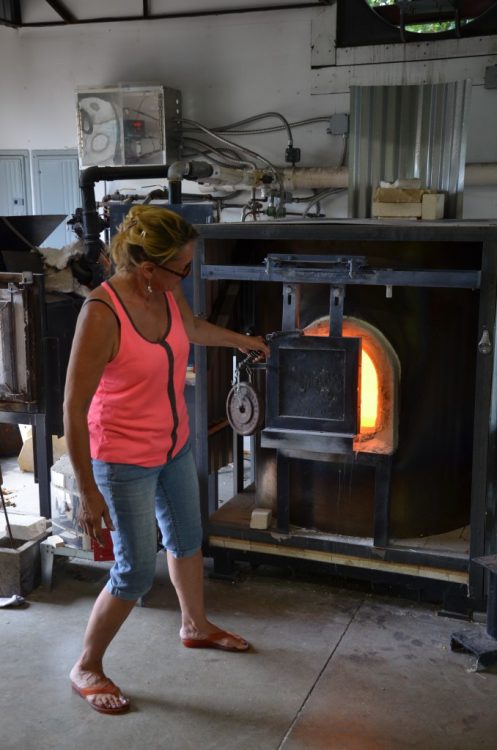 Lisa offered to show us how to create something in glass in her glass ovens and she walked us through the process, picking up the beads of glass first. Lisa got her equipment together, calm and ready to place the beads of glass in the oven. Working with the hot glass, and shaping the glass into shapes. Lisa casually and easily created something from the hot, molten glass. It was amazing to watch! After she finished with the piece of glass art, she took us on a tour of her studio. She makes all kinds of different works of art and works with students in classes and individually. The displays of beautiful, colorful glass were amazing. Lovely pieces of glass art were arranged and displayed throughout her studios. The hours it took to make one piece were amazing! Lisa is an amazing artist and a generous and giving teacher to those who are interested in creating glass art.
We had a great, fascinating time in Hendricks County, Indiana – you can find pretty much anything to do and to see. Plan your next getaway there!