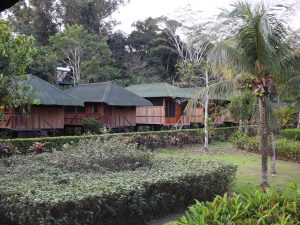 I wake up suddenly just as daylight is sneaking into my room, startled by an otherworldly noise disturbing my dreams.
At first I think the plumbing is playing up and a drain is painfully protesting. Except I'm in the jungle, where the plumbing facilities are minimal. The sound is spooky and ethereal, as if a vortex has opened to the underworld and a ghoul is calling me in. It's the weirdest noise I've ever heard, and I was awestruck. Not for the sound alone, but for what it signified – I was in the magical, magnificent Amazon.
This vast rainforest gives the world its oxygen and contains creatures, plants and entire tribes never encountered anywhere else. It's an endless mass that you fly over realising that if your plane goes down, there's a good chance they're never going to find you.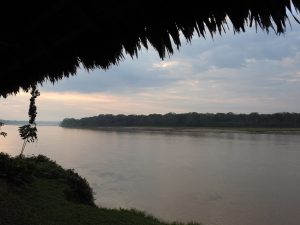 Its estimated 390 billion trees protect 1,300 bird species and more than 430 types of mammals. The World Wildlife Fund (WWF) says millions of its species are still undescribed, and between 2014-2015, a new plant or animal was discovered every two days.
Male howler monkeys are the source of the-ghouls-are-coming-to-get-you yodeling that woke me, and we see them on a jungle walk that morning. They're large monkeys living in families in the treetops, which makes us an easy target far below when the dominant male urinates on us, in case we didn't get the vocal memo about this being his territory.
The Amazon covers eight countries, and I was staying in Tambopata National Reserve in Peru. I flew in from Lima on a small plane above the snowy Andes that looked unnervingly close. Finally the snow gave way to browns again, then the mountains flattened out into green rainforest.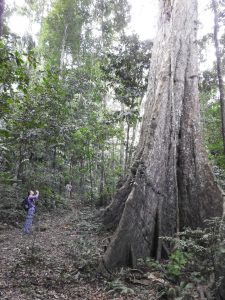 We left the bulk of our luggage at the offices of EcoAmazonia in the town of Puerto Maldonado, taking only a backpack. You don't need much for three days in the jungle. Mostly just a camera, torch, sun lotion and lashings of insect repellent.
Then we boarded a boat on the caramel-coloured Rio Bajo Madre de Dios, which meets the actual Amazon River hundreds of miles downstream.
This particular part of the jungle is less dense and intimidating than expected. I'd imagined canoeing by hand through narrow channels, pushing through tangled foliage on muddy paths, and picking leeches off our clothing. Instead we'd flown in, caught a motorised longboat and docked at a very civilised lodge with a huge indoor swimming pool and half-price cocktails at happy hour. But a slight disappointment at the lack of Indiana Jones escapades was quickly dispelled by the joy of not even spotting a mosquito, which was fortunate since the Amazon boasts about 2,5 million types of insects.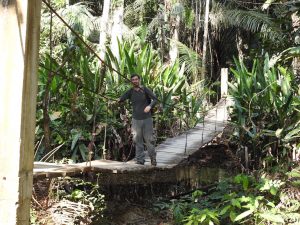 The density of the tree-top canopy allows the animals and birds to be pretty good at hiding, and we didn't see much of the wildlife, although its noises had us surrounded. Our guide pointed out a sloth in a tree, doing nothing, as sloths tend to do. Then she signaled for us to stop and stand still, amid mighty trees, lush ferns and clambouring creepers.
As our human noises ceased, the jungle chorus returned with its buzzings and chirpings, drones, squawks and warbles. High above we could hear capuchin and squirrel monkeys, and they were just as curious as we were. Leaves were shaking to my left and right, then wide-eyed squirrel monkeys peered out at us. So cute! A playful trio were swinging between two trees over and again, putting on a show for the tourists. Soon we were watching maybe 50 of them, all going about their monkey business and paying us no regard.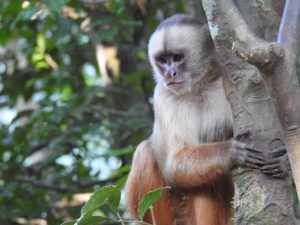 I looked down and saw the path was moving, as a parade of cutter ants carried bright green segments of leaves they had sawn out with their gnashers. The ants feed the leaves to a fungus that they deliberately cultivate to feed their larvae.
Our guide spoke of other weird and wonderful creatures, let us taste exotic berries, and showed us squabbling parakeets and a kingfisher.
Even the trees are fascinating, with strangler figs and walking palms among enormous 800-year-old ironwood trees. Strangler figs start out as seeds deposited in the crook of another tree innocently minding its own business. As the sapling grows, its aerial roots wend towards the ground and snake around the host, eventually fusing together in a shell that completely covers the tree. Eventually the host dies from insufficient light and nutrients, and our guide tells us the strangler dies too, a few years later. We ponder that destructive behaviour, and joke about humans in similar relationships, being loved to death by over-controlling partners.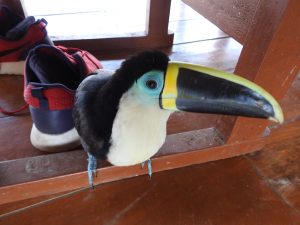 The EcoAmazonia lodge has been open for 20 years and is owned by Peruvians, unlike many rival lodges owned by foreigners. Its 50 wooden chalets are raised on steps – a smart plan in a jungle full of snakes and scorpions. Each has a shower, sink and toilet, rails to hang your clothes, and electricity from 5pm to 10pm. Communal meals include dishes like fish cooked in a banana leaf, or chicken, rice and plantains.
A long, shady terrace looks out onto the river and I'm swinging in a hammock when I hear a tap-tap-tap coming towards me. It's the resident toucan, skittering along the shiny wooden floor. He makes a beeline for me and tugs my shoelaces. Then he grabs the strap of my camera and almost yanks it off the table. I threaten to get cross with him, but he tilts his banana-sized yellow and black beak to one side to make me laugh instead.
I go back to watching the lazy river, while the toucan twiddles with my toes.
For details of the EcoAmazonia, see here: