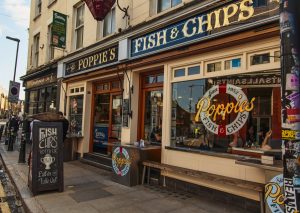 From Britain's iconic bread and butter pudding, to the best of British cheeses, London's best chippy, an East End boozer, three curries, a salted beef beigel, and a bit of Shoreditch tart – this is feast that awaits your senses when you explore the cosmopolitan culinary scene in London's 'East End Food Tour' with Eating London.
The food you find in a place tells the story of its past residents and histories. You'll learn about immigration, war, social issues, and power struggles just by sampling an area's cuisine. The cultural make-up of London's East End has, over the centuries, been rich and diverse, with communities from around the world enriching the neighbourhood with their regional cuisines. Bangladeshi, Irish, Turkish, Italian, Chinese, Jewish, Creole, Moroccan – it's a world in a city, a culinary tapestry stitched with unique architecture and a checkered past.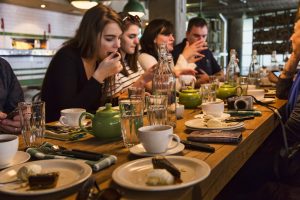 As part of a small group, all eager to gain insight into the East End's traditions and culture, we began our culinary exploration with the legendary bacon butty offered by St. John Bread & Wine (Commercial St – across from Spitalfield Market), where the chef salts, brines and smokes the bacon then serves it on fresh in-house bread.
We trudged on to the historic English Restaurant (Brushfield St) who serve a finely crafted British classic – bread and butter pudding. They make theirs with brioche which is soaked in milk, eggs, sugar, cream and vanilla seeds which is then caramelize the top. This is with chilled custard also made of milk, eggs, sugar, cream and vanilla.
On Lamb St our noses led us to The House of Androuet – cheese mongers and cheese-maturing experts. It is said that they have the best selection of cheese outside of Paris, which I tend to believe. Standing at their 'cheese bar' were sampled a variety of cheddars, blues, and brie from England and France.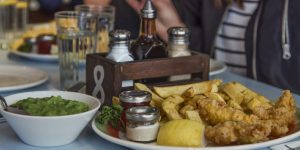 For a plate of crispy battered fish, chunky soggy fries and mushy peas we visited London's favourite chippy at Poppies Fish and Chips (Hanbury St). Poppies opened shop just after the second World War and have been an institution in the area ever since. The interiors are 1940's diner-esque, complete with music and the waitresses uniform.
Accompanied by an expert food connoisseur and guide, our small group walked through the eclectic neighbourhoods, passing ancient Roman burial grounds, the most vibrant street art in the world, Georgian buildings steeped in history, and numerous movie sets along Princelet St. Down a cobblestoned alley we stopped to sample beer and cider at a small local pub which could only be described as the quintessential old English boozer – The Pride of Spitalfields.
Says publican, Linda Murphy: "The character of the pub has not changed. It's has all its original features and that's the way it will stay. Floral carpets, black and white photographs of stiffly posing people on the walls, there's a piano if you're interested, even a pub cat. We'll will never be upmarket. We'll remain as we are – a typical East End pub."
London's East End is the curry hub of the capital. Sure, the West End may have posher Indian restaurants, but the curries on Brick Lane, which have more than 50 restaurants on just one street, are more authentic. In fact, the area is often referred to as Banglatown because of its many Bangladeshi restaurants. Met with a rush of spicy curries and fresh naan bread straight from the tandoori over, we sampled three of Aladin's famous curries and unanimously agreed the sweet and sour lamb curry to be the favourite. I asked owner, Sam Kundu, after his preference.
"Naga is much-loved by me. It's tasty and very hot – too hot for most of my customers. You need to have been eating spicy food for a long time to eat Naga, otherwise it might make you cry."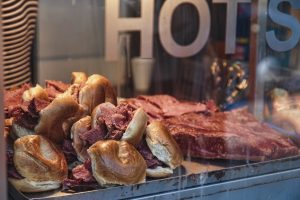 The intoxicating aromas of freshly-baked bagels lured us further down Brick Lane to Mr. Sammy's Beigel Bake – a Jewish bakery and East End institution that turns out over 2-3,000 bagels every single day. Mr. Sammy's kosher bagels are made the customary way – then topped with mouth-watering salted beef, lavishly smeared with spicy hot mustard, then topped with perfectly sour pickles.
Says Mr. Sammy: "I've been making bagels now for 50 years. I came from Israel and we started working in the bakeries. We make people happy and they tell their friends and they come back, this is why Brick Lane is famous – because of us!"
Onto Shoreditch High St, a converted warehouse and the showpiece of the tour. Pizza East, one of the hippest restaurants in London, serve rustic food in a shabby chic ambience. Everything on the menu looks special, especially the desserts. Brace yourself for a religious experience when you sample their salted caramel chocolate tart.
Taking in eight unforgettable food tastings in a 3½ hour tour redefined our collective view of the district. We were able to taste the foods that shaped the East End and learn the stories of the real people behind the fare.