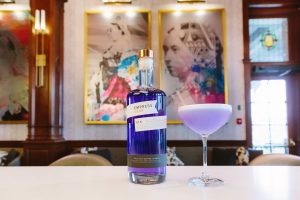 Traveling to Victoria in British Columbia?  Give your eyes as well as tastebuds a treat while you sip your evening cocktail.  The gorgeous deep purple color of the signature Empress 1908 Original Indigo Gin from Victoria Distillers immediately differentiates it from others behind the bar.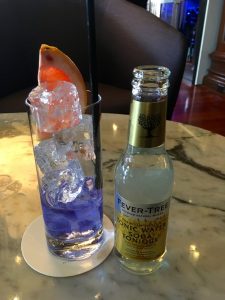 Poured into a glass over ice, it delights with a deepness that evokes a lovely lavender field.
Then, add the tonic for a G&T and something truly magical happens – it changes into a soft, rosy-pink hue right before your eyes. Thanks to a chemical reaction from the addition of either tonic or citrus, this beverage transforms from its signature purple color (thanks to natural butterfly pea blossom flower) into this new, equally beautiful shade.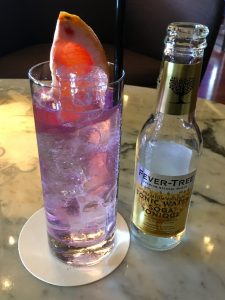 Created specifically for Victoria's landmark Empress Hotel opened in 1908, this offering from Victoria Distillers is one of the latest from a regional distiller priding itself on high quality, small-batch gins, spiced rum, hemp vodka and bitters.
According to the master distillers, this Gin is handcrafted from eight organic botanicals, is all natural and 100% authentic, ultra clean with a 96% non-GMO corn spirt base and made with pure Canadian water, then further polished with a reverse osmosis treatment.
One of the best ways to try this unusual Gin is to visit the Victoria Distillers tasting room and lounge, located right on the water at stunning Sidney harbor (about 30 minutes outside of Victoria).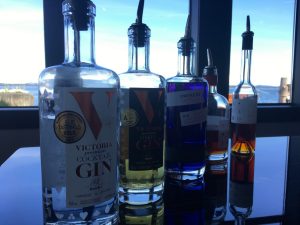 First opened in 2008, Victoria Distillers moved to this new location in Sidney just a couple of years ago and offers daily tours for $7 every hour on the hour from Noon until 4 p.m., which includes complimentary tastings of all of the Distillers' offerings. The lounge also features live music Saturday evenings from 5 to 8 p.m. and Sunday afternoons from 2 to 5 p.m.
Victoria Distillers
Lounge & Retail Shop Hours
Sunday-Wednesday — 12-7pm
Thursday-Saturday — 12-10pm
9891 Seaport Place
Sidney, BC
V8L 4X3
Distillery: 250.544.8218
Lounge & tour bookings: 250.544.8217