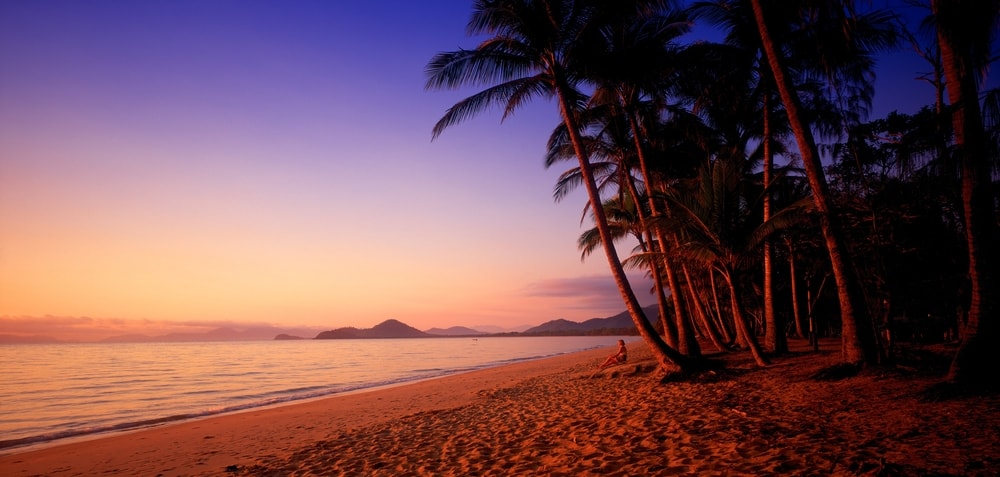 12 Night Inspiring Australia
13 Days / 12 Nights starting at $6,925.00 per person
Alice Springs, Australia, Cairns, New South Wales, Northern Territory, Queensland, Sydney
Arts and Culture, Beach Vacations, Culinary, Historical Travel, History Tours, Nature-Wildlife, Rain Forest, Walking, Wild Life, Wine Tours, Yachts

On an Inspiring Journey we will take you off the beaten track with immersive experiences in a boutique small group setting. You'll travel in luxury coaches or 4WD vehicles and stay in boutique retreats, lodges and resorts with gourmet cuisine to match. We offer the perfect balance of freedom from the stress of vacation planning, with the flexibility to shape your journey with a choice of optional experiences. You'll share your vacation with a small group of up to 20 like-minded travelers.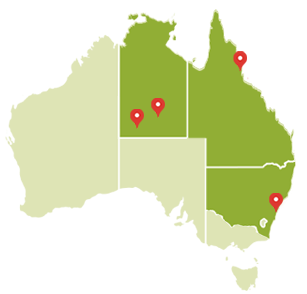 Itinerary
Day 1
Welcome to Palm Cove
Welcome to Tropical North Queensland! This afternoon meet your travel director and fellow travellers for a welcome reception followed by a welcome dinner overlooking the stunning crystal clear water of the Coral Sea. Dine on award winning modern Australian cuisine using only the freshest local produce at the ultimate tropical beachfront restaurant.
Hotel: Alamanda Palm Cove, 3 nights
Day 2
Daintree and Indigenous Culture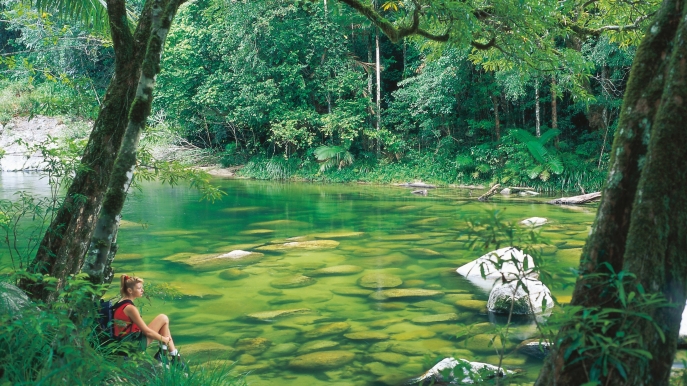 Today will be an incredible day to remember. Join your Indigenous guide on an exclusive journey to discover the Daintree and gain rich insight in to the deep relationship the local Kuku Yalanji people have with their land. Learn about cultural traditions, bush foods and traditional medicine and experience traditional hunting techniques and have a go at spear throwing and if you are lucky, catch a mud crab. Enjoy a lunch in a tranquil and relaxing rainforest setting in the Daintree. This evening take the opportunity to relax and dine at your leisure.
Day 3
Great Barrier Reef
Discover the magic of the Great Barrier Reef on a cruise that will take you to three secluded outer reef dive sights. Take to the water and discover spectacular coral formations and a world of unique marine creatures. Snorkel around underwater gardens or maybe take the opportunity to take a dive or relax while you bask in the sun on deck. Enjoy a delicious tropical lunch on board the boat in air conditioned comfort.
Day 4
Cairns – Alice Springs
Today fly from Cairns to the Red Centre. After some free time for lunch, you'll take a town tour of Alice Springs to discover what life is like in an isolated Australian town. We'll visit School of the Air and the Royal Flying Doctor Service, a crucial service which provides a lifeline of essential medical support for people living in remote Australian communities. Tonight enjoy an incredible dinner experience in a bush setting. Dinner will be cooked in a bush camp oven with the burning Mulga wood giving extra flavour to the meal and will feature some traditional bush foods. Your host Bob will share some tips on his cooking style and his knowledge of Aboriginal bush foods while you dine under the stars of the Milky Way.
Hotel: Crowne Plaza Alice Springs Lasseters Hotel
Day 5
Alice Springs – Kings Canyon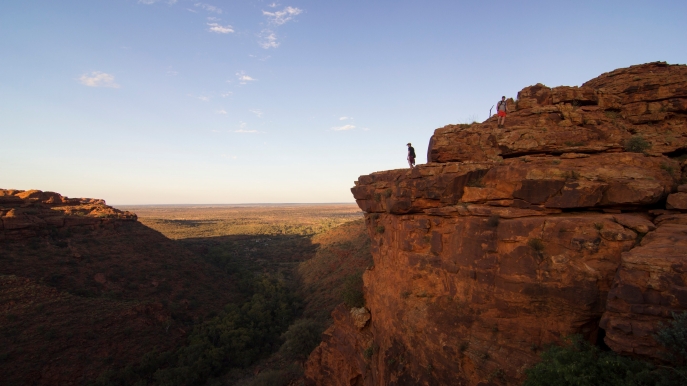 First up you'll travel to the Henbury Meteorite Conservation Reserve, formed when a meteor hit the earth's surface 4,700 years ago. The meteorite pieces, which reached speeds of 40,000 km per hour, created twelve craters that are still visible today. Though most of the craters have eroded and become lined with plant life, their footprints create an interesting diversion from the surrounding flat Australian desert landscape. Perfect for observing the changing colours of the landscape, this afternoon enjoy a walk along the Creek Bed of Kings Canyon. This evening you're treated to a delicious dinner at Carmichael's Restaurant.
Hotel: Kings Canyon Resort
Day 6
Kings Canyon – Ayers Rock
This morning at sunrise you're off on a 6km rim walk exploration of the spectacular Kings Canyon. As you venture around the rim, highlights include the domed 'Lost City' and a stop at Cotterill's Lookout. If you'd prefer a more relaxed walk you can opt for a walk along the Creek Bed. Your next stop is Curtin Springs which has been home to the Severin family since 1956 when Peter Severin arrived with his young wife Dawn, their toddler son Ashley and 1,500 head of cattle. Sit down to a BBQ lunch and meet one of the locals as you hear about the Severin family and the logistics of running a million acre cattle property. This afternoon we enter Uluru – Kata Tjuta National Park to witness a spectacular Uluru sunset. Enjoy canapés and wine while you watch Uluru change color as the sun sets below the horizon.
Hotel: Sails in the Desert Resort Ayers Rock, 2 nights
Day 7
Uluru and Kata Tjuta
Enjoy a later start to the day and then you're off to the domes of Kata Tjuta where you'll join your travel director for a guided-walk through Walpa Gorge. The large, steep dome-like formations of Kata Tjuta are amazing to walk through and have great cultural significance for the Aṉangu people. From here it's off to the Uluru – Kata Tjuta Cultural Centre for an insight into the history of the local Anangu people. Having lived in and looked after the Uluru and Kata Tjuta region for tens of thousands of years, the Anangu (traditional owners), have a strong connection with this land. You'll learn about Tjukurpa, the history, knowledge, religion, morality and law of the Aboriginal people and their ancestors. This afternoon you will have the opportinuty to take a walk around the base of Uluru and hear timeless stories, see rock art, and visit Mutitjulu Waterhole, an important water source for the Aboriginal people and animals in the area. This evening enjoy dining under the sparkling outback sky at the award winning Sounds Of Silence dinner.
Day 8
Ayers Rock – Sydney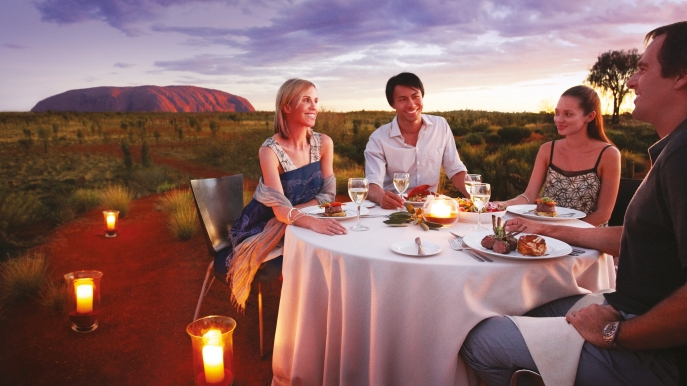 This morning you get to experience the changing colors and magic of the sunrise over Uluru before heading back to the hotel for breakfast and time to relax before your flight to Sydney. You may like to use this free time to take a scenic helicopter flight over Uluru and Kata Tjuta for a birds eye view or just simply relax with a good book. In the afternoon, you will fly to Sydney and have a free evening to explore.
Hotel: The Langham, Sydney
Day 9
Sydney – Blue Mountains
Head off on a day of discovery to the million acre World Heritage-listed Blue Mountains National Park. Breathe in the pristine air and discover the icons such as the Three Sisters at Echo Point and Govett's Leap Lookout to see spectactular Bridal Veil Falls before you delve deeper, travelling off the well-worn track to secluded lookouts and peaceful short bushwalks where we may be the only ones around. You'll be awarded views across the valleys as far as the eye can see and picture perfect memories to take away. This afternoon, arrive at your hotel and after taking the time to relax, enjoy a delicious meal featuring produce sourced from local Blue Mountains suppliers.
Hotel: Parklands Country Gardens and Lodge, Blackheath
Day 10
Blue Mountains – Hunter Valley
Travel to the Hunter Valley for a day of good food, great wine and beautiful scenery. You'll indulge with exclusive private wine tastings at boutique vineyards and sit down to an exceptional tasting lunch before spending the afternoon doing as you wish at your hotel. You may like to sit on your balcony with a good book and bottle of wine, or treat yourself to one of their many day spa options. Enjoy dinner at the resort.
Hotel: The Sebel Kirkton Park, Hunter Valley
Day 11
Hunter Valley – Sydney
Get ready for a day sailing on Sydney Harbour. Become part of a big boat sailing crew on board an America's Cup yacht. You can take the helm, work the grinders or simply sit back and relax as you sail past the harbour's iconic sights like the Sydney Opera House, Harbour Bridge and small secluded coves surrounded by multi-million dollar waterfront homes. It's a day you'll remember for years to come. This evening is free for you to explore and discover one of Sydney's incredible local restaurants.
Hotel: The Langham, Sydney, 2 nights
Day 12
Sydney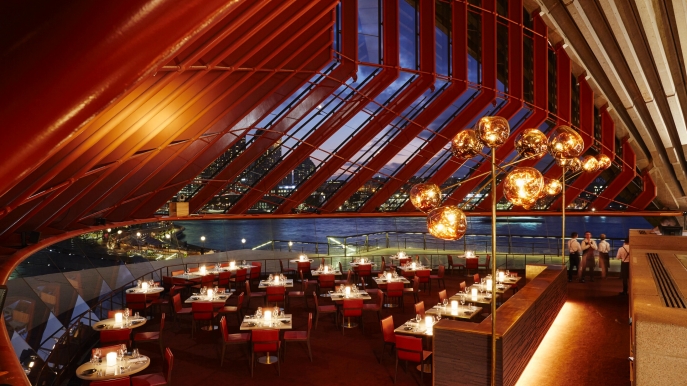 Enjoy a morning of Sydney sightseeing including Sydney's beachside eastern suburbs, taking a stroll along the coastal walk for incredible views over the Pacific Ocean and wild coastal cliffs. In the late afternoon, join a VIP guided tour of the famous Sydney Opera House before a memorable dinner at Peter Gilmore's iconic Bennelong restaurant in the sails of the Sydney Opera House itself, the perfect location for one last meal together before your Inspiring Journey draws to an end.
Day 13
Farewell from Sydney
Your Inspiring Journey concludes after breakfast when you'll be transferred to the airport for your onward flight.
Includes
13 day small group tour from Cairns to Sydney, via The Outback
Spectacular Sydney Harbour and beaches
Great Barrier Reef
Enjoy an Indigenous experience in the Daintree Rainforest
Indulge your taste buds under the magical southern stars at the Sounds of Silence Dinner
Enjoy an indulgent dinner at chef Peter Gilmore's iconic Bennelong Restaurant under the sails of the Sydney Opera House
Tour includes all breakfasts, 7 dinners, 5 lunches and accommodation
Expert travel director throughout