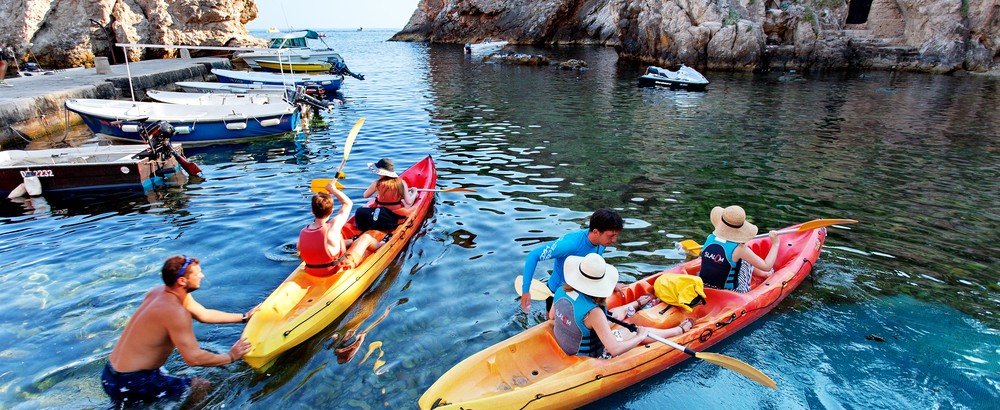 Active Croatia tour from Istria to Dubrovnik
starting at $2,500.00 per person
Croatia, Dubrovnik
Adventure, Arts and Culture, Bicycling, Biking, Hiking, Kayaking, Photography, Sightseeing, Soft Adventure, Walking

Are you an adventurer and would try anything once? This tour is created just for you. Croatia is a great destination for people who want to stay active, explore nature and like the adrenaline rush of adventure activities. For those who really want to have fun on the trip and ask for much more than regular sightseeings, this is the itinerary to consider.
Itinerary
Day 1
Arrival in Rovinj, one of the most popular and most developed tourist resorts in Croatia. The old town is built on the island, which was only connected with the mainland in the 18th century. Known as one of the most picturesque and romantic towns on Mediterranean, over the last few decades Rovinj attracts a large number of tourists, most of them faithfully returning year after year. Check in to the hotel. Overnight in Rovinj.
Day 2
After breakfast start your hunting adventure in Motovun. Visit truffle hunter's house that has 40-years experience in the truffle business where you will see specially trained dogs. After an aperitif, we will go to the forest to experience the adventure of the truffle hunt. After the activity of searching the truffles for about 45 minutes, you will learn how to prepare a meal with truffles. Our friendly hosts will serve you local wine, cheese and truffle flavored honey, pate and other truffle delicacies which you can also buy at the estate. After lunch departure back to Rovinj and free afternoon at your own leisure. Overnight in Rovinj.
Day 3
After breakfast departure to National Park Plitvice Lakes. The beauty of the National Park lies in its sixteen lakes, inter-connected by a series of waterfalls, and set in deep woodland populated by deer, bears, wolves, boars and rare bird species. Take a walk with a local guide through this heaven on earth. Enjoy the scenery of beautiful waterfalls and untouched nature.
Before continuing to your hotel, try yourself in Ziplining near NP Plitvice Lakes continue to beware zip line. Man has always dreamed of flying. Some say that when they dream of flying they feel they are on top of things in their life and have a special sense of power and control…We can't influence what you dream about, but we can make you feel as if you were flying.Imagine being 80 meters above the ground and flying 120 km/h for 2 km with magnificent scenery of Lika below you.
Overnight in Plitvice Lakes.
Day 4
After breakfast departure to Zadar. On your way to Zadar we are taking you to amazing all day adventure – Velebit jeep safari. For all the restless spirits in the eternal quest for an adventure this is excellent way to spend the day. The mountain stretches in the form of banded arch along the Adriatic coast in the northwest-southeast direction. The most conspicuous feature of Velebit mountain is the presence of the "two different faces". One on the Adriatic coastal slopes and one on the continental slopes. The differences between them can be seen in the variety of features. Vegetation, habitats, and species, as well as in the habits of people living there. After Velebit jeep safari, continue to Zadar and check in to the hotel.
Overnight in Zadar.
Day 5
After breakfast meeting with the local guide and Zadar sightseeing. Visit sea organs – an experimental musical instrument made out of the stone, which plays along with sea waves. You will see The St. Donat's Church, and small ancient streets from the Roman times. In the early afternoon embark on a private boat for boat excursion to National Park Kornati. Discover the sailor's paradise – National Park Kornati. This archipelago consists of 140 islands covering an area of 114 square miles (300 square km), with most of it declared a National Park – and with its natural beauty, numerous coves and crystal clear blue waters, it's easy to see why. Swim in most hidden bays and the clearest water you have ever seen. We will have later lunch in one of the local restaurants on the islands. These small hidden restaurant serve only fresh farm to the table food and are fully operated by locals and accessible by boat. Upon return experience one of the most beautiful sunsets in the world. Return to Zadar later in the afternoon. Overnight in Zadar.
Day 6
After breakfast , departure to canyoning on the Cetina river. The Cetina river has been flowing for thousands of years and thus creating mystical shapes in its bed. The crystal clear water and a river suitable for swimming offers a true experience of untouched nature with its cliffs up to 180 meters high, waterfalls, lakes, subterranean tunnels and a 50 meters high waterfall Gubavica. The guide will give you a life-jacket, a helmet, neoprene pants and shirt and the small expedition is ready to set off. The sound of the river becomes louder as you descend into the canyon. Ten minutes later you will find yourself in the middle of the Cetina canyon. Walking through the river and the rapids, going through the subterranean tunnels, swimming in natural pools, going around waterfalls and lakes – all of this is canyoning. After this amazing experience lunch will be served in the local restaurant. After lunch departure to Split for hotel check in. Overnight in Split.
Day 7
After breakfast meeting with the guide and stand up paddling. The city of Split is over 1700 years old and it truly is a special place to spend a vacation. It has a unique combination of Roman legacy and architecture with gorgeous beaches and exciting nightlife this city has to offer. Stand up paddling is an interesting new sport, which can enable you to experience this city in a completely different way because you can do some sightseeing while relaxing and having fun on your board. This is a sport for people of all ages and once you get on your board, it will feel almost like you are walking on water! Our adventure takes you along the coastline so you will have the opportunity to see the beach Kasjuni that is very popular with the locals and you will go pass Villa Dalmatia, which was once the home of the former Yugoslav leader Tito. You will enjoy the beauties of the park forest Marjan and have a relaxing day while experiencing the city of Split in a way no other tour offers. After returning back to the coast lunch in a traditional restaurant in Split. Afternoon at leisure. Overnight in Split.
Day 8
After breakfast proceed to Dubrovnik. Hotel check in. In the early afternoon embark on a boat and explore Elaphiti islands. Since the ancient times, the islands were a place of comfort, vacation, and delight. All this due to well preserved nature, clean and clear sea, sandy beaches, beautiful pine forest, olive gardens, numerous promenades and footpaths. Those are the scenes that remain forever in people's memory and landscapes that make the people come back again. The crew will show you hidden beaches, caves and secret places that you will absolutely love. Snorkle, swim or just relax and enjoy the view. The highlight of the boat trip will be late lunch/early dinner served in authentic restaurant on island Šipan. Sail back to Dubrovnik. Overnight in Dubrovnik.
Day 9
After breakfast meeting with the local guide for Dubrovnik sightseeing. Local guide will take you to the most wonderful and hidden streets of the Dubrovnik. Explore Dubrovnik City Walls and enjoy a unique view of the Old Town (UNESCO HERITAGE SITE) of Dubrovnik including its narrow streets and small squares, shop on the Stradun street, and explore Game of Thrones locations. In the afternoon start of your biking adventure. Discover the hidden side of the Dubrovnik region that will amaze you with its natural beauties. See, smell and taste the Dubrovnik countryside on bicycle in the company of local knowledgeable guides. Our Biking and Wine Tasting tour starts in Gruda, a picturesque little village 45 min drive from Dubrovnik. Following a safety briefing, we will start exploring villages, roads, and dirt trails on bike. The route will take us through vineyards, olive groves, waterfalls, along the river, and next to medieval watermills. We will make several stops, such as visit to a 600-year old Franciscan monastery, and a mountain stream where we'll take a refreshing swim in crystal clear waters (swimming is optional). During one of the stops we will refresh ourselves with sandwiches and water. After the biking tour departure back to Dubrovnik. In the evening departure to traditional Dalmatian restaurant so-called "konoba" where you will be able to try "peka" – a Baked dish with meat and vegetables made in a pot or a tray, and the pot is put into the embers of a fireplace. After dinner departure back to the hotel. Overnight in Dubrovnik.
Day 10
Fly out of Dubrovnik.