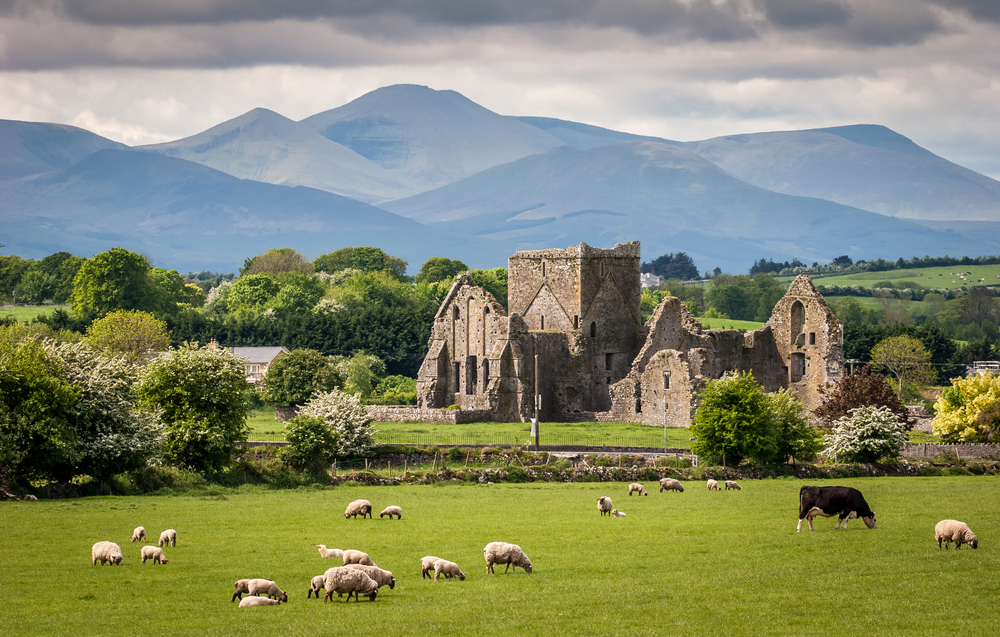 Affordable Luxury in Ireland
8 Days / 7 Nights starting at $1,184.00 per person
Dublin, Ireland, Killarney, Limerick
Arts and Culture, Biking, Hiking, Luxury, Nature-Wildlife, Sightseeing

Begin on the east coast of Ireland in County Wicklow, celebrated for its gorgeous green landscape and beautiful views. Wicklow is a short drive from Dublin so you'll have some city sightseeing nearby.
In Kerry, you will experience some of Ireland's most spectacular landscapes. Trace the exhilirating Ring of Kerry, hike the Killarney National Park or grab a bite to eat at a local pub! With 5-star accommodations to come back to at night- you're all set.
The Fitzgerald's Woodlands House Hotel is in the charming village of Adare, County Limerick. While in this quintessentially Irish village, you'll have time to admire the thatched cottages and quirky shops in between any day-trips you'd like to take.
Complete your luxury-filled vacation at the 5-star Heritage Killenard. Along with the gorgeous accommodations at this resort, the service you will receive is impeccable. This luxurious resort offers guests only the best.
Itinerary
Day 1
Welcome to Dublin!
Upon arrival at Dublin Airport you will collect your rental car and drive to the 5-star Druids Glen Resort in Wicklow, about an hour south. Wicklow is known as the "Garden of Ireland" as a result of its picturesque surroundings and abundance of beautiful nature.
Day 2
Wicklow
This hotel neighbors the Wicklow Mountains National Park if you'd like to venture out for a hike or bike ride. Your rental car will come in handy during your time here as Dublin is a short 20 minute drive, making for the perfect day-trip.
Day 3
Wicklow – Killarney
Continue to the 5-star Muckross Park Hotel & Spa in Killarney. Killarney is most famous for being home to the Ring of Kerry but there is so much more to this beautiful southern city. You will have a rental car for the duration of your trip so making day-trips will be easy.
Day 4
Killarney
The town of Kerry is an eclectic, unique area with a bustling main street lined with charming shops and locally run restaurants. You will find some great hiking trails within the Killarney National Park and then follow it up with a pint at the hotel's pub- Molly Darcy's Traditional Irish Pub.
Day 5
Killarney – Adare
Head to Adare in County Limerick to the 4-star Fitzgerald's Woodlands House Hotel where you'll spend the first two nights of your vacation. Take a visit to the magical Cliffs of Moher located in County Clare, just a short drive from Adare. You will have spectacular views of the Aran Islands and Galway Bay. These cliffs attract viewers from across the globe and are one of Ireland's top visitor attractions.
Day 6
Adare
Enjoy the day at your leisure. This luxurious vacation package is epitomized perfectly by the Fitzgerald's Woodlands House Hotel. You will find rich, beautiful furnishings paired with traditional décor and of course a staff made up of warm, welcoming and informative individuals. Later, explore the village of Adare and stop-in to a few of the quirky boutiques and restaurants.
Day 7
Adare – Laois
Continue on to the 5-star Heritage Killenard in County Laois, just one-hour from Dublin. Relax with stylish accommodations; indulge in a delicious meal at the award-winning steak house, Sol Oriens or a cocktail at the Slieve Bloom Bar. You will be in the lap of luxury at this fantastic property.
Day 8
Depart Ireland
After a week of exploring Ireland, you'll return home.
Includes
Round-trip economy class airfare to Dublin (DUB)
Manual car rental for duration of stay
2 nights at the Druid's Glen Resort OR The Powerscourt Hotel in Wicklow
2 nights at the Muckross Park Hotel & Spa in Killarney (breakfast included)
2 nights at the Fitzgerald's Woodlands House Hotel & Spa in Adare (breakfast included)
1 night at The Heritage Killenard in Killenard
All local taxes
Hotel service charges
Carrier and government taxes/fees/facility charges on airfare