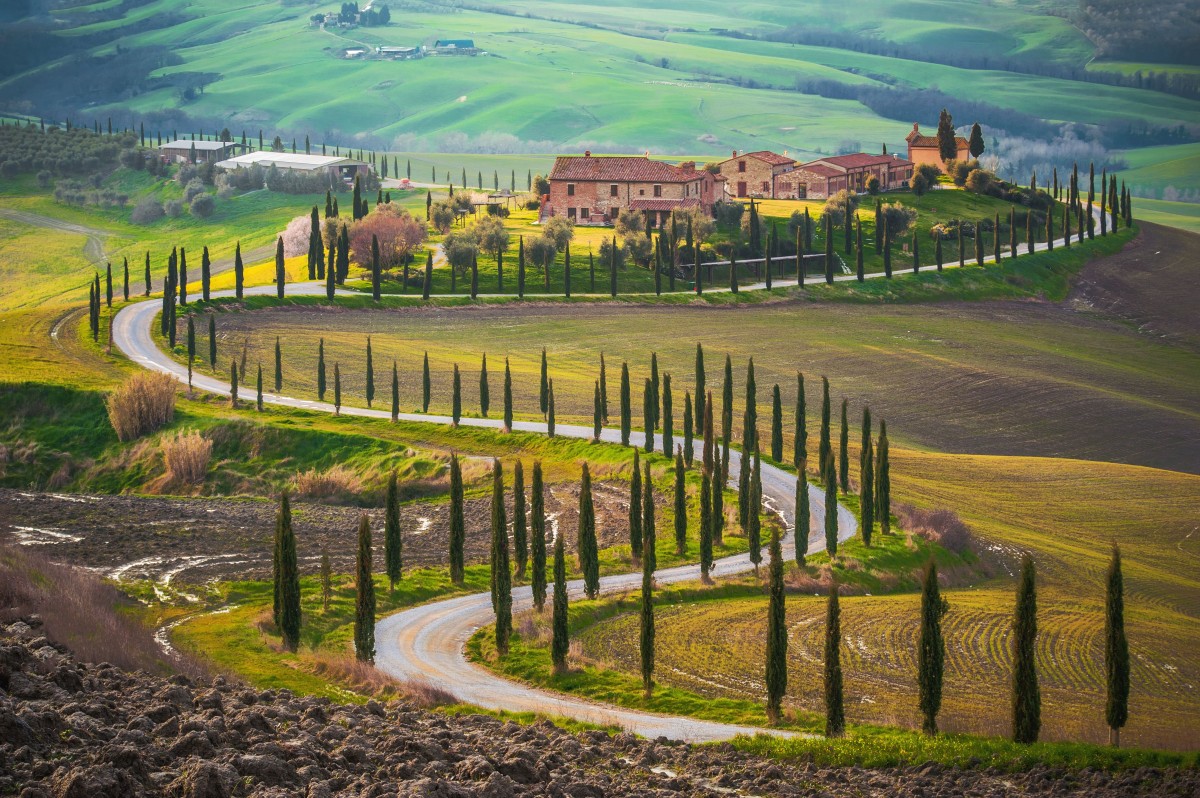 Celebrate Thanksgiving in Tuscany – Live like a local in Tuscany!
8 Days / 6 Nights starting at $1,498.00 per person
Florence, Italy, Rome, Venice
Architectural, Arts and Culture, Culinary, Food Tours, Historical Travel, History Tours, Holiday Travel, Nature-Wildlife, Walking, Wine Tours

Join us on a journey to a land as old as the gods, where good food and wine are a way of life. Sit at our table and savor our wines…immerse yourself in our culture, our family, and our country…let us welcome you to the heart and soul of Italy.
Tuscany is certainly one of Italy's best-loved and beautiful regions. Looking for real Tuscany wine tours? Visit the countryside! It's dotted with delightful villages, medieval castles and graced with a combination of sun, vineyards, olive groves, and signature cypress trees. Tuscany's rich artistic heritage includes exquisite art and architecture, a glorious history, excellent wines and delicious food. This would be a special way to travel with your friends and stay at the elegant Tuscan Villa that was built at the end of 14th century and located in the heart of a Tuscan town – Figline Valderno – near Florence. Villa is surrounded by a magnificent garden and offers spa treatments. Restaurant is known for delicious local dishes from its own farm estate and wine from the ancient wine cellars.
Itinerary
Day 1
Departure Day!
Today is a travel day, enroute the magical Tuscany, Italy to live like royalty in a 14th century Villa in the heart of Chianti.
Day 2
Tuscany
Arrival transfer from Rome airport to your Tuscan villa. Check in to the beautiful Villa Casagrande in the heart of Chianti and get settled.This evening you will have an orientation meeting to discuss life in Tuscany, the local lifestyle and how to get around.
Day 3
Tuscany -Thanksgiving in Tuscany
After breakfast.enjoy a free day relaxing or exploring.
This evening enjoy a farm to table Thanksgiving celebration including the Villas exceptional Chianti wines.
Day 4
Tuscany-Wine Class-Optional Florence
After breakfast.enjoy a free day exploring.
OPTIONAL EXCURSION: Florence Walk and Talk
Meets at 10am in Florence
Highlights
DISCOVER Florence! Visit all the main sites of the city.
A pleasant walk in Florence is just what you need to be introduced to the city and its splendor and secular heritage!
Get the chance to have a taste of one of the most important and charming cities of UNESCO World Heritage.
Walk through the amazing center of Florence and discover its unique secular heritage and breathtaking beauty with an expert and fun tour guide.
Our tour explores the historic and architectural evolution factors from the Roman foundation through medieval centuries and its Renaissance glorious period up to modern time Florence.
Learn about the Medici: masters of Florence. The Medici family rose to become famous and revered throughout the Western world in the 14th and 15th Century.
The Medici came to power at a time of great social and economic inequality. They were great disrupters. Their banking practices led to the creation of a middle class, making them unimaginably wealthy. The Medici in turn used their vast power and resources to challenge traditional thinking, ushering in a new era of revolutionary art and science such as the world had never seen: the Renaissance. It's a powerful story that resonates even now.
Our professional guide will take you to some of the most important spots where the greatest minds and artists have stood and been inspired.
During this walk, you will see Piazza della Signoria with the town hall Palazzo Vecchio, the Duomo, the Baptistery with its 'Gates of Paradise', Giotto's independent bell tower, Brunelleschi's Dome, Santa Trinita and Orsanmichele Church, Pontevecchio Bridge and the secret Vasari Corridor, as well as famous shopping streets and the Oltrarno – the fourth and last district, the manual crafts neighborhood.
Also, stop for a surprise "tasting", a nice and delicious break during your pleasant walk.
Important Notice: REGIONAL TRAIN FROM Figline Valdarno to Firenze not included.
Afternoon-INCLUDED-Wine Class
This afternoon tour the wine facilities at Villa Casagrande, and learn about the art of Chianti wines. Wine tasting and local appetizers will be served.
Day 5
Tuscany at Leisure -Afternoon Optional Pizza Cooking Class
Breakfast. Day at leisure. Walk through the beautiful town of Figline Valdarno or choose a spa treatment or optional activity.
OPTION:
Pizza Making Class-$70 per person
Pizza making: Enjoy a hands-on pizza making session at Villa. The course lasts for two hours starting at 5PM.
You will learn:
Introduction to the story of the pizza and its evolutionDemonstration of the preparation of the dough followed by the preparation of your own pizzaCooking and tasting of the pizzas prepared.
Day 6
Tuscany at Leisure-Venice Optional
Breakfast. Day at leisure. Walk through the beautiful town of Figline Valdarno or choose a spa treatment or optional activity to Venice.
Venice By Day
Price per person $275
Min 6 travelers to guarantee the tour
Take a break from the birthplace of the Renaissance to visit the enchanting aquatic city of Venice! Travel north by coach or minivan to arrive in this ancient republic built in the middle of the Venetian Lagoon. Enjoy free time to explore romantic canals, footbridges, piazzas and cafes on your own, and embark on a guided tour of the city's architectural and artistic treasures in the afternoon. See iconic landmarks like the Doge's Palace, St Mark's Basilica and more while learning about the history of this fascinating maritime realm. Enjoy leisure time to shop, explore independently Learn about the ancient city's history and highlights on a guided tour See landmarks like the Doge's Palace ( ONLY OUTSIDE ) , Bridge of Sighs and St Mark's Square Includes round-trip transport from Figline Valdarno in a comfortable coach or minivan.
Leave Figline Valdarno early in the morning and head north by luxury coach or minivan. The ride to Venice is around 3 hours and once in there you will have free time in the morning to wonder around on your own. After lunch (not included) in the afternoon you will meet your guide at San Marco Square.. Wonder the narrow streets along the canals and learn about the extraordinary history of this place with and expert guide. You will see the exterior of the major sights in Piazza San Marco including: The Bridge of Sighs, Doge's Palace, St. Mark's Cathedral and Clock Tower. .Late afternoon return to your villa.
Day 7
Tuscany at Leisure
Breakfast. Day at leisure. Walk through the beautiful town of Figline Valdarno or choose a spa treatment or optional activity.
Overnight at the Villa
Day 8
Departure
Breakfast (boxed) and return transfer to Rome airport. One transfer depending upon specific flights. Private transfers are available at an additional cost.
Includes
Roundtrip Air from NYC
Arrival and departure transfer from To Rome airport
6 nights in double standard room at Villa Casagrande
Wine class at your Villa
Farm to Table Thanksgiving Feast
Live Like a Local Orientation and walking tour ( 1 hr) of Figlini Valdarno on day 2
City tax at the Villa
Tuscan breakfast daily