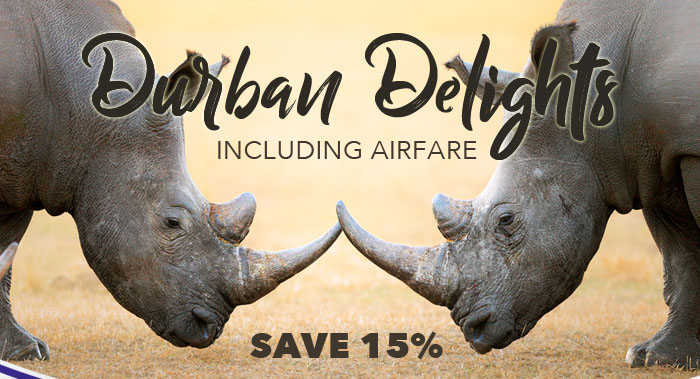 Durban Delights Including Airfare
starting at $2,859.00 per person
Durban, South Africa
Arts and Culture, Culinary, Food Tours, Historical Travel, Safari, Safari Vacations, Sightseeing

It may be South Africa's third-smallest province, but KwaZulu-Natal's scenic and cultural riches include the country's most popular beaches, numerous game reserves, historic battlefields, and the dramatic Drakensberg Mountains.Take a different style of South Africa vacation, and see why this region is so popular with first-time and repeat visitors.
This 10-day South Africa trip takes you to Durban and KwaZulu-Natal, encompassing history, wildlife, and the natural beauty of this much-loved part of the country.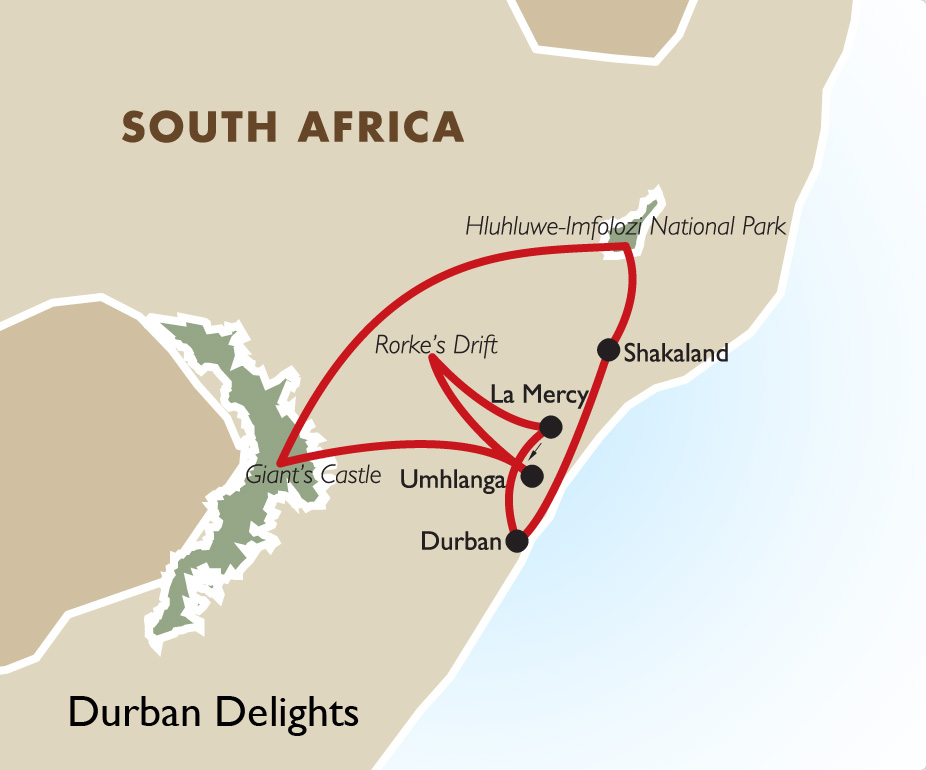 Itinerary
Day 1
Depart North America
Depart North America on your flight to Durban, South Africa.
Day 2
Enroute to Durban
Travel To Durban, South Africa
Day 3
Arrive in Durban, South Africa
Upon arrival at Durban King Shaka International Airport, you will be met by a representative and transferred to your hotel.
Day 4
Scheduled Full Day Durban Highlights Tour
Departs between 08:30am & 09:00am – Returns at 5:00pm.
If you want to get to grips with Durban, this full day tour is for you. Ample time to discover the cultural and historical contrasts of this city…before spending time at the world class attraction: uShaka Marine World. Our tour begins as we travel along the brand-new Golden Mile, the revitalized beachfront promenade which hugs the beckoning beaches of Durban viewing the newly upgraded Point Waterfront. We move through the City, viewing the majestic City Hall, and enjoying its humorous history! We continue to the small craft harbor viewing the 8th largest harbor in the world. Drive past the sugar terminals and very busy harbor warehouses on our way to the University of Natal – Durban Campus where we view lovely sights of the harbor down below. Then we visit the bustling African/Indian Markets at Warwick Triangle – home to 9 distinct markets developed around Durban's largest public transport interchange and where approximately 6,000 street vendors ply their trade, to an average of 460,000 daily commuters – an authentic experience. Visit the fascinating Phansi Museum – home to the largest publicly accessible collection of Southern African artifacts and traditions, including beadworks, headrests, Zulu clay pots and various other treasures. (Closed on weekends and entrance fee for own account). From culture to nature, we visit the peaceful Durban Botanic Gardens founded in 1849, a treasure trove of massive trees from Asia, Africa and America, and a magnificent orchid house. We then proceed to an icon of Kwazulu Natal, the Moses Mabhida Stadium where you will have the option of experiencing the cable car ride (own account) to the top of the Stadium for that phenomenal view of Durban and its surroundings. Afterwards, we're going to sit back and be entertained at uShaka Marine World, where the dolphin, seal and penguin shows are not only spectacular, but fun and light-hearted too!
Day 5
Scheduled Full Day Shakaland Tour
Departs between 8:30am & 8:45am – Returns at 4:30pm
Experience traditional Zulu culture and customs at the largest Zulu kraal in all of Zululand, look into the future with an iSangoma or traditional healer… all this and more, packed into one exhilarating day. We've laid on some traditional Zulu beer for you to sample, while the craftsmen and community who make the spears, shields, beadwork, pots and their huts, open their doors so you can witness their skills and artistry. The Zulu dancers will thrill with their grace and energy, and we've made sure you're treated to a most satisfying lunchtime feast! Come live a day in the life of a traditional community – you'll find it informative and a far cry from anything you've ever experienced!
Day 6
Scheduled Full Day Hluhluwe-Imfolozi Park Tour
Departs between 6:30am & 6:45am – Returns at 6:30pm
This magnificent Big Five game park is not only home to 84 species of game, but it's the oldest proclaimed reserve in Africa, world-renowned for its highly successful white rhino conservation programme. A day on safari in the magical Hluhluwe-iMfolozi Park doesn't stop at the thrill of searching for the Big Five, but the hilly terrain offers spectacular views of the Reserve and your camera is going to love it. We've arranged lunch at the lofty Hilltop Camp – or similar – and it'll give you a chance to check how close your bird count has come to the 425 listed birds in the Park. Hluhluwe-iMfolozi Park is Kwazulu-Natal's pride and joy, and after your visit, you'll understand why.
Day 7
Scheduled Full Day Drakensberg World Heritage Tour
Departs between 6:00am & 6:30am – Returns at 5:30pm
Discover the beauty of the undulating Drakensberg Mountain range as we travel through such breathtaking vistas as we visit the World Heritage Site of Giant's Castle. The enigmatic Bushman paintings in the vicinity are not far, so we set off on foot for a leisurely 3km round hike to the site of the caves to discover this magical legacy of the bushmen (moderate fitness level required). Our guide there will share his knowledge of the paintings which date back 2 000 years. We're bound to have built up an appetite, so we'll tuck into the hearty lunch laid on. Our return to Durban is via a visit to the Nelson Mandela Capture site – a historically significant moment in South African history and now commemorated with a world class sculpture, in memory of Nelson Mandela and his heroic role in the struggle against apartheid.
Day 8
Curry Buffet at Oyster Box Hotel
The Curry Buffet in the Ocean Terrace Restaurant continues to attract fans from far and wide. Set in the casual, Mediterranean-inspired Ocean Terrace, with gorgeous views across the Indian Ocean, the impressive curry selection, of at least 11 curries daily, includes meat, fish and vegetarian options. Using delicate blends of spices and fresh herbs, each curry is a masterpiece in itself.
From the delicate flavours of the Singapore Fish Curry, using the freshest fish of the day, to the spicy, hot Lamb Vindaloo and smooth-textured Butter Chicken. Vegetarian options delight as Bean and Botie sit side-by-side with, Vegetable Korma and Sugar-Bean Curry. The city's famous Chicken and Prawn Curry and the Oyster Box's signature Traditional Durban Lamb Curry remain firm favorites.
Accompanied by fresh, home-made condiments including lime and vegetable pickle, home-made Chutneys, Raitas, Sambals and freshly baked Naan breads, Papadums and Roti, the Curry Buffet, compels diners to return time and again.
Two Tandoori ovens guarantee authentic, freshly prepared Tandoori chicken, also available on the Buffet.
Day 9
Scheduled Full Day Isandlwana & Rourkes Drift
Departs between 6:15am & 6:45am – Returns at 7:30pm
Historians will love it for sure, but if you enjoy a really great story, the Battlefields tour is for you too – it's both a thriller and a drama. KwaZulu-Natal is rich in Anglo-Zulu war history, where two of the most famous, at times heart-wrenching battles fought between the Zulu and British Armies took place. We visit the eerie battlefields of Isandlwana and Rorke's Drift, and let your imagination paint mental pictures of the battle scenes played out here. Our tour includes lunch, and we wind our way home thereafter through some of the most spectacular scenery in the province of Kwazulu Natal.
Day 10
Depart for Home
Transfer to the airport for your departure to North America.
Includes
International Airfare and taxes
Meet and greet
All transfers
7 nights accommodation
Meals as indicated in itinerary by BLD
Durban City Tour
Shakaland Tour
Hluhluwe-Imfolozi Safari
Drakensberg Tour
Isandlwana & Rourkes Drift