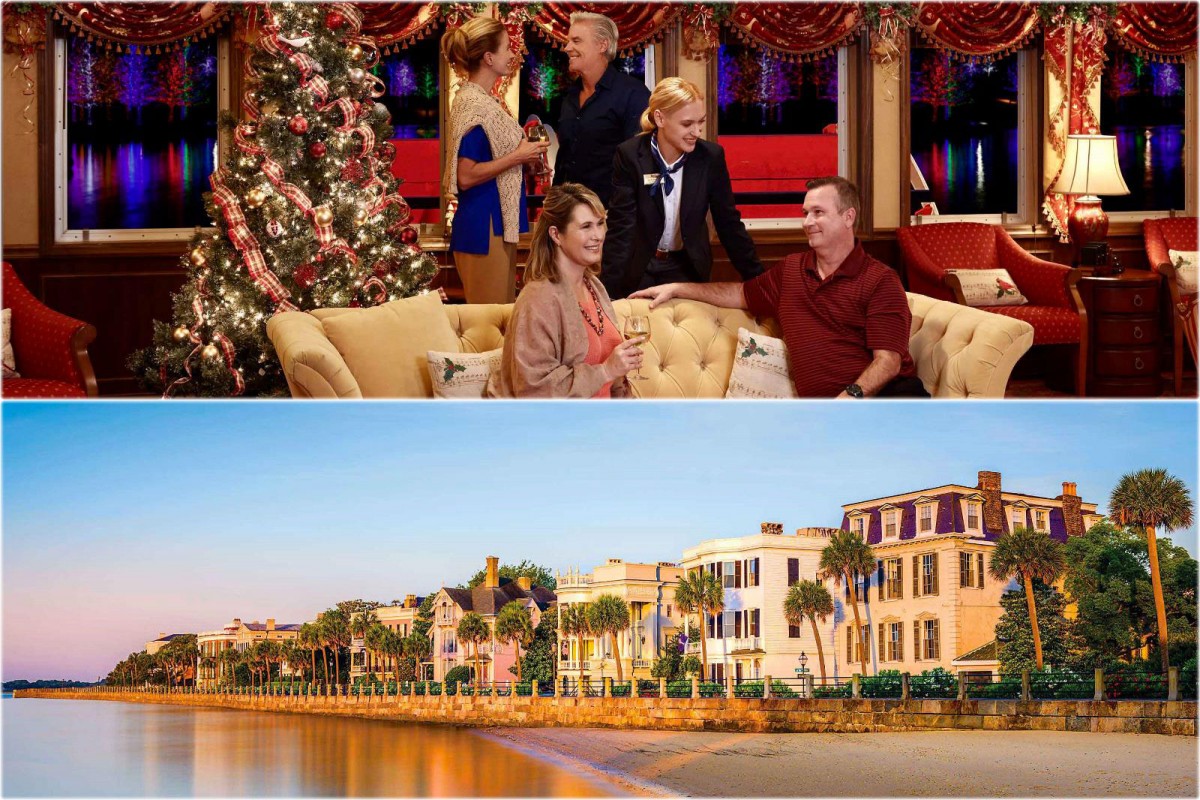 Historic South and Golden Isles Cruise
8 Days / 7 Nights starting at $3,495.00 per person
Charleston, Florida, Georgia, Jacksonville, Savannah, South Carolina, United States of America
Architectural, Arts and Culture, Beach Vacations, Cruise, Garden Tours, Golf, Historical Travel, History Tours, Holiday Travel, Native American Tours, Nature-Wildlife, River Cruises

As you cruise between ports, expansive wildlife refuges and remote islands stretch out before you, offering an extraordinary view of the wilderness of the South. This is a region of history, legend, grace, and beauty that will leave you inspired.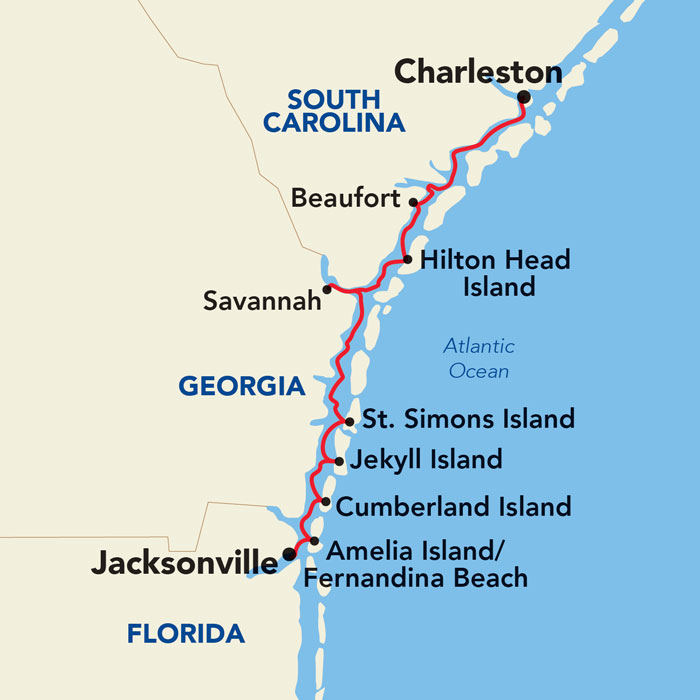 Itinerary
Day 1
Charleston, SC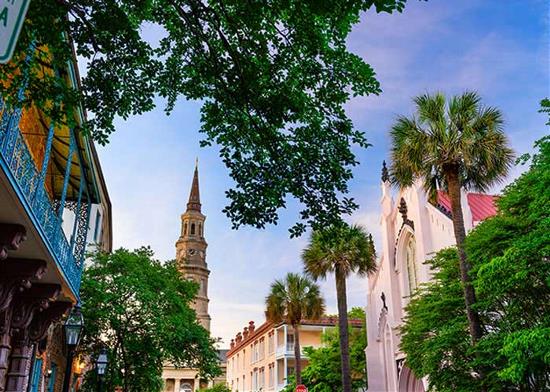 The port city of Charleston is known for its cobblestone streets, gas-lit lamps, and pastel antebellum houses. The scene of Revolutionary War naval battles, legendary pirate tales, and Civil War sieges, the city is considered by many to be a living museum. Visit historic Fort Sumter National Monument, where the first shots of the Civil War rang out. Learn how Charleston's African-American heritage has contributed to the city's history and unique culture. Enjoy the beauty of the area with a stroll through its magnificent parks and gardens.
Day 2
Beaufort, SC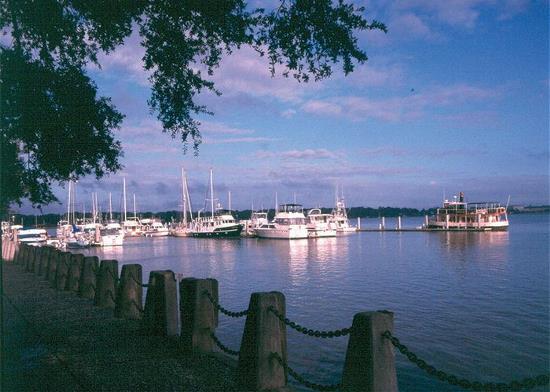 Beaufort's history includes European explorers, Native American cultural influences, British settlements, and Civil War battles. Today, horse-drawn carriages clatter along the narrow streets of this historic district, past 18th and 19th-century homes famous for unique Beaufort-style architecture. As you explore this amazing city, discover why Beaufort was once heralded as the "Newport of the South."
Day 3
Hilton Head Island, SC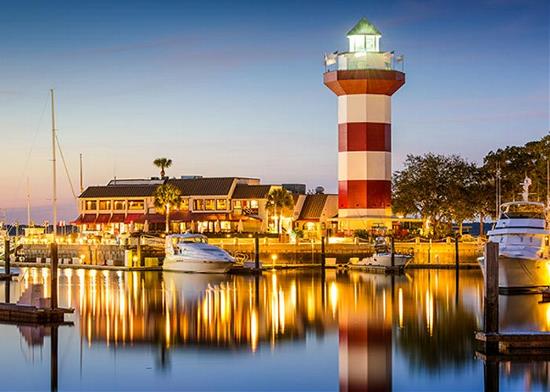 Hilton Head is a first class resort known for its championship golf courses and miles of scenic beaches. A boat tour of The Sea Pines Forest Preserve gives you a close-up view of Hilton Head's indigenous plant and animal life, including the American Alligator.
Day 4
Savannah, GA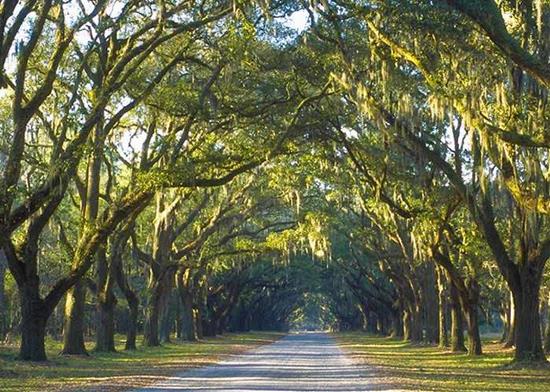 With its emerald tree canopy, quaint cobblestone streets, and majestic architecture, Savannah is still a bustling seaport with renowned historic districts that preserve its phenomenal 19th-century wealth and opulence. Join a narrated tour of Savannah's "Historic and Victorian Districts," brave an evening Ghost Walk, or explore the area's magnificent shops.
Day 5
Cumberland Island, GA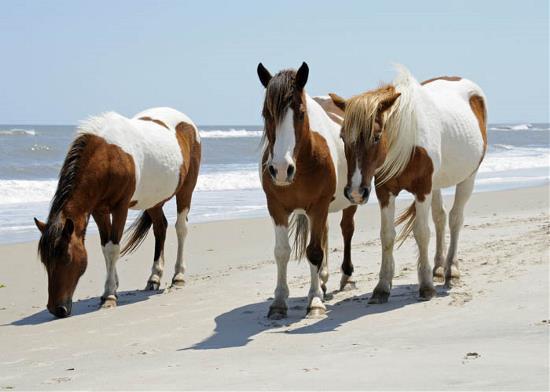 Cumberland Island is Georgia's largest barrier island and one of the most spectacular natural habitats in the Northern Hemisphere. Home to over 9,800 acres of congressionally designated wilderness, view the Island's pristine maritime forests and undeveloped beaches. Within the Island's marshes, abundant wildlife resides, from shrimp and fish, to osprey, and even alligators. Enjoy the beautiful sight of the sun setting over the marshes of Cumberland, one which continually draws visitors back.
Day 6
Jekyll Island/St. Simons Island, GA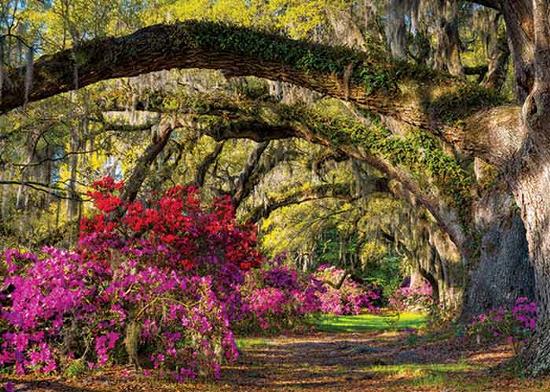 Discover the compelling history of Jekyll Island and St. Simons Island. Today, Jekyll Island is part of Georgia's Sea Isles and boasts "Millionaire's Village," 240-acres of extravagant homes and winter cottages, now recognized as a National Historic Landmark. St. Simons Island offers guests a view of the area's past, including momentous 18th-century battlefields and sprawling, antebellum plantations.
Day 7
Cruising to Amelia Island, FL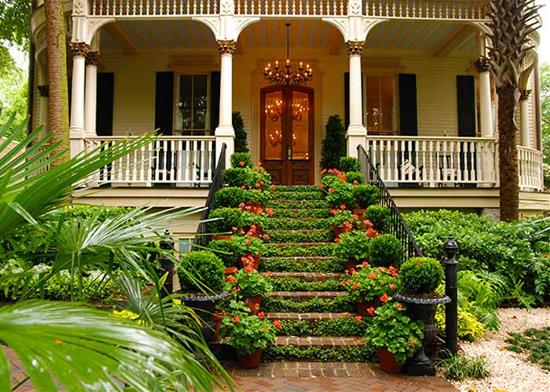 Discover the natural beauty of Amelia Island, with its miles of quartz beaches and rolling sand dunes. Fernandina Beach, the island's only city, now harbors a treasure trove of history, antiques, and collectibles. Join a walking tour of Centre Street's Historic District, with 50 blocks of restored 19th-century Victorian homes and shops.
Day 8
Jacksonville, FL Area (Amelia Island)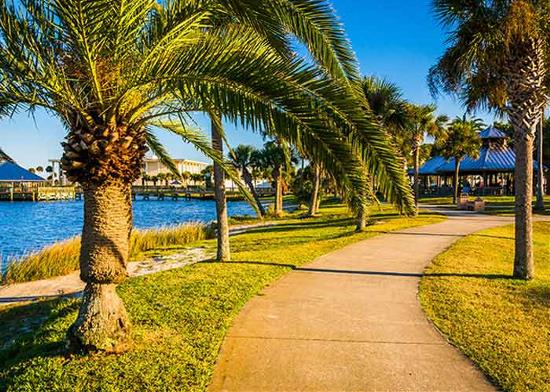 Take in the beautiful weather of northern Florida as you disembark from your tour of the South. Jacksonville offers a number of wonderful activities, including a tour of Cummer Museum of Art and Gardens, which houses an exclusive collection of art, including rare porcelain.