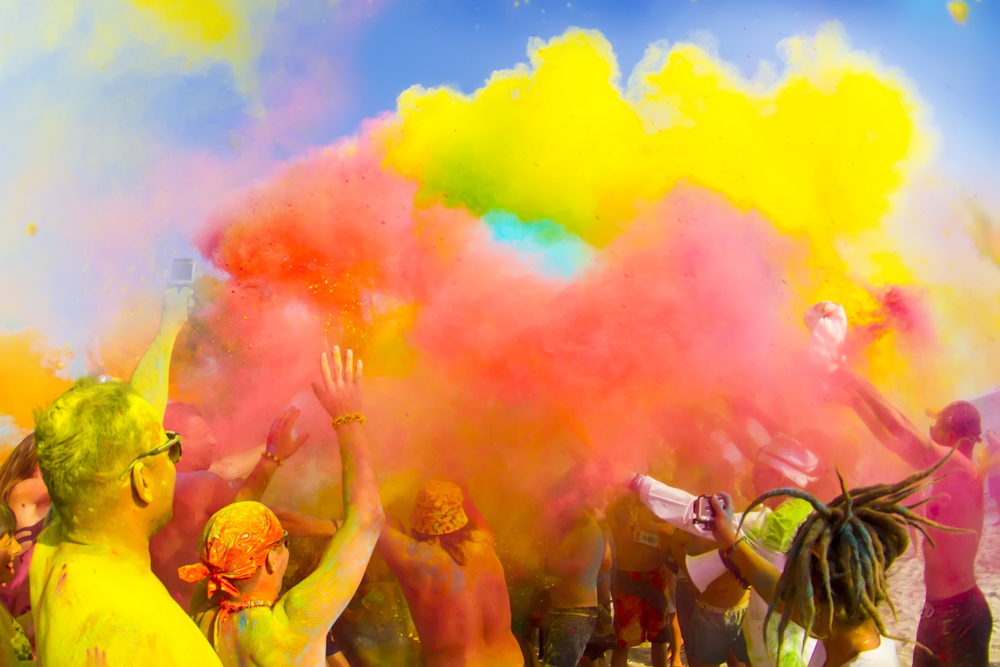 Holi Festival 2018 The Colors of India
starting at $1,950.00 per person
Delhi, India
Arts and Culture, Bicycling, Festivals, Holiday Travel, Sightseeing, Yoga Retreats and Vacations

Journey to Spiritual India for Holi Celebration 2018!
This unique festival takes place annually and attracts countless travelers to India. Known for the beautiful vibrant colors of the festival, Holi stays true to the cultural roots of India. Alongside a certified Learning Journey's guide, you will spend 9 days fully immersed into the truly unique culture of India! Holi, also known widely as the "Festival of Colors", is a Hindu festival celebrating the arrival of spring with bonfires, colored powders, and gatherings! This vibrant celebration takes place on the day after the full moon in the Hindu month of Phalguna, which is early March. This globally recgonized event gives travelers an inside look of Hindu mythology, as they partake in this cultural event of welcoming spring and spreading peace!

Itinerary
Day 1
Depart to New Delhi!
Depart from your home on a journey of the mind, body and soul to Northern India. Please ensure when booking flights that you plan to arrive on the morning of February 26th.
Day 2
Arrive Delhi (mid night)
Namaste and welcome to India! You will arrive into it's capital city, Delhi. Contemporary Delhi is a bustling metropolis, which successfully combines the ancient with the modern. Check-in at your hotel in Delhi. The hotel is a retreat of contemporary accommodation and warm hospitality.
Day 3
In Delhi
Your first morning in India will begin with a hotel breakfast. After breakfast, proceed for a combined tour of Old and New Delhi, a cultural melting pot of contemporary and old world.
On this tour, you will visit Iskcon temple and spend some time there learning of the customs and cultrue surrounding this magnificent temple. ISKCON (International Society for Krishna Consciousness) is a spiritual institution that follows a monotheistic tradition within the broad Hindu culture. It is scripturally based on the 5,000-year-old Sanskrit text Bhagavad-gita, focusing on educating people in the techniques of spiritual life and propagate a consciousness of Krishna as it is revealed in the Bhagavad-gita and Srimad Bhagavatam.
After ISKON, you will have lunch at a local restaurant before continuing on your tour to Old Delhi.
Old Delhi's narrow lanes give personality to this rich city. Here, you till tour the market with a cycle rickshaw ride! Additionally on your tour, you will visit Raj Ghat and Sikh Temple, and Gandhi Museum.
Around 6:00 PM, you will experience an evening Aarti ceremony at a local temple.
After your day of touring, you will have dinner at a veda restaurant at Connaught Place.
Day 4
Delhi / Haridwar (by train) / Rishikesh (approx 1 hour)
After early breakfast, you will transfer to New Delhi Railway Station for the train to Haridwar!
The word Haridwar is the combination of two words "Hari" means the God and "Dwar" means the gate. The literary meaning of Haridwar is the gate to Gods. The city is located at the point where theGanges leaves the Himalayas to begin its journey across the plains, makes it a particularly holy place. Every 12 years the Kumbh festival attracts millions of pilgrims who come and bathe in the river. Various episodes from the Hindu epic Mahabharata are set in this ancient town.
Upon arrival to Haridwar, proceed for lunch at a local restaurant and drive to Rishikesh.
Rishikesh – at a height of about 1360 feet above sea level, is the Gateway to the Himalayas and a major centre of spirituality and pilgrimage. Several temples dot the banks of the Ganges at Rishikesh. Since ages, yogis & sadhus lived and practiced religion here. This small hill town got an introduction to the western world in late 60's when Beatles stayed at an Ashram here.
Here you will hav a hotel check-in in Rishikesh.
In the evening visit the Ashram where Beatles stayed followed by a visit to Parmarth Niketan Ashram where we will witness the prayer of river Ganges, called "Ganga Aarti". The ceremony is performed by ashram resident children who are studying the Vedas there. The ceremony commences with the singing of bhajans (prayers), and a purifying and sacred ritual that takes place around a fire, with the offerings made to the fire god (Agni). The lamps are lit and the aarti takes place as the final part of the ceremony. The children sing along with the spiritual head of the ashram, in sweet, haunting voices. This is a very spiritually engaged ceremony.
Dinner at hotel
Day 5
In Rishikesh
This morning will be accompanied with an early yoga session at hotel before breakfast.
After breakfast, you will take an excursion Kunjapuri Temple! Kunjapuri is situated at the height of 1645 meters above the sea level, the temple is dedicated to the Goddess Shakti who donated power. Kunjapuri Temple is home to breathtaking view to the Himalayas after a 150 step staircase.
On the way back, you will get the chance for a true cultural immersion into India with a visit to the village to meet the locals!
After the locals visit, you will have lunch at a local restaurant.
Evening remains at leisure. Guests can book a Spa Session with the hotel or shop in the bustling markets of Rishikesh
Dinner at hotel
Day 6
Holi Celebration
After a relaxed breakfast at the hotel, you wll embark on your drive to Haridwar to visit your guide's home and enjoy Holi Celebrations! Here you will learn local traditions and have a delicious and fun filled lunch with the family.
After engaging in the festival, you will return to Rishikesh and rest of the day remains at leisure.
Dinner at hotel
Day 7
In Rishikesh
This morning, you can engage in a yoga session at the hotel before proceeding to breakfast.
Today, on site visit to Purukal Youth Development Society, a community organization that strives for excellence in rural children through free holistic education, day long nutrition, and complete health care. It has dual focus – development of individual capacity of the underserved and the consequent building of community capacity. The NGO is not only running a school but also ensuring student's transition into a successful adulthood. In addition to education, the NGO has taken several community development initiatives like – employment to the ladies of rural community, health & sanitation, social causes (such as domestic violence against females, child abuse, dowry, alcoholism, female infanticide and foeticide etc) and natural disaster relief.
Enjoy your lunch with the staff and children here at Purukal.
In the evening, get ready with your questions as you will meet an Astrologer! Astrology in India has deep roots and is very well respected.
Dinner at hotel
Day 8
Rishikesh / Haridwar / Delhi (train)
This morning, you have another chance to engage in a yoga session at the hotel before proceeding to breakfast.
After breakfast at hotel, the morning remains at leisure.
Lunch at hotel.
(Hotel check-out at 1200 hrs)
After lunch at about 12 PM, you will check out of the hotel and transfer to the Haridwar Railway Station (1 hour drive) to get on the train to Delhi.
Once you reach Delhi, you will have a transfer to an airport hotel where you will have dinner.
Day 9
Departure Delhi (international flight)
Early this morning, you will have a transfer to the airport for your flight back home.
Includes
8 Nights' accommodation
Meals: breakfast, lunch and dinner
Transportation
Tour Manager
Special Site events & Activities
Cycle rickshaw ride in Old Delhi lanes
3 Yoga Sessions in Rishikesh as per itinerary
Aarti Ceremony of Ganges in Rishikesh
Holi Celebration with local family while visiting their home over lunch in Haridwar
Visit to the hill top temple of Goddess of Power in Rishikesh
Community services in Purkal Youth Development Society
Meeting with an Astrologer in Rishikesh