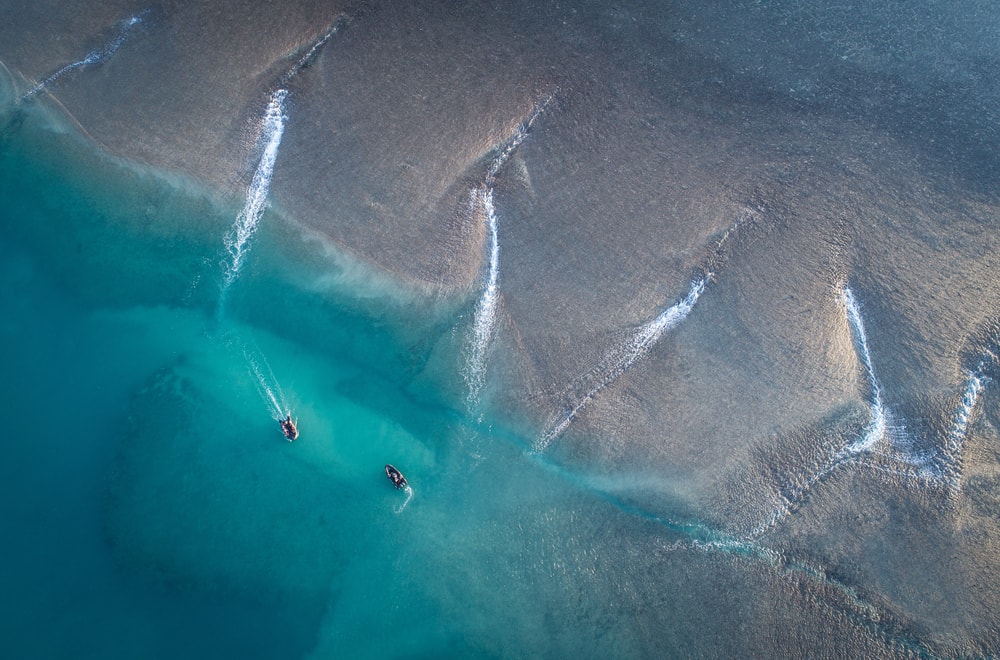 Kimberley Fishing Extravaganza
5 Days / 4 Nights starting at $2,784.00 per person
Australia, Western Australia
Arts and Culture, Fishing Vacations, Hiking, Nature-Wildlife, Rain Forest, Sightseeing, Soft Adventure, Water Sports, Wild Life, Yachts

The Great Escape Charters fishing adventures give you the option to experience a number of exciting activities along the coastline in addition to fishing. You may choose to visit spectacular Kimberley Waterfalls, gorges, and stunning rock pools for swimming, or take excursions to wondrous and extensive Aboriginal rock-art galleries. You can take a dinghy down the river-ways for mud crabbing, have a relaxing swim in a white sandy beach, look for turtles at Montgomery Reef, and encounter some of Australia's most intriguing and remarkable landscapes and wildlife. Or you can just keep on fishing! With an onboard helicopter dedicated to our guests, we also provide the opportunity to view the Kimberley Coast from another thrilling perspective, and heli-fishing to hidden locations inaccessible by boat, are popular optional additions to our itinerary.
Itinerary
Day 1
Broome to Doubtful Bay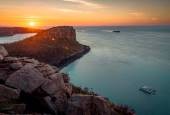 Your Kimberley fishing adventure begins with a flight into the heart of the Kimberley Coast. Transfer by helicopter to land aboard the MV Great Escape. Your crew will great you with a warm welcome and a hearty brunch to begin the day. Cruise across King Sound to Strickland Bay, where you can fish the Graveyards for queenfish and trevally. Navigating through Whirlpool passage on your way to Buccaneer Archipelago, stop to have a flick at the passing tuna schools before anchoring for the night a Coppermine Creek, a scenic and natural safe harbour.
Day 2
Raft Point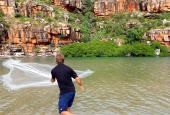 Today, choose to go bottom fishing, trolling for sport species or collecting succulent Kimberley oysters for the evening entree. Find a waterhole for a refreshing swim before cruising over to Raft Point where you can either go for a sunset fish or enjoy a hike to an ancient Aboriginal art gallery. Drinks will be served on the desk as you watch the sun slowly melt into the ocean.
Day 3
Montgomery Reef
Marvel at the waterfalls of Montgomery Reef as you take an early morning foray along the unusual reef structure. Discovered by Phillip Parker King in the early 1800s, the area is rich in history and wildlife. You can hook into a giant trevally, queenfish, tuna or perhaps a mackerel, all while spotting turtles, sharks and the odd dugong. Cruise back to Doubtful Bay and head on toward a favorite Kimberley watering hole, a great place to relax and have a swim.
Day 4
Sale River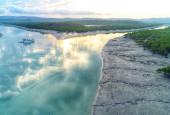 The Sale River is one of the most scenic waterways in the area, encompassing both tidal estuaries and spectacular sandstone gorges. Star the day by fishing the morning tide before cruising down the river for a barbecue lunch beneath a rainforest canopy. Time permitting, fish through the afternoon before returning to the MV Escape.
Day 5
Broome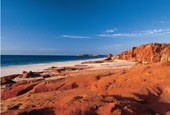 After departing the MV Great Escape in the morning by heliopter, you will land at Mount Hart and be transferred to Broome by fixed wing charter flight.
Includes
Round-trip transfers between Broome accommodation and MV Great Escape (small aircraft/helicopter as noted)
All meals including morning and afternoon tea, coffee and soda
Sightseeing activities as noted
Accommodation onboard
Park Fees
Fishing Gear