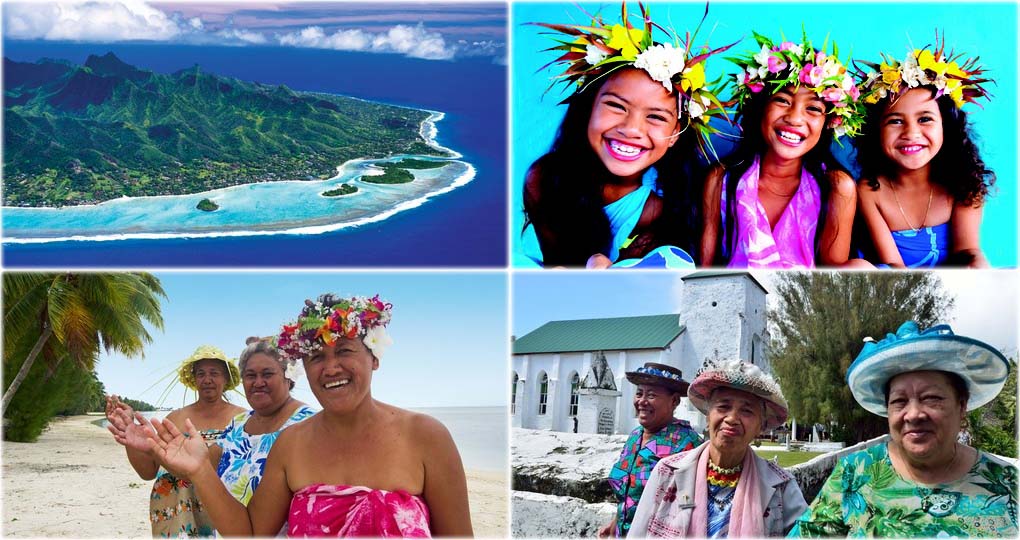 Live Like a Local – Cook Islands on Sale
15 Days / 12 Nights starting at $2,169.00 per person
Cook Islands
Arts and Culture, Beach Vacations, Bicycling, Hiking and Trekking Vacations, Historical Travel, Nature-Wildlife, Water Sports

Spend 12-nights in one of nature's crowning achievements, the idyllic Cook Islands. On a Live Like a Local tour, you'll be free to do whatever you want on your vacation. Indulge in the white-sand beaches and turquoise waters or sink into the rhythms of the islands and connect to the amazing people that call the islands home. The price of this island stay includes international airfare.
The Cook Islands remain some of the best-kept secrets in the South Pacific. They're a series of 15 islands northeast of New Zealand, halfway to Hawaii. The Cook Islands present plenty of opportunities for the kind of beach resort getaways you fantasize about, but they also offer a chance to embed yourself in island culture and live like a local in paradise. Cook Islanders are extremely friendly people, and are more than happy to welcome you to their island and help you adjust to "island time." It's key to relax while visiting the Cook Islands. There's no sense of urgency here. There aren't even traffic lights! Cook Islanders take their time and enjoy every moment of the day. If you want to experience the authentic Cook Islands, slow down and take in everything these wonderful islands have to offer.
On arrival in the Cook Islands, you will be taken to one of our recommended self-contained accommodations for a 12-night stay. If you want to blend into the local rhythms, stay on Rarotonga, the largest of the islands. Most Cook Islanders get around by scooter or bicycle, so rent one to travel around the island. If you spot a particularly gorgeous lagoon off the coast, or one of the island's many white coral and limestone churches, stop and take a photo. Talk to the local groundskeeper to learn about the church's history or stroll along the beach to see what else the water reveals to you. Traveling by cycle or scooter lets you move at your own pace and experience the Kia Orana spirit.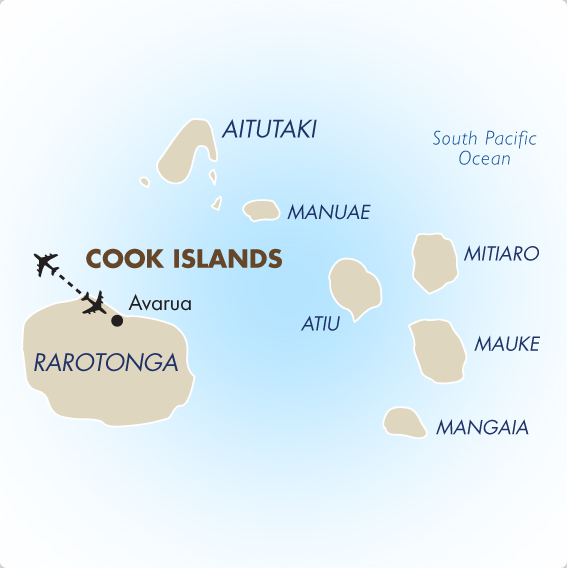 Itinerary
Day 1
Depart North America
Depart North America.
Day 2
Arrive Cook Islands
On arrival in Rarotonga, you will be met by a local representative and transferred to your chosen self-contained accommodation.
Days 3
Progressive Dinner
Your day is free to relax. This evening enjoy a hosted 3-course dinner (appetizer, main and desert) served at 3 different homes around the island. Dine with your local hosts as you are treated to a delicious meal.
Day 4-10
Cook Islands at leisure
Your days are free to enjoy your Cook Islands vacation, Embark on day excursions around the island, go snorkeling and swimming or relax with a book an cocktail on the beach. On Day 8 (Sunday), we recommend you experience a Sunday morning church service. The locals will warmly welcome you and you can expect to hear beautiful singing and there are often refreshments after the service.
Day 11
Cross Island Trek
Today enjoy a leisurely trek across the island of Rarotonga and explore the rugged interior. You will be guided by Pa, a delightful and colorful local Cook Islander. Pa will explain the flora and fauna and its use in Cook Island culture (such as in cooking and in medicine). You will see an ancient ceremonial stone, pictographs on the face of the Needle and hear legends from Pa of the ancient Polynesians.
Day 12
Cook Islands at leisure
Your day is free at leisure. Why not consider adding a full day tour to the beautiful island of Aitutaki, or embark on a storyteller's eco-cycle tour – a great way to experience local life aboard a bicycle.
Day 13
Highland Paradise Cultural Centre Guided Tour
Today embark on an interactive cultural experience at the Highland Paradise Cultural Centre. Visit Pre-history worshipping places, chiefly house sites, ancient sacrificial sites and reconstructed tribal buildings. You will learn to cook and sample an umu (underground oven), plus learn to weave drum and dance.
Day 14
Depart Cook Islands
You will be met by a representative for your transfer to the airport. Depart Rarotonga for your return flight back to North America or onwards to New Zealand or Australia.
Day 15
Arrive North America
Arrive back into North America.
Includes
Round trip airfare from North America including all taxes
Roundtrip transfers
12 nights' accommodation in a self-contained apartment
Continental Breakfast at Palm Grove, Lagoon Breeze Villas & Sunset Resort Rarotonga
Breakfast starter pack at Sea Change Villas
Includes 3 excursions with a chance to interact with locals