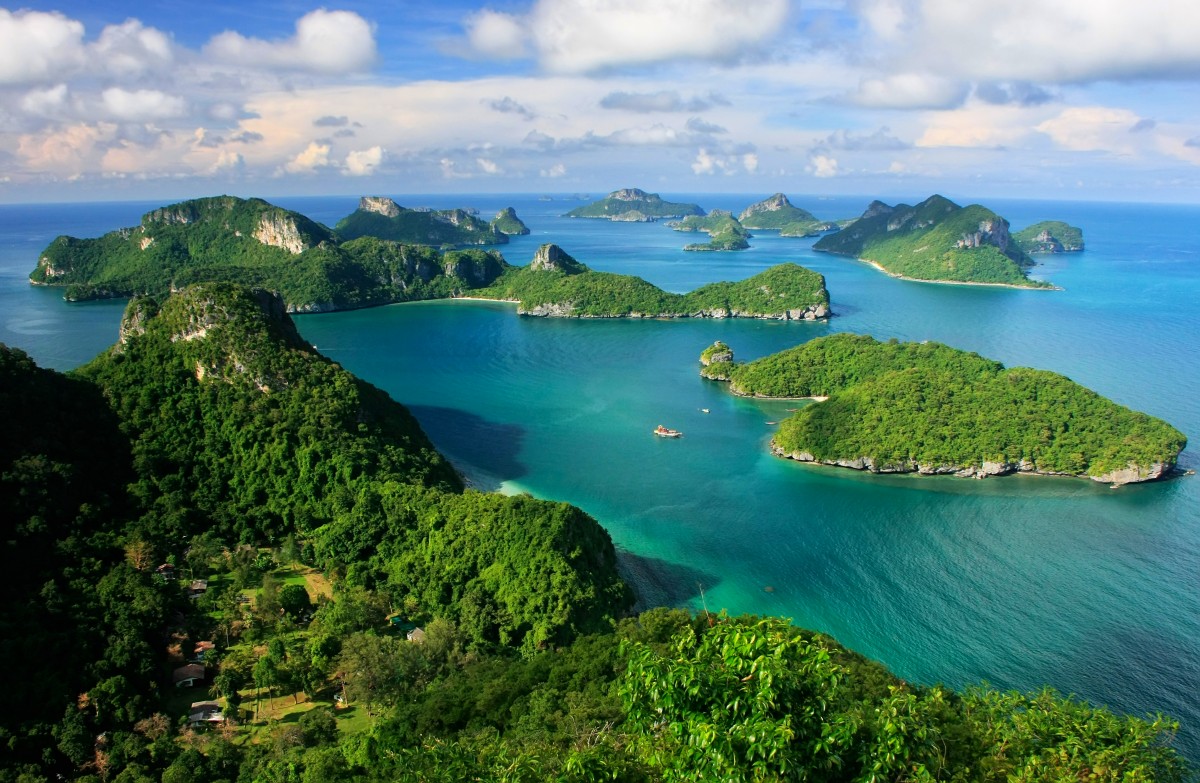 Thailand Enchanted with Koh Samui
13 Days starting at $3,339.00 per person
Bangkok, Chiang Mai, Thailand
Architectural, Arts and Culture, Beach Vacations, Historical Travel, History Tours, Nature-Wildlife, Romance, Sightseeing, Walking, Wild Life, Yachts

This 13-day Thailand vacation takes you to Bangkok, Chiang Mai, and Koh Samui. It lets you experience the nation's cultural wonders as well as its world-famous beaches.
Your Thailand vacation begins in Bangkok, the capital of Thailand and the most-visited city on the planet. Upon immediate arrival, you'll realize that Bangkok is a city of contrasts. Massive skyscrapers sit beside wooden huts. Luxury malls jostle for baht alongside bustling farmers' markets. No one side of Bangkok is all-defining; it takes both to capture what makes this city so invigorating. During your Bangkok tour, be sure to head to the Damnoen Sanduak Floating Market, where you'll see dozens of vendors on boats selling fruits and vegetables. You'll also take a tour of the city's most famous palaces and temples, starting at the Grand Palace and ending at Wat Po, home to the enormous Reclining Buddha statue.
From Bangkok, head north to Chiang Mai, the country's unofficial northern capital. Chiang Mai is more sedate than its southerly sibling, but it still packs a potent cultural punch. In the Middle Ages it was the capital of the Lanna Kingdom and today it remains many travellers' favourite spot in the country: a vibrant slice of authentic Thai life with an incredible food scene and great nature and culture to boot. While in Chiang Mai, you'll tour the dozens of temples that lend the city its historical significance, including Wat Phrathat Doi Suthep, which houses a relic of the Buddha and is considered the most sacred temple in northern Thailand. You'll also stop by the market and walk along the old city walls. If you're still itching for adventure, you can take an excursion into the nearby jungles to spot waterfalls or visit the Elephant Nature Park to see rescued elephants.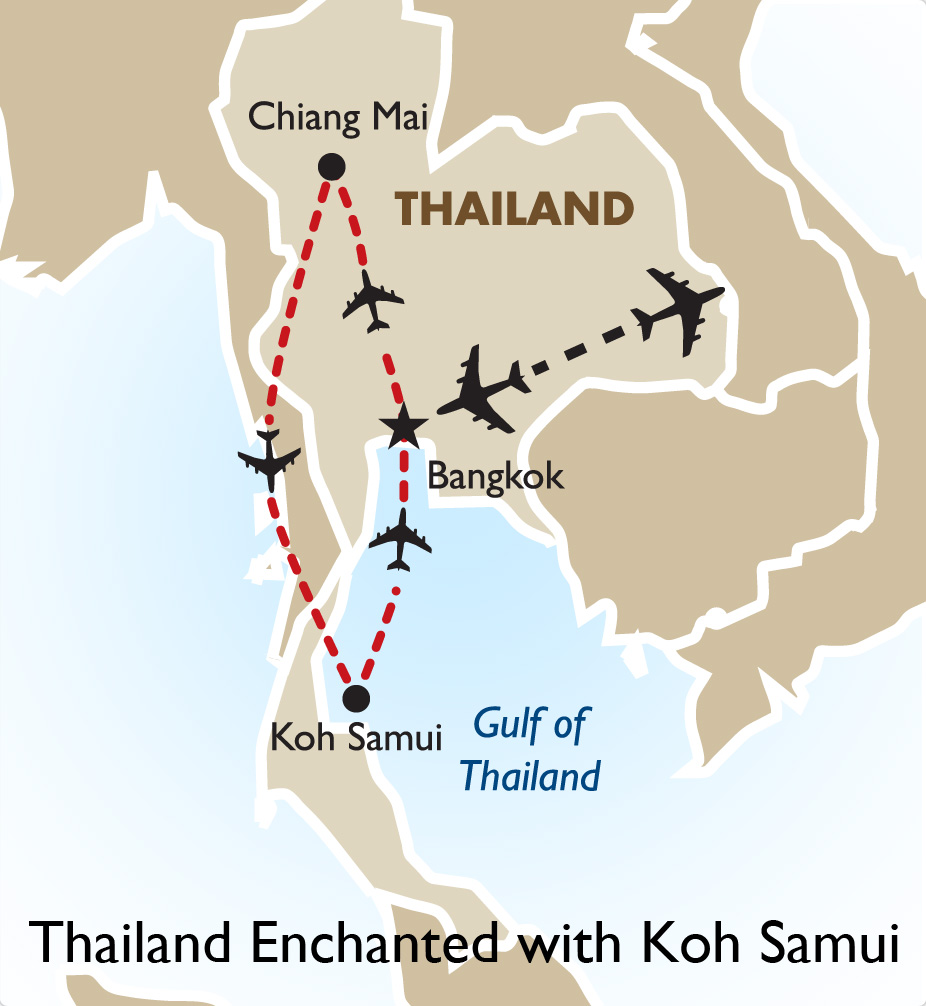 Itinerary
Day 1
Depart North America
Depart from North America to Thailand.
Day 2
Arrive Bangkok
On arrival, make your way to the exit and look for a driver holding a sign with your name. You will be transferred to your accommodation and the rest of the day is at leisure.
Day 3
Grand Palace and Temples tour plus dinner cruise
Today you will visit the famous Grand Palace, Chakri Maha Prasad, one of the most beautiful examples of an ancient Thai court. The palace was the former residence of the Thai kings. There are several things here to admire, including the Reception Hall, the Coronation Hall, the Funeral Hall, and the beautiful Temple of the Emerald Buddha, also known as "Wat Phra Kaew". You can easily visualize the splendour and pageantry of the past. Later, you will proceed to Wat Po, home of the enormous Reclining Buddha and one of the oldest and largest temples in Bangkok. Please note that modest dress is expected on this tour.
Later this evening, you will be picked up from your hotel and taken to the Pier to join the Manohra Rice Barge Dinner Cruise, a romantic and unique culture experience. The cruise sets sail at 7:30PM. Cruising along the Chao Phraya River on this elegant, restored wooden rice barge, you will be introduced to Bangkok by night. It's a spectacular and memorable experience as Thai culinary delicacies are served as you glide down The River of Kings. En route you will pass the famous Wat Arun (The Temple of Dawn), the magnificent Grand Palace, The Royal Barge Boathouse, and numerous other temples and fascinating landmarks. A delicious Thai set Dinner is included and features delicacies such as Thai dumplings, prawn skewers, spicy soups, regional curries, stir fries, fresh seafood, and a traditional Thai dessert. The cruise concludes at 10:00PM and you will be transferred back to your hotel.
Day 4
At leisure
Today is at your leisure to explore Bangkok.
Day 5
Fly to Chiang Mai
Today you will be picked up from your hotel and transferred to the airport for your flight to Chiang Mai.
On arrival in Chiang Mai you will be transferred to your hotel for check in. The rest of your day is at leisure.
Day 6
Half day Doi Suthep and Meo Tour
This tour features a scenic drive through the most historic areas of Chiang Mai, including a pass through the old city walls, city gates and moat. The drive continues into Chiang Mai's tourist attraction area, past the local market, foreign consulates, government buildings and 'Tapae Gate' before continuing to the acclaimed temple Wat Phrathat Doi Suthep, home to a holy relic of the Lord Buddha and considered by many to be the most sacred Wat in northern Thailand.
Tucked away in the mountains at an elevation of 1,056 meters (3520 feet), the temple is reached using a Naga (a 7- headed dragon head serpent) railing rising along both sides. The temple compound, accessed via 300 stairs, offers a beautiful view of Chiang Mai city and the surrounding countryside.
Continue on to visit the primitive Meo Pui village, a local community known for its unique culture and colourful costumes. Note: Please dress respectfully. No sleeveless shirts, shorts or strapless sandals are allowed when visiting the Wat Phrathat Doi Suthep.
Day 7
Day at leisure
Today is a day at leisure to explore Chiang Mai.
Day 8
Arrive Koh Samui
This morning you will be picked up from your hotel and transferred to the airport for your flight to Koh Samui
On arrival in Samui, you will be transferred to your hotel for check in. The rest of the day is at your leisure.
Days 9-12
Days at leisure
The next 4 days are open for you to explore the beautiful Koh Samui island. We have a variety of day tours to enhance your stay or you may just relax.
Day 13
Depart Thailand
This morning you will be picked up for your flight back to Bangkok to connect through to North America.
Includes
Round trip airfare from North America including all taxes with Cathay Pacific
Local airfare within Thailand
Round trip transfers in all 3 cities
3 nights accommodation Bangkok, 3 nights accommodation in Chiang Mai and 5 nights accommodation in Koh Samui
Half day Grand Palace and temple tour in Bangkok
Manohra dinner cruise in Bangkok
Half day Doi Suthep and Meo Tour in Chiang Mai
Breakfast daily