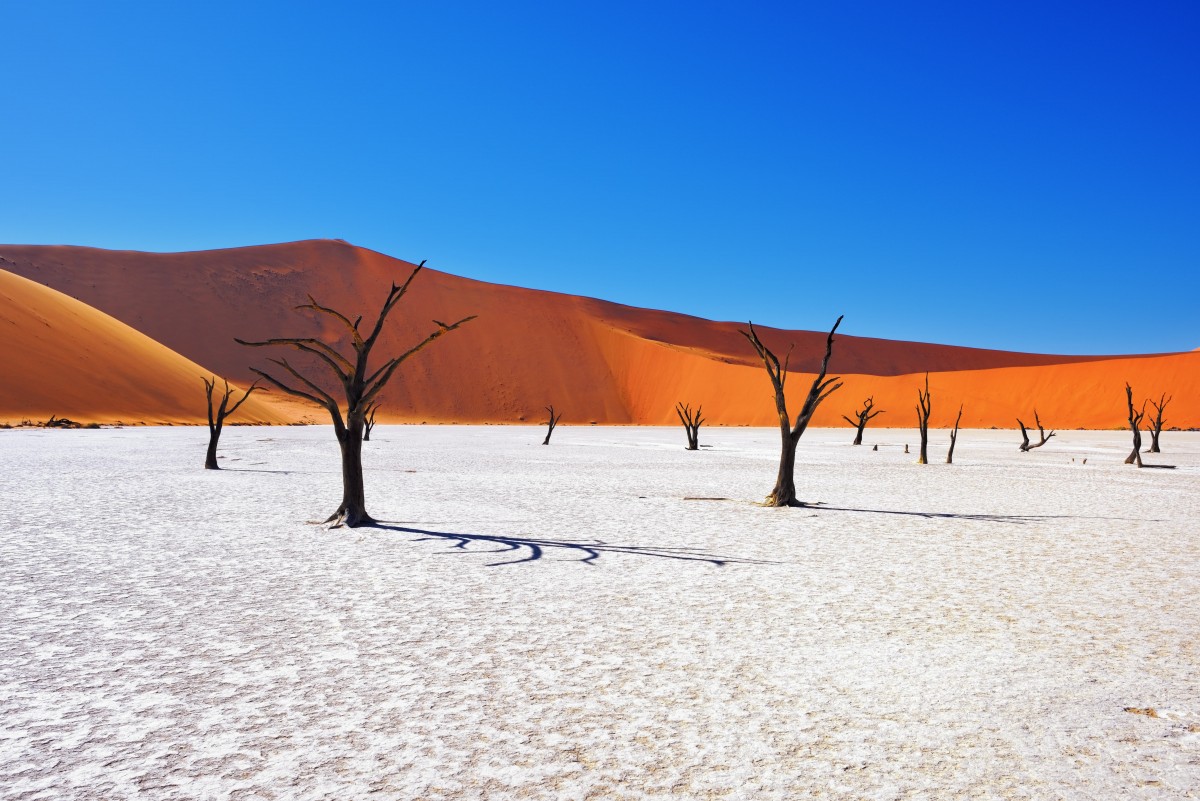 Ultimate Namibia
13 Days / 12 Nights starting at $8,799.00 per person
Namibia, Windhoek
Archeology, Arts and Culture, Driving Vacations, Hiking, Historical Travel, Nature-Wildlife, Safari, Walking

Explore the beauty of Namibia on this self-drive vacation. Visit Soussusvlei, famous for its large red dunes, travel to Walvis Bay and ride a ski boat to explore the area. While on safari, look for giraffe, zebra and the occasional lion.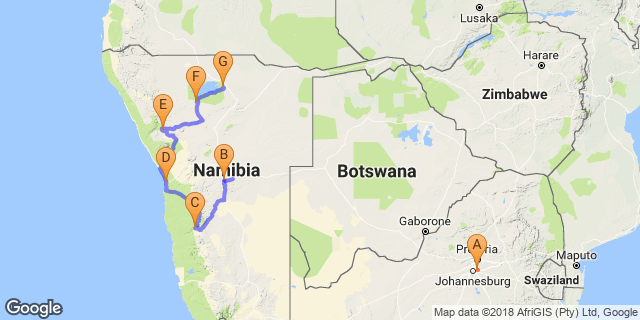 Itinerary
Day 1
On arrival in Johannesburg, take the complimentary shuttle bus to your hotel.
Day 2
This morning take the complimentary shuttle bus to OR Tambo International Airport. On arrival in Windhoek, make your way to the car rental company to pick up your car and then head to your hotel where the rest of your day is at leisure. Even though it is the capital, Windhoek is home to less than 300,000 people. It is a delightful mix of old and new. Bustling curio and informal markets trade in the shadow of modern highrise buildings, historic forts and castles overlook the city while the stately Tintenpalest nestles among well kept gardens. One hears a constant babble of a variety of international and indigenous languages as many flock to the city in search of new opportunities. It is not unusual to see Herero ladies in traditional missionary dress walking alongside their thoroughly modern daughters clad in Nike and Levi's.
Day 3
This morning drive to your next destination, Sossusvlei. Sossusvlei – meaning "the gathering place of the water" – is a striking white pan surrounded by Camelthorn trees and the towering orange dunes of the Namib. Here the waters of the Tsauchab River are blocked from reaching the ocean by a formidable wall of dunes, stretching 60 kilometres to the sea. Occasionally, the flood waters of the river reach Sossusvlei and gather to form a small, shallow lake in the middle of the dunes. This desert wilderness is home to a surprising variety of animals which thrive in a desert environment. Oryx, springbok, aardwolf, ostrich, hyena, bat-eared fox, cape fox, Burchell's zebra and Hartman's mountain zebra can all be viewed here. Thee are also over 115 different variety of bird species here including sociable weavers, black and martial eagles and the dune lark.
Day 4
Today you'll explore Sossusvlei (on your own account). Be sure to take closed walking shoes (the sand becomes hot and you will burn your feet in open sandals), a hat, plenty of water (at least three liters per person), sun cream and lots of film.
Day 5
After breakfast, drive to Swakopmund. Founded in 1892 during the period of German colonial rule, Swakopmund served as the territory's main harbor for many years. Today, this historical desert town, surrounded by desert and sea, is a popular holiday destination with a variety of good hotels and pensions, restaurants and coffee shops selling traditional German breads, cakes and pastries. The sweep of coastline and desert interior offers many options for adventure and relaxation.
Day 6
After breakfast, explore Swakopmund (on your own account) on this day of leisure.
Day 7
After breakfast, you will drive to Damaraland, the southernmost roaming ground for the rare black rhino and desert elephant. This is also where you will find the Twyfelfontein Conservancy.
Day 8
Today, you can either participate in the activities that the lodge offers or go on one of the walking trails. Activities from the lodge include excursions to the rock engravings at Twyfelfontein, an archaeological site that offers more than 2,500 engravings, as well as various paintings. Historians and visitors alike, consider it be one of the finest examples of rock engravings in Southern Africa. A morning's nature drive with the possibility of seeing the elusive desert-adapted elephant and rare black rhino is another favorite here. The more adventurous might prefer one of the walking trails, between the boulders and mopane trees in the valley below the lodge. It takes hikers to a small waterhole, and a viewpoint. Not to be missed, however, are the spectacular sunsets from the camp sun downer point. Situated close by are other main attractions of the area, including the Burnt Mountain and the Organ Pipes, all within easy driving distance.
Day 9
After breakfast, you will drive to Ongava in northern Namibia.
Day 10
Ongava is one of the largest private game reserves in Namibia with over 125 square miles to explore. Climb into an open vehicle for game drives on Ongava and into neighboring Etosha National Park to view the astonishing variety of life found in this spectacular environment.
Day 11
After breakfast, drive to our next destination, Etosha National Park. Etosha, or "the great white place," owes its unique landscape to the Etosha pan, a vast shallow depression of approximately 5,000 square kilometers. A series of waterholes along the southern edge of the pan attracts game into the area. The dry season (May – November) is particularly rewarding for game viewing as the rain water has dried up and the game is forced to rely on the life-supporting waterholes. Long lines of zebra, wildebeest, kudu, oryx and springbok plod along ancient paths from distant grazing areas to the waterholes. Herds of elephant drinking huge amounts of water and then wallow in the water so that all the other thirsty animals have to wait patiently until they have finished. Predators, such as lion and leopard, wait at the waterholes knowing the antelope have to drink. Onguma Game Reserve is situated on the eastern side of Etosha National Park bordering Fischer's Pan. The Fort at Onguma is set on this 20,000 hectare nature reserve which boasts over 30 different animal species. Predators, such as lion cheetah and leopard, are common residents of the area. The latest addition to the already abundant wildlife at Onguma Nature Reserve is a family of black rhino. The Fort is unique. Massive raw walls, stunning stone clad features and a huge tower with views toward Etosha and Fischer's Pan offer the best sunset views in the whole of Namibia. The Fort has an African feel like no other! Moroccan and Indian flavors combine perfectly with the selection of beautiful antique windows and doors. A courtyard and large water feature will refresh the senses. Across the courtyard is a spacious beautifully decorated lounge and open air dining room. A large wooden deck leads outside, with scattered romantic seating spaces, in full view of the waterhole.
Day 12
Depart on an early morning game drive in Etosha National Park. Your guide will be happy to stop for any photo opportunities and they are well-trained in the best areas to spot wildlife.
Day 13
After breakfast, return your car and depart from Windhoek on your onward flight.
Includes
Accommodations and meals per the itinerary
Car rental in a 4×4 including GPS