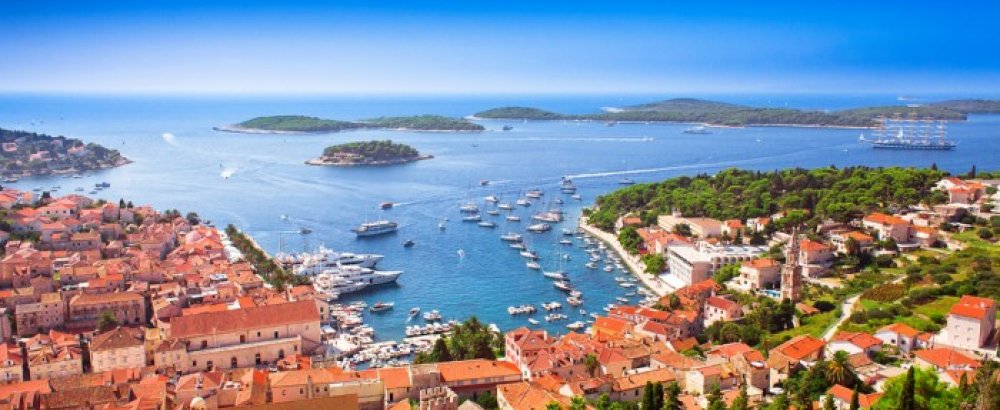 Visit Zagreb and sail to Dubrovnik
10 Days starting at $2,350.00 per person
Croatia, Dubrovnik, Zagreb
Archeology Tours, Arts and Culture, Cruise, Culinary, History Tours, Photography, Sightseeing, Wine Tours

Find out and explore all the secrets and secluded spots of Adriatic Sea. With long seacoast and 1244 islands, Croatian Adriatic sea is a true experience for all seafarers. With the unique combination of sailing, city visits, beautiful beaches, local walks, vineyards and romantic dinners, this sample Croatia tour will introduce you to the true charm of the Adriatic and give the best of land and sea Croatia has to offer. Visit Korcula, the island where Marco Polo was born, island Vis, the former military island with a naval base, several National parks, hidden beaches, lavender fields, secret caves, and beautiful old Roman cities Zadar, Split, Dubrovnik, and Hvar.
Itinerary
Day 1
Arrival to Zagreb, more than a 1000-year-old City, a capital of Croatia that will impress you with its historic charm. Zagreb is global and cosmopolitan city with a rich history dating from Roman times to the present days. For centuries it has been a focal point of culture and science and now of commerce and industry as well. It is located in the northwest of the country, on the southern slopes of Medvednica mountain along the Sava river and also on the intersection of important routes between Adriatic coast and Central Europe. Transfer to your hotel and free time to relax. Hotel amenities will help you to relax and rejuvenate.
Day 2
After breakfast departure to National Park Plitvice Lakes. The beauty of the National Park lies in its sixteen lakes, inter-connected by a series of waterfalls, and set in deep woodland populated by deer, bears, wolves, boars and rare bird species. Take a walk with a local guide through this heaven on earth. Enjoy scenery of beautiful waterfalls and untouched nature. And don't forget to make a wish under the largest waterfall as it is supposedly making your wishes come true.
After visiting NP Plitvice, we will have a dinner in local restaurant – Licka kuca (optional). Continue to Zadar, city voted to be the best European destination for 2015, – a city monument, surrounded by historical ramparts, a treasury of the archaeological and monumental riches of ancient and medieval times, Renaissance and many contemporary architectural achievements such as the first sea organs in the world. Hotel check-in.
Overnight in Zadar.
Day 3
After breakfast embark on a yacht. Cruise to Kornati National Park – the sailors' paradise. The Kornati archipelago consists of 140 uninhabited islands, islets and reefs and is one of the nicest places on the Adriatic. You will get a chance to swim in the clearest waters of Adriatic, and explore the area.
After we visit Zadar and Kornati National Park, we will sail further south to the island Murter who is by many one of the best leisure spots in Croatia. Free time and overnight in Murter on a yacht.
Day 4
Continue along the coast to island Hvar – voted one of the ten most beautiful islands in the world. Visit Hvar vineyards and wine cellarsold for an amazing wine tasting. Continue to the city of Hvar for a sightseeing. The guide will show you all the must see landmarks an tell you all interesting stories about Hvar. Old town, Piazza, the Arsenal and the first public theatre in Europe, the cathedral of St. Stephen, the Franciscan monastery, the renaissance Palaces and so much more. Free time for lunch and your own exploration.
Overnight in Hvar.
Day 5
Another day in Hvar. We will start our drive through the island. We will pass through old villages Brusje and Velo Grablje and through many lavender fields. Stop, breathe, enjoy. Go home to your vacation and decide to live a lavender life and put stress in distress. After this stress-free sightseeing we come towards di Agera (Hora) – protected field, one of Greek culture masterpieces which remained almost intact during a period of 2400 years. After this beautiful sightseeing we will drive further towards Jelsa where two specially chosen wineries are waiting for you. First we will stop at a very modern winery, very famous not only in Hvar, but in Croatia. You will try the famous Tomi Plavac and probably never want to leave. First you will be taken for a sightseeing tour around the winery and then you will start with wine tasting. In order to provide you with a really holistic experience you will have 4 wine courses especially paired with accompanying food: prosciutto, cheese, chocolate and other lovely gastronomic surprises. After modern Tomi's winery, we will take you back to the roots. We are taking you to pure tradition – Dubokovic winery. Tradition, wine, cheese, bread – let's be honest – pure heaven or to say Hvar heaven. Besides all this in Dubokovic winery you will be able to enjoy in his own produced olive oils with aroma. Try basilicum or sage flavoured olive oil and decide to move to Hvar permanently. If this is not possible, you can buy vines or olive oils to take with you as a memory to enjoy in coldish autumn nights. After the Dubokovic wine cellar tour and wine tasting we'll head to an old, abandoned village Malo Grablje for a fabulous lunch/dinner (depending on the time of day). This is where our tour ends so after that departure back to Hvar and overnight on a yacht.
Day 6
In the morning sail further to island Vis, an island surrounded by some the clearest blue water you'll find in the Adriatic, discover secret beaches, enjoy traditional food, swim, and explore local caves. Island Vis is also the southern most point in Croatia and is mostly visited by boaters. Free time to explore island Vis.
Overnight in Vis.
Day 7
In the morning sail further and visit island Korcula – believed to be Marco Polo's birth place. Explore local tradition and don't miss amazing Moreska show – a traditional dance with swords that is dating back from 12th century and that will leave you breathless. Free afternoon for your own exploration of Korcula. In the evening we are taking you to ranch a little bit outside city of Korcula for unforgettable traditional dinner famous for the farm to the table food and the best prosciutto, cheese and wine.
Overnight in Korcula.
Day 8
Morning sailing to the island National Park Mljet, the most beautiful and most forested island in the Adriatic and one of the most beautiful pearls of the Mediterranean. Untouched nature, the island's mysticism, olive groves, vineyards and rich forests are ideal places to research the rich flora and fauna, and to peacefully enjoy the pristine beauty of the natural surroundings. After exploring NP Mljet, we will sail down to the Adriatic pearl Dubrovnik, one of the world's most stunning destinations, both in terms of its cultural heritage and as a holiday destination. The city has often been referred to as the "Pearl of the Adriatic" and was inducted into the UNESCO World Heritage List in 1979 as a city of rich culture and history. The Old Town of Dubrovnik is surrounded by 1,970 metres of city walls—over the centuries they served to protect the city from various threats and today are the city's greatest attraction.
Overnight in Dubrovnik.
Day 9
Morning sightseeing of Dubrovnik. Local guide will take you to the most wonderful and hidden streets of the city. Explore the Old Town of Dubrovnik including its narrow streets and small squares and of course famous City Walls. In the evening departure to traditional Dalmatian restaurant so-called "konoba" where you will be able to try "peka" – a Baked dish with meat and vegetables made in a pot or a tray, and the pot is put into the embers of a fireplace.
Day 10
After breakfast, get picked up from your hotel and depart to the airport. Fly out of Croatia.