This 10-day South Africa vacation follows in the footsteps of Nelson Mandela to celebrate what would have been his 100th birthday.
Your South Africa vacation begins in Johannesburg, the nation's largest city. While in Johannesburg, you'll stay at the luxury 54 on Bath, located in one of the city's leafy northern suburbs. With 75 premium rooms, 12 executive suites, and three luxury suites, 54 on Bath promises gorgeous amenities during your stay in Johannesburg. It also boasts a popular restaurant, a rooftop swimming pool, and easy access to nearby shopping malls and outlets.
Your first stop in Johannesburg is the Apartheid Museum, where you'll learn about the system of apartheid that dominated the country in the 20th century. The museum's stunning design is an attraction in itself, but it's the story the museum tells—of a nation struggling against injustice and forging a new destiny after the fall of colonialism—that makes it so essential. After seeing the museum, you'll take a bicycle tour of Soweto, or the South Western Townships. This crowded, seemingly-chaotic neighbourhood houses over a million people and captures the essence of the "Rainbow Nation" better than anywhere else in the country. As you explore the neighbourhood, you'll learn about the Soweto uprising and Apartheid resistance, enjoy local treats at food stalls along the way, and close out with a beer tasting of local brews. During the rest of your time in Johannesburg, you can visit the Mandela House or Soccer City, where the 2010 FIFA World Cup was held.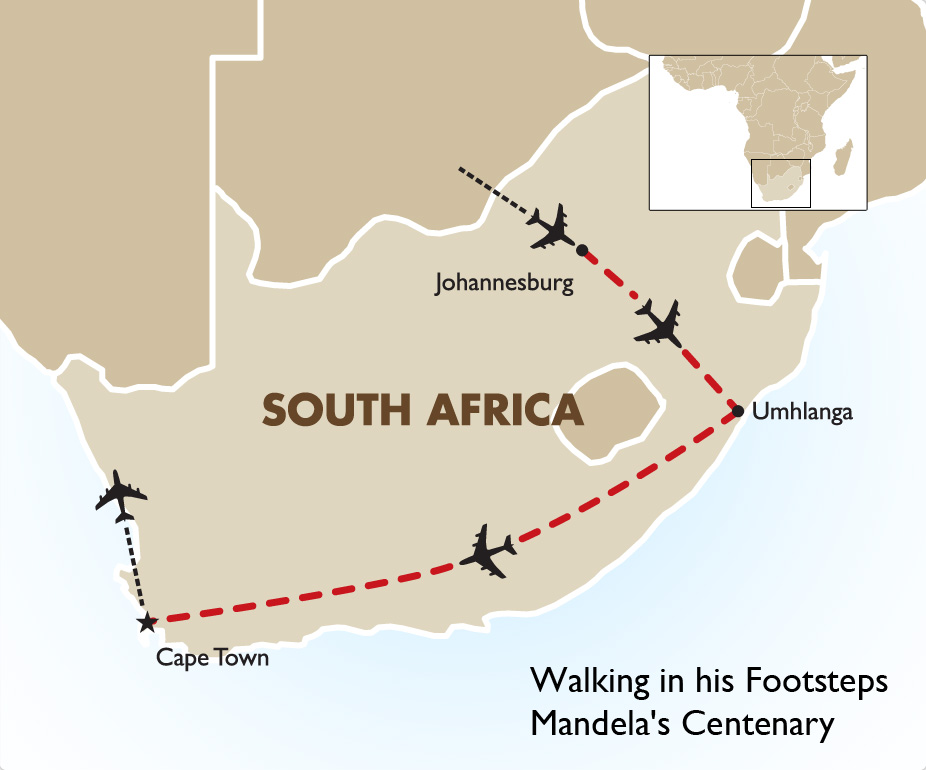 Itinerary
Day 1
Johannesburg
Welcome to Africa! You will make your way to your touring vehicle that will be transferring you through to your hotel in the hub of Sandton, 54 On Bath.
Discover a contemporary and fashionable haven on Bath Avenue right in the heart of Rosebank, Johannesburg's trendy suburb. Classic and sophisticated, the accent is on understated elegance and our focus is to provide an exceptional guest experience. This hotel, which opened in July 2012, is for the discerning traveler seeking intimacy and refinement but always with stylish flair. From the moment of arrival into the elegant lobby with its delightful lounge to the luxury and comfort of your room, you will enjoy attentive and friendly service.
Everything has been designed around your comfort and the stylish interiors reflect a calm tranquillity with the use of harmonious colours, sophisticated design and strong graphic motifs. We invite you to linger and stay in a hotel which recognises your individuality and mirrors your unique preferences. Everything in short, to experience a truly fashionable stay, whether you're on business or simply taking a relaxing break.
Day 2
Johannesburg
Today's activities will be in Apartheid Museum and Lebo's 4 Hour Soweto Bicycle Tour.
The Apartheid Museum opened in 2001 and is acknowledged as the pre-eminent museum in the world dealing with 20th century South Africa, at the heart of which is the apartheid story.
The Apartheid Museum, the first of its kind, illustrates the rise and fall of apartheid. An architectural consortium, comprising several leading architectural firms, conceptualised the design of the building on a seven-hectare stand. The museum is a superb example of design, space and landscape offering the international community a unique South African experience.
After Apartheid Museum, you will now proceed to Lebo's 4 Hour Bicycle Tour. This tour gives you insight about Soweto's many different faces, the Soweto uprisings and the resistance against Apartheid. You will also see and learn how the communities have changed and developed to what it is today. Throughout the tour you will also get an opportunity to have a 'taste of Soweto' by stopping at different food stalls and a shebeen / pub along the route tasting popular township snacks, food and drinks. The tour will end with traditional beer tasting along with storytelling on African customs and traditions.
Day 3
Johannesburg
Johannesburg at leisure.
Day 4
Umhlanga
This morning after a sumptuous breakfast you will be transferred back to O.R Tambo International Airport for an onward flight to Durban. Upon arrival at King Shaka International Airport your friendly driver will be waiting to transport you to the famous seaside hotel, Oyster Box Hotel & Spa, where you will be spending the next two nights.
Day 5
Umhlanga
Arrive at the historical memorial monument by 10h00 – a tribute to Nelson Mandela. It was here that Nelson Mandela was arrested while driving incognito from Durban to Johannesburg on the 5th of August 1962, after having been on the run from the Security Police for seventeen months and where he said goodbye to freedom for 27 years. Spend time marvelling at the fascinating sculpture, by artist Marco Cianfanelli. Made up of 50 steel poles that symbolize the 50th Anniversary of the arrest, they range in height from 6 – 10 meters, and, over 20 metres wide, and lined up, form a portrait of Mandela, when viewed from a distance of 35 meters. You will depart for Tsonga Shoes and Bags. The time-perfected art of hand-stitching beautifully-styled leather uppers to their uniquely designed soles is a Tsonga tradition, kept alive by local Zulu women who craft each shoe and handbag with a spirit of their authentic African heritage.
Your next stop is Swissland Cheese! Here the pure, healthy milk of a small herd of free-roaming goats, is made into a large range of Swissland goat cheeses, free of antibiotics and colourants. Enjoy a tea and cheese picnic. You will visit Ardmore Ceramic Art, where functional, superb quality ceramic and non-ceramic products including dinnerware, tapestries, furniture, fabrics for soft furnishings, and more, are on offer. Artists from the Ardmore studio are given training, direction, materials, a studio and a guaranteed market for their work, and, over the years, have won numerous awards and exhibited widely in South Africa and around the world. Before returning to Durban, stop at Blueberry Hill for tea and eats, while taking in the beautiful views across the Drakensberg Mountains. The adjacent shop stocks a range of beautifully crafted furniture, home accessories and other goodies.
Day 6
Cape Town
Today you will be making your way back to King Shaka International Airport for your onward flight to Cape Town where you will be spending your final four nights on this inspirational journey.
Day 7
Cape Town
Visit the riveting District Six Museum for a sharp reminder of the past before a tour of Langa Township, the oldest apartheid housing scheme in the Cape, visiting a local market, Arts & Crafts centre, as well as a traditional healer. Visit a local B&B as well as a creche providing local children with a safe haven and fun. We want you to enjoy a hands-on experience of life in a township, so we also include a visit to Khayelistsha and Gugulethu.
This afternoon, visit Robben Island, where Nelson Mandela was incarcerated for many years and which has now become the symbol of the freedom struggle.
Day 8
Cape Town
Mother Nature surpassed herself when crafting the Mother City. Whether jogging along Sea Point Promenade, climbing up Lion's Head in the dawn light, clambering over giant boulders at Sandy Bay or driving the amazing coastal roads down to Cape Point, you never fail to feel your spirits soar as you take in the breathtakingly beautiful vistas. You don't need to break a sweat; sipping wine on a historic farm in Constantia or enjoying a picnic at an outdoor concert in Kirstenbosch Botanical Gardens are equally memorable ways to commune with Cape Town's great outdoors.
Day 9
Cape Town
Get ready to be transported into a world of dazzling entertainment, featuring 'world-class' local performers.
This award-winning show will transport international and local guests of all ages into the vibrant world of District Six, through the adventures of the Kleintjies family. Written and directed by Basil Appollis 'Kaapse Stories' gives you an inspiring insight into the "rainbow nation" of Cape Town.
Guests will enjoy a resplendent, 4-course offering of the best culinary experiences that traditional Cape cuisine has to offer. This iconic, uniquely Capetonian dinner show has been played over 1200 times and continues to delight and amaze audiences; locally and from all over the world.
Day 10
Departure
After a delightful breakfast you will be transferred back to Cape Town International Airport where you can begin preparations for your onward journey home.
Includes
Meet and Greet on Arrival
All airport transfers
9 nights accommodation
Breakfast Daily
2 Dinners
Day tours and activities as per itinerary
The Taj Cape Town Specific Value Adds
One and a half Hour City Walk with a professional tour guide
Wine Tasting for two guests in the Wine Gallery once during the stay
A Heritage cocktail and snack platter in the Twanky Bar, once per stay
A 100 Rand Jive Spa voucher, subject to spa avaialbility
Early check-in/late check-out, subject to availability