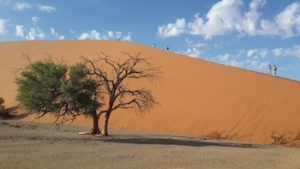 Namibia sometimes scares me.
This southern African country is a desolate beauty of stark desert, glittering sand dunes, intriguing canyons and sheer escarpments. It's absolutely stunning – yet utterly indifferent to the fate of travellers who come to admire it.
If your journeys are as much a part of the adventure as the destination, dramatic, mind-boggling Namibia is a must. There's something about its dusty, deserted and utterly straight roads disappearing into the horizon to emphasis that you're entered a different kind of land.
I mull that over at the side of a gravel road 45 miles from the nearest little town, stranded by a tour bus smelling of burning oil and sabotaged by a broken starter motor. Rattled into submission by Namibia's 16,000 miles of gravel roads, on Christmas Day in 104°F of sunshine.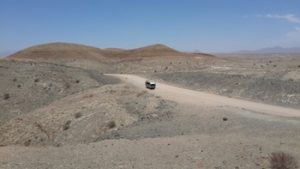 Our resourceful and ever-calm guides Joe and Owen Msekiwa, brothers from Zimbabwe, suggest we push the truck further off the road in case a drunk driver smashes into it. It would be ironic, but somehow not surprising, if in this vast country with a paucity of people, a drunk just happens to smash into us.
I last toured Namibia 15 years ago in a rented 4×4, getting into mishaps like sinking in the sand and having to search for someone to tow us out, and coasting the last 30 miles into Windhoek on an empty fuel tank because we hadn't seen a gas station for days.
Never again. This is a country that demands respect and treats city-slicker idiocy with disdain. So I booked an adventure with Jenman Travel, joking that if we broke down this time, I'd sit back with a glass of wine while the professionals fixed it.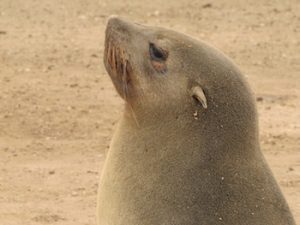 There was no wine, but these days there's enough cellphone signal to call a mechanic to repair our chariot and a minibus to collect the passengers.
Namibia is equally tough on its wildlife. Amid the thousands of barking, wallowing seals at Cape Cross I saw many dead pups, some missing their eyes because scavenging seagulls has pecked them out. In Etosha, a statuesque oryx drank from an evaporating waterhole, while skittish zebra tried to decide which they feared most – thirst, or a lion dozing near the water. The fear of instant death proved strongest, and they reluctantly drifted away.
My journey has left a patchwork of memories linked by hours of mesmerising scenery, punctuated by restless nights in hotels where the air conditioning does little to stir the solid heat.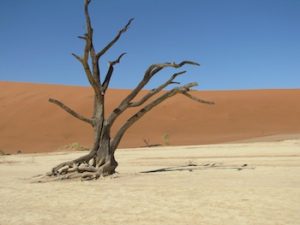 The air is breathless the morning I climb Dune 45 at Sossusvlei, a magnificent sand mountain that changes from red to orange to golden with the sun. I start with gusto, and then slow to a slip-and-slide trudge until I reach a plateau. The views are amazing. Raw, dramatic nature entirely surrounding insignificant me. Skittering down the dune's pristine side slope is exuberant fun, and the ever-shifting sand eradicates my footsteps even before I reach the bottom.
The dry clay pans at Sossusvlei are stunning too, and haven't changed in 15 years. Well, they haven't changed in millennium, really. There's still that one photogenic dead tree with twisted branches posing in a stark outline against red sand and bleached white clay. The pans were formed when a river's attempts to reach the Atlantic Ocean was thwarted by the dunes, and it dried up to leave petrified trees encased in mud.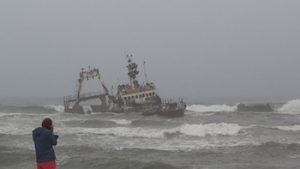 The dunes march all the way to the ocean, carrying a desert heat that burns away the morning mist along the cold and treacherous Skeleton Coast, where shipwrecks lie eerily embedded off the shore.
Nearby Swakopmund is a lovely little town, with a strong Germanic character from the colonial days when Europeans carved up Africa for themselves. The legacy lets me enjoy a chunk of chocolate torte and a stein of cider in a beach bar.
A highlight here is kayaking at Pelican Point, a strip of land filled with salt farms tinged pink by zillions of tiny shrimps. They're a delicacy for flamingoes, and thousands of the elegant pink birds mince their way through the water. Then we wriggle into wetsuits and kayak towards thousands of blubbery seals lolling on the beach. The new-born pups are too young to swim – it's not an inherent talent even for a seal, apparently – so the sand-bound babies cast us envious glances. In six months they'll be cavorting among the kayaks and chewing on the paddles.
We head north to Twyfelfontein, a World Heritage site for Bushmen engravings that were carved into the sandstone with quartz flints. Our agile guide leads to several clusters of ancient engravings that have never eroded because it never rains.
Nearby is a petrified forest of massive trees fossilized into stone over 250 million years. The huge trunks inched their way down from central Africa trapped in glaciers. As sweat inches down my t-shirt, I half long for a glacier.
Back on the road, the land changes colour and greenery appears, as if someone is watering the countryside north of a sign marking the Tropic of Capricorn. Finally we reach Etosha Game Reserve and see the famous white Etosha pan shimmering in the distance. Even hardy oryx avoid this massive wasteland, which formed when tectonic plate rumblings forced a river to change course and the lake it fed dried up. Namibia is a living lesson in geology, with everything you ever read in books laid out in front of you.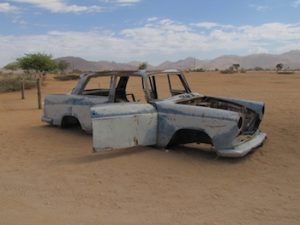 Our ranger tells us that 30 rhino were poached here in the past two years, and solemnly shakes his head as he says the chance of spotting one is extremely rare. Then, like a comedian with perfect timing, a black rhino ambles out of the bushes. He casts us a myopic squint and lumbers across the road to a clatter of clicking cameras.
Namibia may be intimidating, but you've got to admire its swagger.
For good Namibian tours, click here.