It's easy to be seduced by Oaxaca City's abundant charms. From mouth-watering local cuisine to the streets awash with colorful colonial buildings and cacti, there's a unique laidback vibe here, rarely found in large cities. Rich in indigenous culture, the area is famous for its folk art, particularly the vibrant hand-carved fantasy figures known as alebrijes which are produced in the surrounding villages and sold in the city. As well as the impressive Museo de las Culturas with its focus on Oaxacan history, there are several small, but engaging museums which are fun to dip into.
Street musicians entertain the crowds in the zocalo, a popular gathering spot for locals and tourists alike, and in the evenings, revelers spill onto the streets from the tiny mezcal bars. Just beyond the city, there are ancient pyramids, a stunning petrified waterfall, and sprawling markets. There is so much to do in Oaxaca City, that it is best experienced over a week or more, but however long you spend there, it's likely that you will be planning a return visit as soon as you return home.
Street Art
Although eye-catching street art can be spotted all over the city, the barrio of Jalatlaco has an especially high concentration of extraordinary murals. Just a ten-minute walk from downtown, colorful art adorns the walls, doors, and steps. Much of the street art is inspired by Dia de los Muertos (Day of the Dead) and images depict grinning skeletons dancing, drinking, working, and playing musical instruments. Papel picado flutters against the blue sky and the colors in every direction are dazzling. Other barrios worth checking out are Jose Lopez Avenue and Barrio de Xochimilco.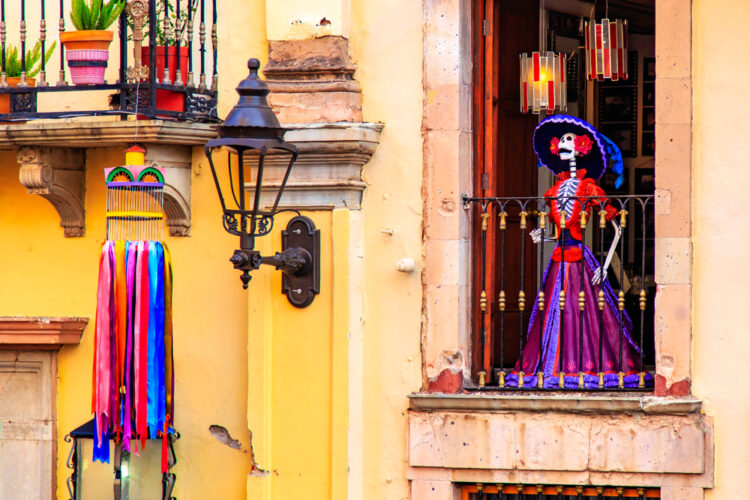 Jardin Etnobotanico de Oaxaca
Situated behind the magnificent Templo de Santo Domingo, this beautiful urban oasis features plants from across the state of Oaxaca, Mexico's most biodiverse region. The amount and variety of cacti that have flourished since the garden was founded in 1994 is astonishing. Hummingbirds and butterflies can often be spotted amongst the plants. Covering 2.5 acres, it is presently only accessible on a guided tour, but taking a tour is a great opportunity to learn all about how regional plants are used for food, medicine, and spiritual healing. (English tours are available on Tuesdays, Thursdays, and Saturdays).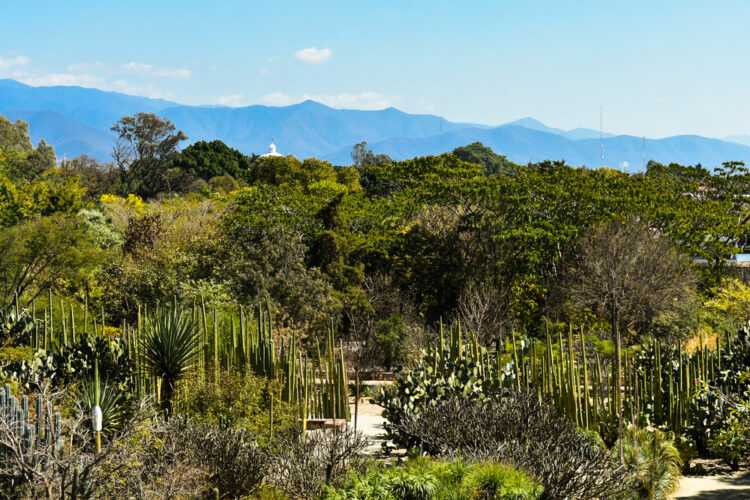 The Zocalo
At the heart of the city, the Zocalo is where it all happens. Whether it's political protests, street musicians or wandering vendors, it's an ideal place to take a seat in the shade and people-watch. The square is especially lively at weekends when families stroll along eating ice creams and soaking up the festive atmosphere. There are numerous restaurants surrounding the zocalo where you can indulge in a beer or sample the local cuisine.   
Oaxacan Cuisine
Foodies flock to Oaxaca City from all over the world to experience the area's unique gastronomic delights. From hip restaurants serving seven-course tasting menus to tasty street food, Oaxaca offers cuisine for every taste and budget. Several of the country's most acclaimed chefs have restaurants in the city and the cuisine is hugely influenced by the local indigenous groups.
The most popular local dishes to try include mole, tlayuda, and memela and you can't possibly leave town without trying Chapuline (grasshopper) tacos at Mercado Benito Juarez Market. Food tours are popular in the city and they are an ideal way to try some tasty dishes and learn all about the local cuisine. Oaxaca is also the birthplace of the agave-based spirit of mezcal and there's a mescalaria on every street corner – perfect for a bar crawl.
The Museums
Oaxaca is a city of small, but interesting museums, many of which are free or very cheap to enter. The city's most esteemed museum is the Museo de las Culturas Oaxaca, which takes visitors on a journey from ancient times to present-day Oaxaca. The star of the show is The Treasure of Tomb 7, a display of 14th-century Mixtec exhibits of carved bone, gold jewelry, and precious stones. These treasures were discovered in 1932 at the nearby site of Monte Albon. The splendid ex-convent is situated adjacent to Templo de Santo Domingo and the architecture alone is worthy of the entry fee. As a bonus, there are alluring views over the botanical garden.
Just around the corner is the Museo de la Filatelia, a small museum dedicated to stamps. With a smattering of contemporary art thrown and an impressive giant cactus in the courtyard, it's an attractive space. Other museums worth checking out include the Museo Textil de Oaxaca, a tiny, but cute museum showcasing the state's traditional textiles, and Museo de los Pintores which hosts exhibitions by national and international artists.
Shopping
Make sure you have bountiful space in your bags when you come to Oaxaca – the shops and galleries are crammed with tempting textiles, woodcarvings, jewelry, ceramics, and an endless variety of handicrafts of all types. The vast majority of shops are located between the Zocalo and Tempo de Santo Domingo in the colorful buildings which line the streets. For a one-stop shop, hot foot it to La Casa de Artesianias, a government cooperative that consists of several rooms displaying affordable handicrafts.  Mercado 20 de Noviembre is the place to head for embroidered blouses, handcrafted huaraches (leather sandals) and household items with a Mexican twist.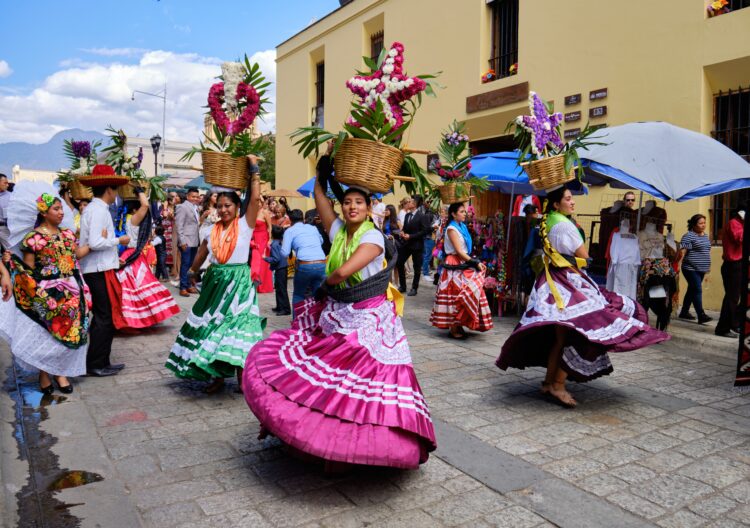 Monte Alban
Oaxaca is a mere taxi or bus ride from the Zapotec ruins of Monte Alban. Believed to have been built in about 500 BC, the hilltop city was home to about 18,000 people. In addition to being a complex of palaces, pyramids, plazas tombs, and ball courts, it was an important political and administrative center. For hundreds of years, Monte Alban was forgotten but was rediscovered in the 19th century.  These days, it is fascinating to explore and, with a little imagination, envision what it may have been like back in the day. Highlights include the stepped pyramids overlooking the main plaza and the Danzunte Gallery consisting of intricately carved slabs. A Museum at the entrance displays ceramics and sculptures found at the site. The ruins can be reached by taxi or a local bus or alternatively, you can take a tour.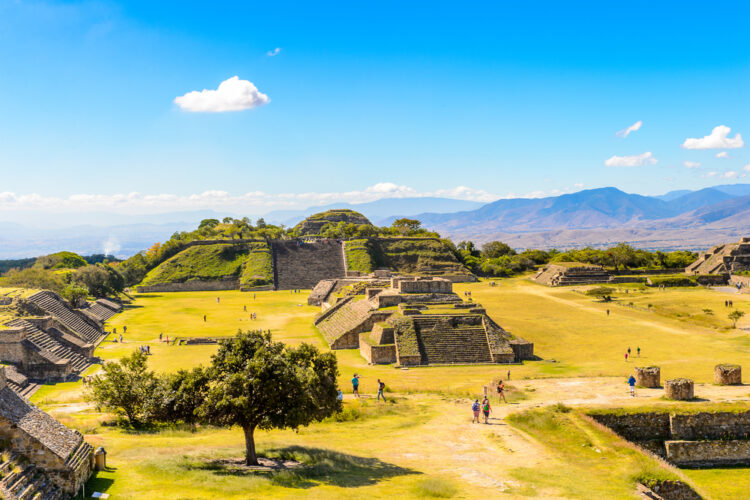 Hierve el Agua
If you want to escape the city streets and lose yourself in nature, Hierve el Agua will hit the spot. About an hour and a half from the city, numerous trails surround a stunning petrified waterfall. A rock formation created from spring water runoff, there are only two phenomena of this type in the world, the other being in Turkey. After a hike, cool off by soaking in the (rather chilly) emerald-green natural mineral springs while taking in views across the mountains. The easiest way to experience Hierve el Agua is on a tour, although with a little effort, you can get there by public transport via Mitla.