Visitors in the Seattle area looking for a quick getaway might want to check out Whidbey Island, one of the most scenic and accessible destinations in the Pacific Northwest. Within an hour of leaving North Seattle, travelers can arrive on this island via a 20-minute ride from the Mukilteo ferry landing.
Upon debarking in Clinton, visitors should start their travels at the town of Langley. Pick up a cup of coffee at Useless Bay Coffee; relax on the dog friendly patio or sip your cup indoors surrounded by artwork created by local artists. Next, stroll around the town and take in the local art and artifacts for sale. In particular, be sure to stop by the Firehouse Glass Gallery, a former historic firehouse that's been renovated into a glass studio and gallery. Make an advance reservation to blow a piece of original art or peruse completed glass pieces ranging from tumblers to jewelry. In addition, pay a visit to Double Bluff Brewing Company, a dog friendly brewery with up to 10 constantly rotating taps available.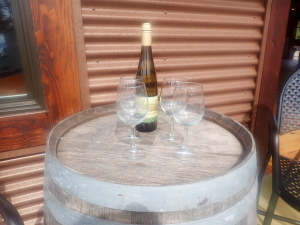 Those looking for an immersive wine experience should check out the range of wineries on Whidbey Island. Included amongst the must-see stops located in Langley you have Whidbey Island Vineyards and Winery, the first and largest winery on the island. Over at Blooms Winery, stop by on a Friday or Sunday afternoon to hear a local musician ply their wares while sampling a wine flight. Comforts of Whidbey offers a six-room bed and breakfast and an event space for those seeking an intimate experience inside a winery.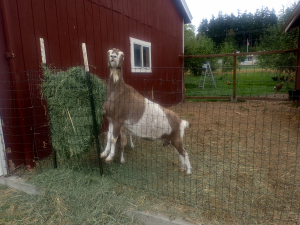 For a farm to table experience, check out Orchard Kitchen's cooking classes and family style dinners held on a five acre historic farm located in Langley. Then over in nearby Clinton, take a tour of Glendale Shepherd, a sheep dairy farm. On Sundays, enjoy open house tastings featuring samples of their sheep cheese, or book a tour on other times at a cost of $25 per person with a two person minimum.
Venture further north for a stroll around Coupeville, a town that has the distinction of having the highest concentration of pioneer-era homes on the West Coast. Stroll along the boardwalk and take in views of the bay and window shop along Front Street. Amongst the quirky shops you find the Handbag Consignment Shop LLC, a must see stop for those seeking a high end designer bag at a discount price. Also, savor the eclectic range of Whidbey Island themed art available for sale at Penn Cove Gallery, a collective consisting of 26 local artists. Before leaving this town, be sure to stop by Bay Leaf and pick up some wine, cheese, breads and other gourmet items made both on the island and around the world.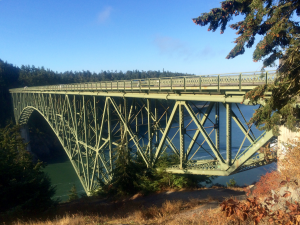 Before departing Whidbey Island, be sure to stop by Deception Pass and savor one of Washington State's most photographed views. For the perfect photo of the famous Deception Pass Bridge, cross over the bridge and then stop at the first turn off located on the right. Time permitting, stroll along the shoreline of Ebey's Landing National Historical Reserve. Those who want to check these two park's trails will need to buy a Discover pass.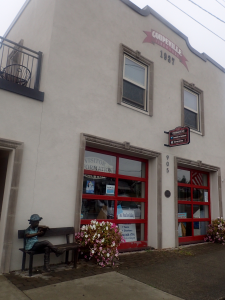 As one can travel the length of this island in under two hours, it makes for an ideal day trip. However, to fully enjoy the island's offerings, consider making this an overnight or weekend adventure. A key part of the island's charm is the lack of hotels and large scale resorts that characterize many beach communities. Instead, one can choose from unique accommodations such as the Coupeville Firehouse Inn. This former 1937 Firehouse has been reconverted into a one of a kind vacation rental unit that includes a dining and living area, a fully furnished kitchen, a private bath, and a barbecue grill on the balcony. The Whidbey Islands Bed & Breakfast Association's website enables visitors to choose from a range of accommodations designed to meet a range of needs.
Those looking  to continue exploring Whidbey Island can check out this guide from Trip.com. Further information on amenities, lodging, and a calendar of events can be found here.