"Paradise Valley" is the perfect description for the town where you'll find Sanctuary Camelback Mountain. It is an oasis between the mountains with all you need if you are looking for ultimate relaxation and rejuvenation.
The 53-acre complex is a backdrop for an adventurous or laid-back vacation – or maybe a little of both. Picturesque doesn't even begin to explain this stretch of land you will never forget.
Luxurious Accommodations
The majority of accommodations here are the Casitas. They are sprinkled on the hills (don't worry if you can't climb, a golf cart will be available) and offer plenty of privacy in rooms and suites. They are both all a generous size.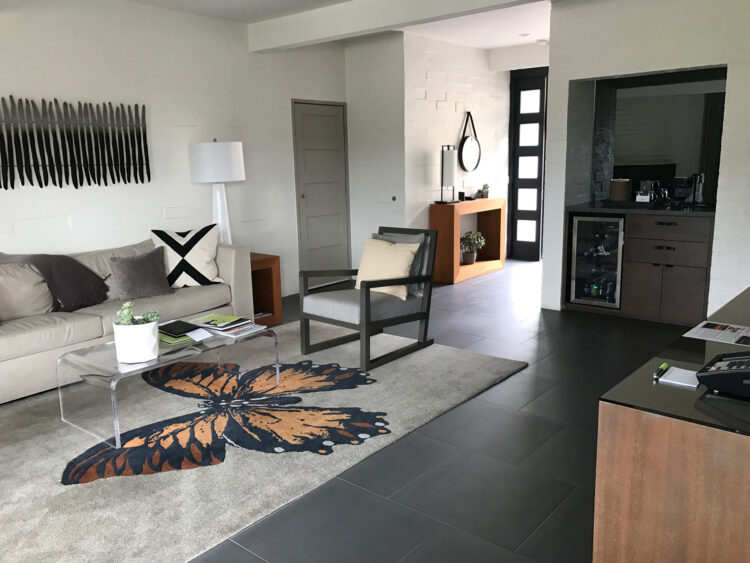 I have stayed in a Casita suite twice, and they have everything you need in a spacious apartment. They are complete with modern furniture and artwork and a kitchenette area. The views from the patios and balconies of the Casitas offer the most scenic morning coffee you can imagine. 
If you want even more privacy, Sanctuary Camelback Mountain has private villas. The Villas start at 2,000 square feet and offer amenities such as an indoor/outdoor living room, private pools, and Jacuzzis.
First Class Dining
Sanctuary Camelback Mountain offers multiple opportunities for breakfast, lunch, or dinner with a view. With windows and open-air spots everywhere, you don't have to worry about missing the mountain landscape or sunset while you are eating at Elements or Jade Bar.
Elements has an Asian twist. Its well-plated creations are made from local ingredients, with lots of sustainable seafood. Everything has a bit of an unusual twist, with something for everyone. They have always catered to my allergies and have gluten-free and vegan dishes available.
Jade is the most comfortable bar you can go to. It still has the views, and a menu of small bites. You can enjoy your favorite cocktail or discover something new while lying back in the comfy chairs.
There's also always the option of having room service delivered in your room or at your lounge at the pool. The menu has a large selection for breakfast, lunch, and dinner.
Indulgent Spa
The Sanctuary Spa is one of my favorites in the country.  I have spent many hours there in treatments, or just enjoying the facilities and relaxation room. It's also Asian-inspired and getting into the right mood. Treatment rooms are inside and outside, with some around the stone courtyard.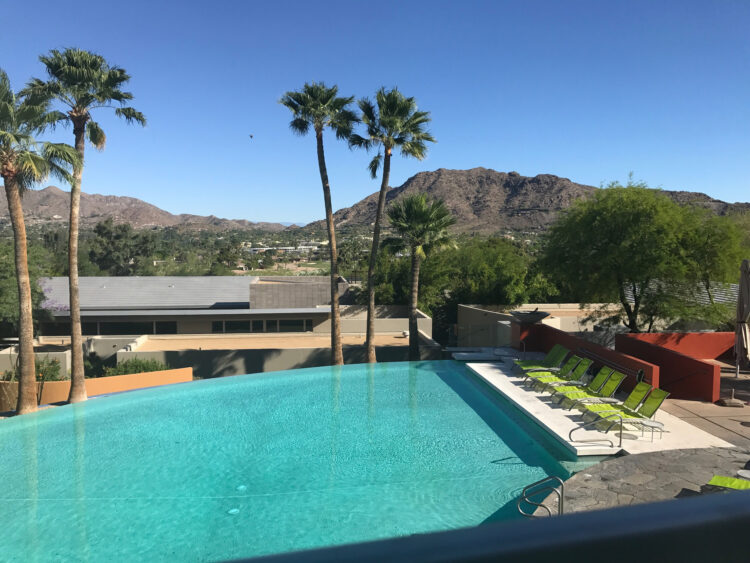 The offerings include many herb-infused as well as treatments that include aquatic massage and sound bowls. They offer a choice of pre-natal offerings too. Wellness rituals include lymphatic massages and acupuncture.
The Sanctuary Spa also offers private and group classes in yoga, Pilates, meditation, and sunrise stretching.
Additional Activities
If being relaxed all the time isn't for you, there are always things you can do at this resort to keep moving. There are tennis and pickleball courts available and a full fitness center. The infinity pool is spectacular for views and big enough for laps. Hiking is right in front of your door through the mountains but consult with the hotel staff about safety.
It's a short drive to Scottsdale, where there's plenty of shopping, bars, and restaurants. There is also Old Town Scottsdale. I've had fun while there browsing the stores and sipping local cocktails in the Southwestern atmosphere.
The resort also holds a Nirvana Food and Wine Festival, which is worth the trip. Chefs come from the local area and around the country. It's a fun time for two days of tasting events and parties.
Getting There
Sanctuary Camelback Mountain is in Paradise Valley, Arizona, just 10 minutes from Scottsdale. The nearest airport is Sky Harbor International Airport in Phoenix. It's only about 20 minutes away. Tucson International is a two-hour drive to the hotel.
Sanctuary at Camelback Mountain is now part of Gurney's Resorts, which owns the famous Montauk hotel.