I'm walking down the dusty road when a young man falls in step beside me.
"Welcome," he says. "Would you like me to wash your feet and give you some food?" That's an offer I've never had before, but I politely decline.
I've arrived at Lalibela, a town in Ethiopia that's famous for ancient rock churches hewn out of solid stone. Pilgrims from across the country walk barefoot for up to a month to reach Lalibela, and I tell my escort I feel like a cheat for arriving in the comfort of a bus.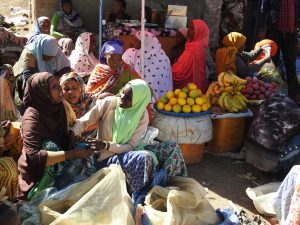 Whatever you know about Ethiopia is probably bad, with a history of devastating droughts and famines, and long-running skirmishes with its neighbor, Eritrea. But in July, the border war officially ceased and efforts have began to heal the rift.
That makes it the perfect time to visit this beautiful country with a rich history, friendly people, exotic foods and an atmosphere that makes you feel you've stepped back into the Bible.
The land is rich in myths and mythologies of the Queen of Sheba and churches carved with the help of angels. There's something photogenic around every twist of its long, winding roads, like colourful markets where cars park next to donkeys.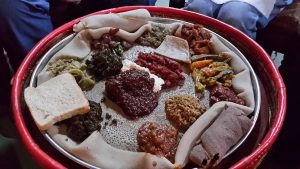 Its food is equally vibrant. The national dish is injeera, a slightly sour pancake so large that it looks like a tablecloth with mounds of spicy meat, rice and vegetables heaped upon it. Your tear off some injeera and use it as a rubbery spoon to scoop up the food.
Tourism is under-developed because of its turbulent past, but Ethiopia is making an effort to put itself back on the map, and that will strengthen with this new peace accord. At the moment, you'll find decent hotels at good prices in the cities, but standards can drop in smaller towns. Don't expect the electric sockets to look safe, and check the hot water situation, for example. Public transport is dubious, so it's easier to travel with an organized tour group, which generally cover all the major attractions, and know if any region is best avoided.
Lalibela's 11 rock churches are amazing, carved in the 12th century and linked by narrow crevices and dark underground tunnels. We step into the most famous, Bete Giyorgis, excavated by hand from a plateau of stone so you stand on the top and look down on it, marveling at this feat of craftsmanship.
We drive out through villages with houses made of wood and waterproofed with mud and cow dung. Big-horned zebu cattle graze the fields and men dressed in billowing Biblical robes all carry sticks, or guns.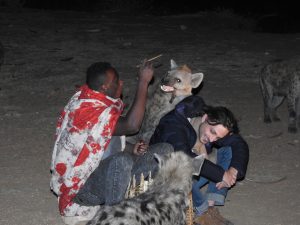 In the ancient walled town of Harar we step aside in the narrow alleyways to make way for women leading heavily-laden donkeys. The city is a World Heritage Site dating from the 7th century with thick stone walls protecting a maze of 368 alleys. In the centre we watch a flock of hawks swooping for scraps outside a butcher's shop. Some of the meat is collected by the hyena man, and we take a tuk-tuk at sunset to watch him feed wild hyenas. Actually I don't just watch, I participate, holding out a stick topped with a twist of meat as five or six powerful wild animals pace around me. It's an unforgettable memory – a hyena behind me rests its paws on my shoulders and its sharp teeth snatch the meat only a few inches from my ear.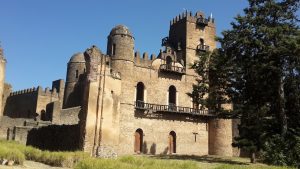 Gondar is another must-see, with beautiful 17th century castles looking like an early sketch for a Disney movie. Castles and grand buildings are spread across the site, the loveliest built for King Fasilidas, with round turrets and wooden balconies where lavish banquets were enjoyed.
The mesmerizing scenery grows more dramatic as we approach the Simien Mountains, which spill out in a massive plateau before tumbling down like hundreds of rocky fingers into the plains below. It's another of Ethiopia's many World Heritage Sites and excellent hiking territory.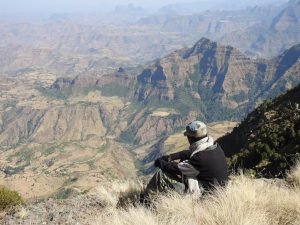 I was happy with just a short hike to meet the local residents – cute Gelada monkeys that roam in troops of three to four hundred. They eat roots, and sit combing the grass until they unearth something tasty, then plant their faces into the soil to rip it out with their teeth. It's a comical sight, and quite magical to sit among them.
As we walk back to the carpark, ladies in colorful robes cajole us to buy from their crafts laid out on the grass – beadwork and carvings, raffia table mats and vivid cotton prints. The level of hassle is very low, and if you buy, they smile, if you don't buy, they still smile.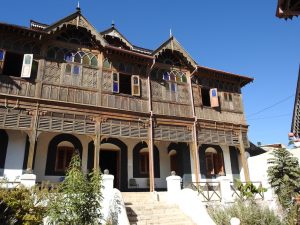 Addis Ababa the capital is also worth exploring. Its excellent Ethnological Museum shows the country's social history and rituals from birth to death, and in the National Museum you can say hello to Lucy, the fossilized remains of an ancient hominid ancestor.
The Red Terror Martyrs Memorial Museum covers more recent history in a moving tribute to 500,000 people murdered by the communist Derg regime, which wiped out any dissenters, intellectuals and suspected anarchists in the bleak years from 1975 to 1987.
Back outside in the bright sunshine I sip thick coffee in a pavement cafe. People in the capital are used to foreign faces, but I realize I miss the friendly attention from curious strangers in the smaller towns.