When travelers think of the most romantic destinations in the world, they always name warm, tropical destinations with sugar-sand beaches and turquoise waters. It's no wonder: who wants to shiver on a freezing ski slope or trudge through crowded European streets on a charming getaway with their loved one? The Caribbean offers couples plenty of opportunities to find space to be alone and reconnect, and no Caribbean island calls to the passionate at heart more than alluring Aruba.
Why Aruba?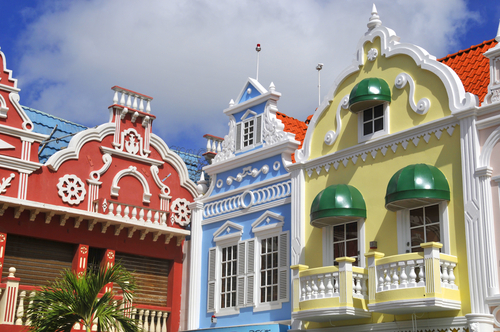 Surprisingly, Aruba is actually part of the Kingdom of the Netherlands, even though it is located off the coast of Venezuela in South America. The island is small and cozy at 21 miles wide and 73 miles long, but far from claustrophobic. Travelers from English-speaking countries will have no issue communicating with the locals; along with their native Papiamento and Dutch languages, most residents are fluent in English as well. The island stays warm all year long at an average of 82 degrees Fahrenheit, with January through August sporting the cooling trade winds and October through January boasting the most rainfall. The busiest times of the year for tourists are from January to June; if you're looking to avoid the crowds, plan on traveling between June and December to avoid upcharges at your resort or car rentals.
Aruba's Best Beaches
One of Aruba's biggest draws is the stunning beaches, lapped by azure waters and perfect for swimming, snorkeling, diving, or just taking a midnight stroll hand-in-hand. Some of the beaches are even rated among the top in the world! No matter if you're craving adventure in the sea or a Piña Colada on land, there's a beach waiting for you. Here are a few of our favorites:
Eagle Beach
Rated by TripAdvisor as the #4 beach in the world, Eagle Beach boasts the longest and broadest span of sand on the entire island. The sunsets here are almost too beautiful to believe, streaking vibrant fuschia, gold, and violet across the Caribbean sky. This beach is located near many hotels right on the ocean, making for the perfect date with your special someone of a day on the water and an evening sipping cocktails over an exquisite dinner.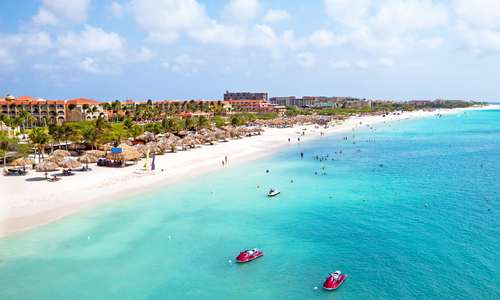 Palm Beach
If you're a couple who enjoys the party scene, look no further than electric Palm Beach. Also located near multiple high-rise resorts, visitors will find shops, party bus tours, casinos, beach bars, and plenty of nightclubs for the professed night owl in your life. For those looking for more of a laid-back experience, Palm Beach also sports plenty of movie theaters, bowling alleys, relaxing spas, and dazzling water fountain shows!
Baby Beach
Bringing your entire family to your destination wedding, vow renewal, or engagement getaway? Then take the whole crew, little ones included, to Baby Beach! The waters here are shallow and placid, making for ideal splashing by little ones. Lovers will still find plenty to do outside of children's activities, with snorkeling gear and cabanas available for rent to explore the rocky side of the cove or stretch out away to enjoy the Caribbean sun.
Fine Dining In Aruba
Aruba strives to cater to travelers, no matter where they're from. Nowhere is this more apparent than in the variety of culinary delights waiting for you on the island. Whether you're hungry for authentic local cuisine or craving something more adventurous, your tastebuds will not be disappointed in Aruba! Here are a few of the most popular restaurants on the island:
The Old Cunucu House
For authentic Aruban cuisine, no one can beat this restaurant, which has thrived in Aruba for over 25 years! Open seven days a week, the building was constructed over 150 years ago, an Aruban farmhouse. The design, known as "cunucu", was conceived to be able to withstand hurricanes with its location on higher ground and thick stone walls.
On the menu, you'll find local specialties, international fare, and vegetarian dishes. Sample some of the regional fish dishes such as cod, red snapper, or conch, or stay on land with hearty goat and beef selections. Finish your meal with the romantic "Coupe di Amor" dessert or one of the chef's daily specials!
The Flying Fishbone
For a truly one-of-a-kind dining experience, The Flying Fishbone is the place to be! Located right on the beach in Savaneta, The Flying Fishbone literally lets you hang your feet in the water as you dine! Their fine dining menu of French and Caribbean specialties leaves their guests raving with every visit. But don't worry if your idea of a good time isn't to leave with wet feet: you also have your choice of seating inside or dining out on the sand.
Seafood is their pride and joy, with lobster bisque, shrimp skewers, salmon, and more available. For land-lubbers, try their duck breast, roasted rack of lamb, or chicken portabello. Those with a sweet tooth won't leave empty-handed, with chocolate ravioli, baked Alaska, and apple pie with vanilla ice cream on the menu!
West Deck
If you're looking for something more laid-back and casual, then the West Deck Island Grill & Beach Bar is calling your name! Set on a large wooden deck overlooking Governor's Bay, West Deck has spectacular views all year round, but especially during cruising season when all the mega-ships come sailing in. West Deck offers plenty of hot and cold appetizers, stick-to-your-ribs comfort food, and luxurious dessert cakes. Try their samosas, rack of ribs, or tres leches cake!
Also on the menu are plenty of delicious specialty cocktails, craft beers, and a wide variety of wines, including sparkling. If you're looking for something truly tropical, try a Caribbean Pride brain freezer or a Margarita-Mama margarita. Or you may be interested in their unique cocktails, including the Jamaican Cooler or the Absolute Stress. Finish off your romantic evening by sipping on bubbly Villa Sandi Prosecco as you watch the sunset on Governor's Bay.
Activities For Couples
No matter what type of couple you are, Aruba has something for you! The adventurers out there will find their adrenaline rush with plenty of parasailing, snorkeling, diving, and exploring the island by 4×4. Couples just looking for a quiet time to themselves will love the Butterfly Farm, shady beach cabanas, and relaxing in the island's many spa facilities.
Here are a few favorite activities for travelers to do with their "dushi" (sweetheart):
Sunset Cruise
Nothing says romance quite like a serene cruise as the scorching Caribbean sun begins to sink behind the horizon. You can choose from a luxurious catamaran ride sipping your favorite wine, a delicious seafood meal on the waterfront after a lazy cruise, or even a sundown trip with a real "pirate", rope swing included! If you can dream it, you can find it on an Aruban sunset cruise.
Flamingoes At The Renaissance Hotel
If you're already staying at the Renaissance Hotel, then take advantage of their private island and hang out with some truly flamboyant flamingoes! While you can purchase a day pass to visit without being a Renaissance guest if the hotel is not over 80% full, these passes are only available 24 hours in advance and are sold out very quickly, so it's usually worth the effort of staying at the hotel in order to come and go as you please for free.
Once you've taken the short boat ride to the island, you'll have the opportunity to interact with and feed the flamingoes. Because of the limited number of visitors allowed, you won't have to worry about fighting the crowds to get that perfect Instagram pic! If you're less interested in the colorful wildlife and more into relaxing and unwinding, you can also book couples' spa services and rent cabanas to laze about on the beach.
Arikok National Park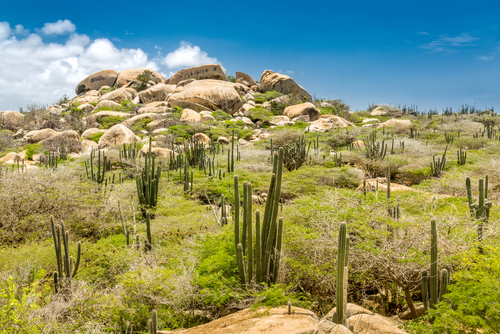 Taking up about 20% of the entire island, Arikok National Park is every outdoorsman's (or outdoorswoman's) dream! The desert landscape dotted with cacti and unique plant and animal life create a nature-filled journey for a couple hungry for adventure.
You can rent a Jeep to either explore with a guided tour or on your own. Take your camera on the park's many hilltops for photos unlike any other. If you love exploring caves, then check out the limestone Fontein Cave, with its cave drawings left by early local Caquetios and European settlers. Surf the waves along or have a picnic the picturesque coastline of Dos Playa, another favorite photo stop in the park. And lastly, a must-see for any visitor are the natural pools or "conchi" surrounded by the rough waters of the sea and protected by the rock face. You'll need a 4×4 in order to explore the pools, but it's well worth the effort!
Weddings And Vow Renewals
It will come as no surprise that the most popular area to have an Aruban wedding or vow renewal is right on the beach, with the soft sounds of the waves lapping at the sand in the background as you pledge your love and devotion to one another. Either secular or religious, all ceremony types can be accommodated by your travel planner before you depart. If you would rather have a civil ceremony, weddings can be performed at the Historical City Hall on the island. Be sure to check with your travel planner for any documentation requirements, such as birth certificates, photo ID, divorce decrees, or anything else you might need for the marriage certificate. You will want to find a travel planner who specializes in destination weddings in Aruba to help you with the obstacles of planning for both travel and the ceremony. They will also be able to recommend the best hotels, caterers, and wedding planners to make sure your day goes off without a hitch!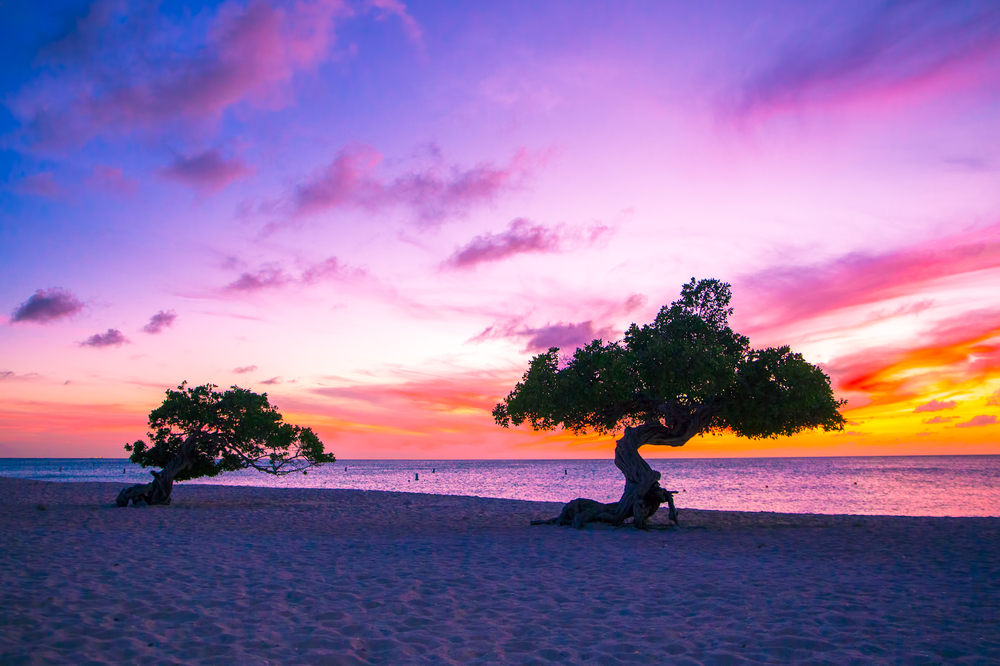 Honeymoons
The Caribbean is the ultimate destination for new brides and grooms, and for good reason! Before returning to the hum-drum of regular life, take some time to relax and bask in your new union together. Aruba offers everything a newly-married couple could need: beautiful scenery and nature, decadent cuisine, fantastic shopping, and more!
What are you waiting for? Aruba is calling you today!