One of the perks of visiting Lisbon is that it's a short jaunt from both the beautiful Portuguese coastline and, intriguingly, a mountainous whimsical wonderland. Just 40 minutes from Lisbon by train, the town of Sintra is a world away from the hustle and bustle of Portugal's capital city. Sintra is tucked away in the mystical wooded hills of the Serra Mountains, surrounded by fairy-tale palaces, and enchanting gardens and overlooked by a Moorish castle. At the center of the town lies Sintra National Palace, with its two distinctive conical chimneys and lavish interior.
Narrow, cobbled streets cling onto the hillside, where most restaurants, tourist stores, and pastry shops can be found. Visitors shouldn't leave town without sampling the delicious Travesseiro or Queijada pastries. Apart from exploring the palaces and parks of Sintra, some excellent trails weave their way through forests of fern and lichen, past giant boulders
A World UNESCO Site, Sintra was once the summer retreat for the Portuguese royal family, the cool hillside forests providing a respite from the heat of Lisbon. It has continued to prove a popular spot for pop royalty – more recently, Madonna purchased an 18th-century mansion there.  
Most visitors catch a train or bus from Lisbon, and many book a day tour, but it's a destination that should not be rushed. It's worth staying for a night or two and is at its best when the day trippers have left, and the streets are once again peaceful.
After exploring Sintra, the nearby beaches beckon. From the craggy cliffs of Cabo de Roca and splendid Atlantic views to the traditional Portuguese resort town of Cascais, the coast is well-connected by public transport.
The Pena Palace – A Multi-Colored Extravaganza    
This flamboyant 19th century palace sits atop a rocky outcrop overlooking dense forests. With its vibrant ochre and yellow color scheme, it looks like a Disneyesque fantasy palace. Built for King Ferninand II in 1854, the fantastical palace was a summer retreat of the Portuguese royal family for many years, but was transformed into a museum in 1920. The astonishing mishmash of architectural styles include elaborately designed turrets, towers, domes and archways and the interior has been restored to its original condition. A terrace café serving freshly baked donuts and muffins comes with a sweeping view of the surrounding forests and Castello dos Mouros. The grounds are worthy of exploration, with trails that lead to clandestine temples, grottos and ponds.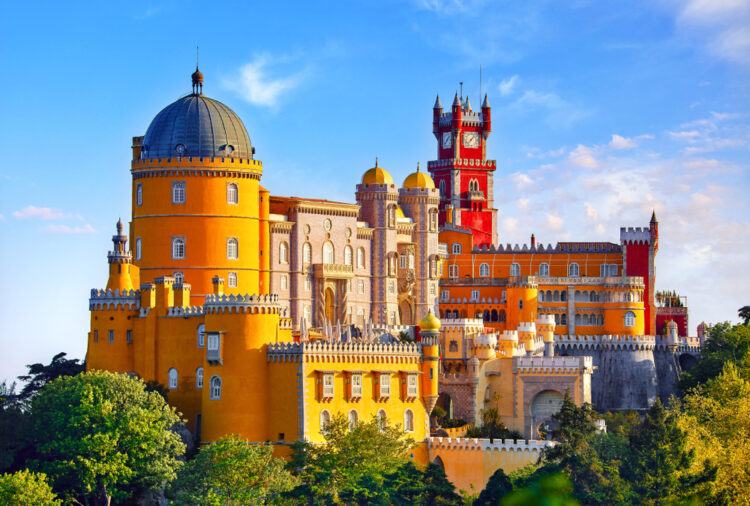 A Stroll along the Castello dos Mouros
For those lucky enough to visit on a clear day, Castello dos Mouros not only has a breathtaking view of the Pena Palace and the town of Sintra but also of the Atlantic Ocean. It should be mentioned, however, that due to having its own micro-climate, Sintra is often shrouded in mist. This occurs when the cool Atlantic air collides with the balmy Mediterranean air. However, visitors shouldn't be deterred as the castle is incredibly atmospheric when swathed in a swirling mist. Dating back to the 10th century, the castle was originally built by the Moors as a defense fortification and was later reconstructed by King Ferdinand II after the earthquake. It's less crowded than the Pena Palace, which swarms with tour groups, especially during the summer months. The ramparts stretch over the hills, and walking along the castle walls is strenuous but exhilarating, and the views (weather permitting!) are spectacular.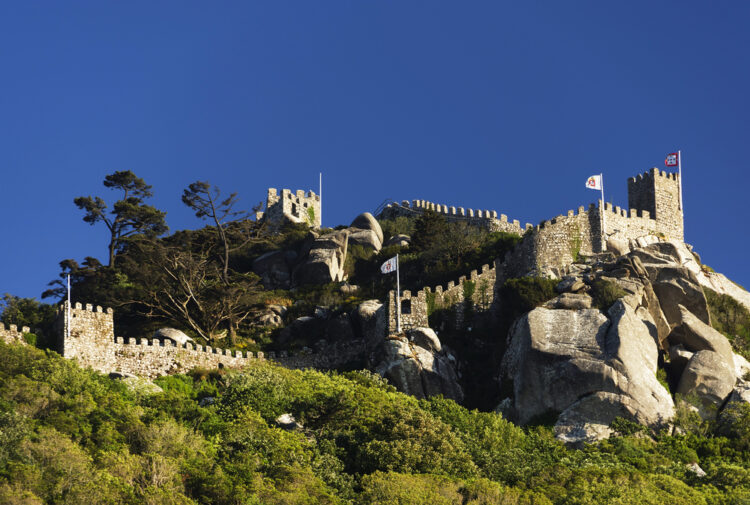 An Exotic Paradise – Monserrate Park and Palace
Often overlooked in favor of Sintra's more high-profile attractions, Monserrate is a feast for the eyes. Inspired by a combination of Asian, Gothic, and Moorish styles, the exquisite summer palace was the vision of Francis Cook, a rich English industrialist who loved to travel. His passion for the exotic is very much reflected in this palatial villa. Dating back to the 11th century, it was abandoned until 1846 when Cook purchased and reconstructed it. A sprawling lawn is surrounded by lovely gardens, where hundreds of species of flora from all over the world have flourished in the hills of Portugal. From Himalayan rhododendrons to African palms, it's a utopia for nature lovers and garden enthusiasts.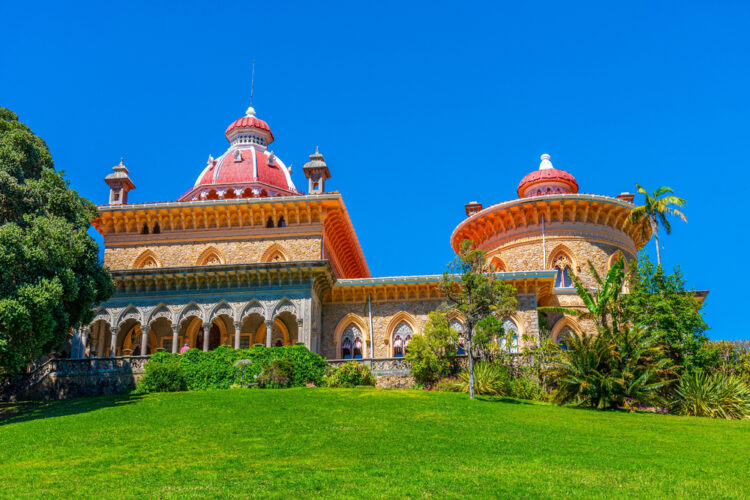 Whimsical Wanderings at Quinta de Regaleira
With an imposing gothic mansion, Quinta de Regaleira is romantic and other-worldly. The mysterious 16th-century gardens, set over several levels, conceal hidden treasures in pavilions, grottos, towers, and ornate seats. Statues are scattered around the gardens, and visual treats are everywhere. Regaleira's most famous landmark is the 88-foot-deep Initiation Well, which descends into an extensive underground cave system. A cave leads to a spellbinding waterfall straight out of Grimms Fairy Tales. Throughout the grounds, there are random entrances to the caves' labyrinth, which visitors can explore with a flashlight. The gardens were created by the eccentric Brazilian coffee trader Antonio Caralho Monteiro, between  1904 and 1911 and were inspired by his interest in mystic ideologies.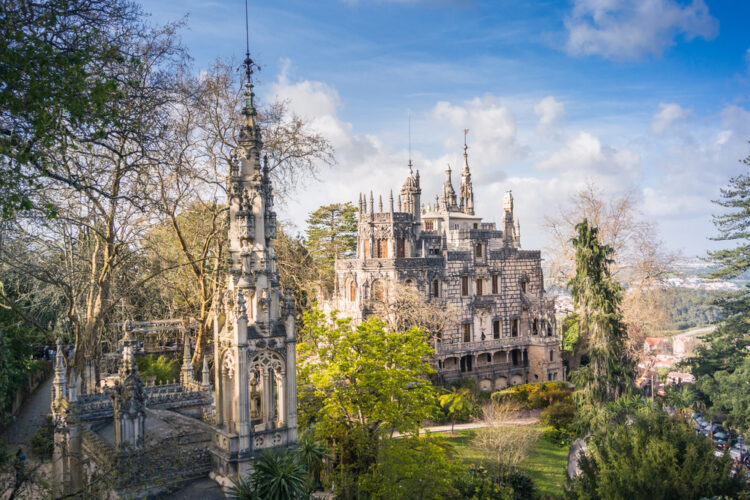 A Trip to Portugal's Stunning Coastline
Just half an hour from Sintra, Cabo de Roca is a wild, rugged headland and Europe's most westerly point. The spot is marked by a small stone monument engraved with the words 'Where the land ends, the sea begins'. Apart from a historic lighthouse, the landscape is barren but beautiful. Hikers will enjoy exploring the coastal trails with stunning views of the Atlantic. Cabo de Roca is particularly captivating at sunset when the sun sinks into the sea, accompanied by the cacophony of thundering waves.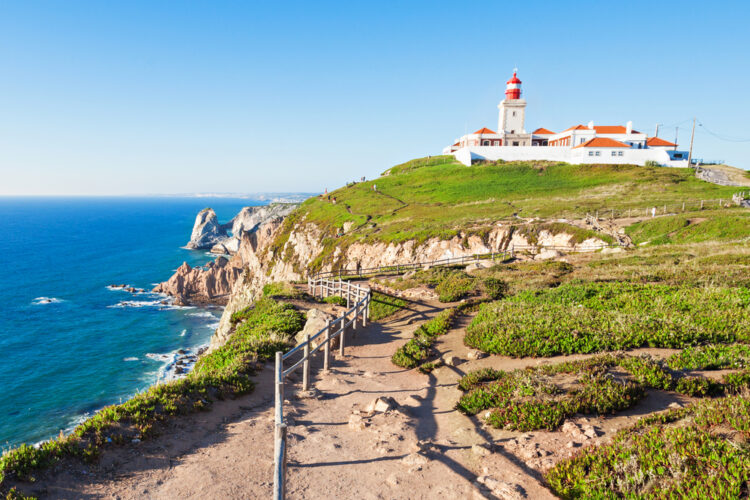 The Golden Beaches of Cascais
A few miles south of Cabo de Roca, the charming seaside town of Cascais is home to an abundance of idyllic beaches which attract families, surfers, and weekenders escaping the heat of Lisbon. With its flower-filled cobbled streets, Cascais has a small-town vibe and is the perfect place to sample Portugal's delectable seafood dishes, chill out on the beach or even catch a wave or two.