Enjoy Primal Pampering at Surfer's Beach Playa Bocana
On a recent trip to the remarkable region of Huatulco, Mexico we got to experience a lot of upscale luxury and exciting eco-adventures, but one of our favorite  afternoons was the ancient mud ritual at Playa Bocana.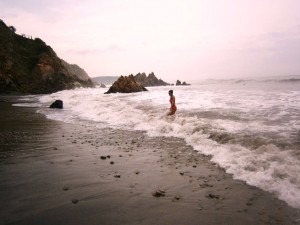 We were staying at Secrets Huatulco Resorts & Spa– an upscale adult- only all-inclusive in its own private cove in Conjes Bay, and though we thoroughly enjoyed their  Unlimited Luxury program and pampering spa facilities, we wanted to get a taste of some local color and culture as well. We had heard from our Amstar guide/driver Alberto Espana Chavez  that there was an enchanting spot to get ancient mud rituals done  just minutes from the resort. So one afternoon I grabbed two lovely ladies from our group to join me there and act as my models.  After all, someone had to take the photos, and that's a tough task when you're getting slathered in mud! Besides I am trying to become a better photographer and this sounded like a picture perfect opportunity to practice.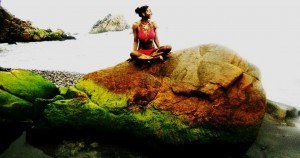 As Alberto had promised, Playa Bocana was indeed just a few minutes away by taxi. Our driver dropped us in front of a little thatched kiosk in front of the beach where a woman was waiting with some ceramic jars of mud. The beach was spectacular- certainly not a swimmers beach- but definitely a surfer's spot judging by the two boarders hanging ten out on the big dramatic swells. And the beach was not really sand, but many colors of mud and rock making interesting patterns towards the water. This is where the mud from the Copalita River runs down from the Sierra Madre Mountains into the sea. Along the way, the mud picks up rich minerals which are good for the skin, in fact the ancient Zapoteca Indians who once settled in this region believed this mud to have healing powers.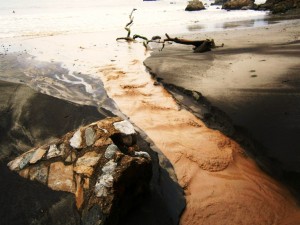 This natural beauty ritual has since been practiced in the area for centuries, but mostly by locals, and now that this region was beginning to attract tourism- not only Mexican visitors but international travelers- a group of  local women formed a co-operative to offer the treatment to all.
The ritual is very simple. The woman applies the mud to your skin, you let it bake dry in the sun, and then you rinse off in the sea!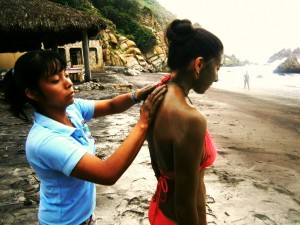 There was only one woman working that day as it was low-season, in fact the entire little community seemed quite deserted that afternoon. There are a few little guesthouses catering to surfers and a little recently built tourist village with restaurants, an art gallery and a reptile display, which must be busy in the winter. But this was summer, and we seemed to be the only "tourists" in sight. But that made it all the more enchanting, having the beach and the incredible scenery surrounding the restless waters all to ourselves. It also had my "mud models" less self-conscious when I asked them to strike strange poses!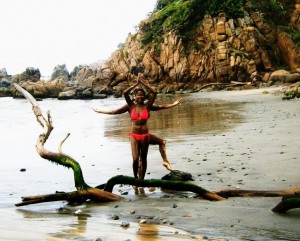 Once the mud baked dry in the sun, and I had run out of cool shot ideas, the girls ventured into the sea to scrub off the mud. It was not easy keeping their footing as the waves are really strong and carry lots of little rocks and pebbles with them. But eventually they came out scrubbed clean and feeling totally rejuvenated. And their skin? Baby smooth and expertly exfoliated. Not a bad way to spend an afternoon. And the cost? $10 US. A bargain for a beauty treatment indeed!
For more on the Huatulco region, visit: http://www.visitmexico.com/en/huatulco