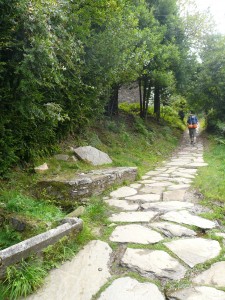 Famous Historic Trail : El Camino de Santiago-

Multi-day hike
This is by far Spain's most famous trekking trail. There are many paths leading to Santiago's famous cathedral, which is considered to be one of the most holy sites in Christendom. There's the English Trail, which hugs the northern coastline, the Portuguese Trail from the south, and even a water route arriving by sea and river. The most famed of the Santiago trails is El Camino Francés, aka EL Camino de Santiago, which has many starting points but generally begins at the Spanish-French border and continues on for 775 kilometers to the city of Santiago. 'Pilgrims' usually cover about 20 to 30 kilometers a day, equaling a month of walking. During my time on the Camino, I averaged 25 kilometers a day but this was under the weight of a far-too-heavy pack. On El Camino, it is all about traveling light.
When the El Camino pilgrimages began in the 9th century the trail was a holy road for Christians hoping to glimpse the relics of St. James, one of Jesus' apostles. Nowadays most 'pilgrims' are not hiking for God, but for a good time. Every hiker has a different reason for doing El Camino and while the root may not be religious most will admit that the journey ends up being magical or spiritual. There is something eerie about trekking the same road where so many others have gone before. The rhythm of walking for seven hours a day is also lends itself to meditation and requires quite a lot of faith in one's physical abilities. I found the experience to be a real test of my endurance, and blister pain threshold.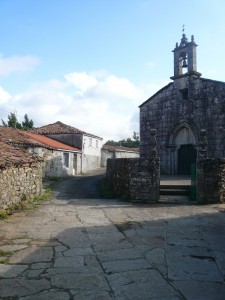 Along the trail walkers stay at 'pilgrim hostels' for about $6.00-$15.00 a night, or small hotels along the trail. These low rates are only available to registered pilgrims, and make the journey easier. Some hikers also camp, but this means carrying more gear which is not recommendable. If you don't have time to do the entire trail, then just do a bit of it. I did the last 111 kilometers of the trail, as do many others, although one day I'd like to hike the whole route.
MORE:
Web: http://www.caminosantiago.com/
Getting there: Once in Spain, fly from major cities like Madrid or Barcelona on Vueling to Santiago and then backtrack by train or bus to your desired staring point on the trail. Bus is the best option for getting around Galicia. If staring in France, flying into San Sebastian, Bayonne or Toulouse are good options.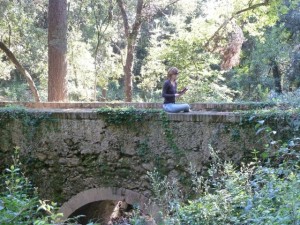 Escape the City: Parc de Callserola-
Day-trip
If you're not up for the strain and planning that it takes to do El Camino de Santiago, not to worry, there are plenty of low-key trails throughout Spain, too. Living in Barcelona, one of my best-loved, effortless hiking destinations is Parc de Collserola, an immense natural park near the city, easily reached by train. There are tons of trails throughout the park, not to mention barbecue pits, picnic tables and sport areas. It's a popular place, especially in the summer months, but those who choose to hike its longer trails will not find much traffic as most people stay fairly near the parking zone.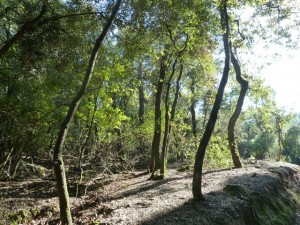 For families and visitors who want a relaxed hike in the woods, Can Coll is a first-rate trail to start with. It's about a two-hour hike through the Parc de Collserola forest and past ancient homes, ending at the Sant Iscle de les Feixes church. The starting point for the trail is two kilometers from the Ferrocarrils de la Generalitat train station, so hikers have to add this on to their hike time or rent a car to get to the Centre d'Educació Ambiental Can Coll where the trail begins. Pack a lunch for this no-fuss trail and make an afternoon of it.
For something more hardcore in Collserola try La Ruta de les Ermites, or the 'Sanctuary Trail', which passes by the chapels of Sant Genís de Agudells, Sant Cebrià, Sant Medir and Sant Adjutori plus a number of ancient Catalan farmhouses and fountains. Both the Can Coll and La Ruta de les Ermites hikes offer up a bit of history along with Mediterranean flora and fauna. La Ruta de les Ermites is ten kilometers in length and takes about four hours to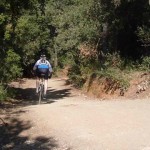 complete. For this trail hikers need to start out at the Barcelona Metro stop: Vall d'Hebron (line 3). Walk the same trail back (it's not a loop) or catch the bus on the other end to the Ferrocarrils de la Generalitat train station where you can catch a train back to Barcelona.
MORE:
Park Information: http://www.parcnaturalcollserola.cat/es
Park Trails: http://www.diba.cat/parcs/itineraris/collserola/
Guide Book with trails (in Catalan but with maps): Rutes de Patrimoni Arquitectònica distributed by Diputació Barcelona. Call 34-934-022-400 for more information on where to pick one up in the city, or xarxaparcs@diba.cat
***You could also just go to the park and try any of the other trails there, the above are just suggestions. Most trails also serve as mountain bike trails, a popular sport in Catalonia.