Nestled in the rolling hills of central Arkansas, this little burg should be on everyone's quick-get-away list…from infrequent travelers to euro-snobs to jaded jet setters. Here's a dozen reasons why: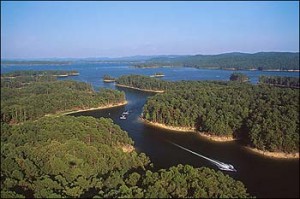 Three beautiful lakes – All are man-made, created by building hydro-electric dams in sections of the Ouachita River (pronounced 'wash–ah–taw' – the French spelling of an Indian word meaning "good hunting grounds"). The smallest is Lake Catherine at 1,900 acres and five miles long. The next up in size is Lake Hamilton at 7,200 acres and 18 miles long. (Hamilton surrounds the city of Hot Springs like a horseshoe.) The largest is Lake Ouachita at 40,000 acres and 40 miles long. Known for its crystal clear water, Lake Ouachita is popular with scuba divers. The shoreline of Lake Ouachita is National Forest. Think Lake Tahoe without the snow and taxes.
Bath Houses & Hot Spring Spas (for which the town is named) – Heads up, Spa Hounds! This is your new home away from home. Hot (140 degrees) mineral springs bubble up from hillsides downtown – right behind Bath House Row. Originally built in the 1920's and '30's, several have reopened as full featured traditional bathhouse spas. One is now a modern art museum (MOCA – The Museum of Contemporary Art).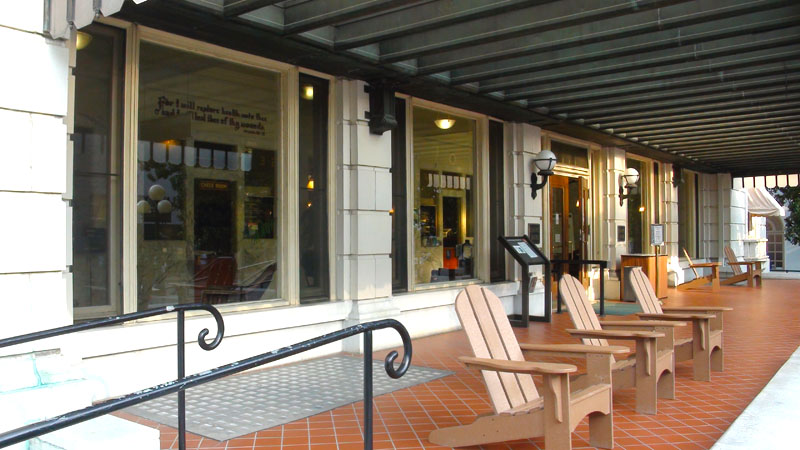 Oaklawn Race Track – This venue features top ranked, world class thoroughbred horse racing. Racing season is from mid-January to mid-April; however, the facility is open year round for dining, off-track simulcast betting, electronic and video gaming. If you attend a race, buy a racing form and note the horses that place. Save the form.  Have it handy later in the season when you watch the Kentucky Derby, Preakness or Belmont Stakes. You'll recognize many of the names.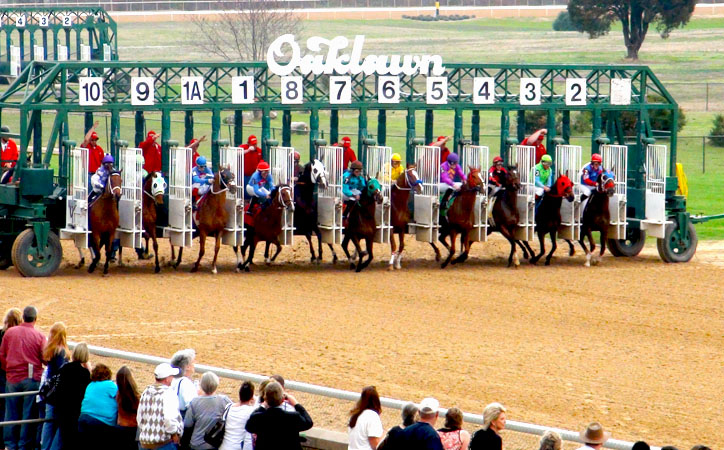 My idea of a great day at Oaklawn? Often, on warm spring days track management will open up the infield area, accessible via a pedestrian tunnel under the track. From this vantage point yours truly can watch the race in 360 degrees, stalk the betting booths, twist my sunburned neck to follow the race, chug a brew…and rip up losing betting tickets…all at the same time. Talk about multi-tasking!
Seriously…I always leave the track a winner…never having to bet more than a $100 or so…to win $75 or $80. Now that's entertainment value!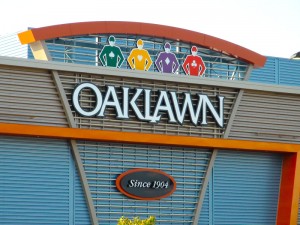 Championship Golf Courses – Great courses are numerous, especially if you include Hot Springs Village, a separate retirement community 15 miles outside of the city proper.
Surrounded by National Forest – A nature lover, camper and hiker's paradise, Hot Springs National Park intertwines with the north end of the city. This pine-oak-hickory ecosystem is managed in a way that preserves the hydrological system that feeds the springs (the hot mineral springs are not likely to run dry any time soon).   Nearby Ouachita National Forest includes the Ouachita Mountains and is the oldest National Forest in the southern United States.
Garvin Woodland Gardens – Bequeathed to the University of Arkansas by the Garvin family in 1993, this 210 acre botanical garden attracts arborists and gardeners from the world over. My favorite GWG feature – the architectural wonder called the "Anthony Chapel." This structure is a huge, open air, glass and timber marvel that – to my uneducated eye – seems 'Old World / Nordic' in style. Spin around three times fast and squint…you'll see the guys from the "What's in your wallet?" commercial swinging from the rafters.
Lodging & Accommodations – In a word…plentiful. There is something to suit any taste, any budget – condos, motels, major hotel chains – such as Hampton Inns & Suites, Embassy Suites, Holiday Inn Express, etc. – plus both lakeside and downtown B & B's.
Then of course there is the 'Grand Dame' of Hot Springs hotels – the Arlington. Located in the heart of downtown, the Arlington hosts its own in-house hot spring spa.
Entertainment – there is something to suit any taste, any budget – from art museums (MOCA, mentioned above) to the Gangster Museum. (Hot Springs was the favorite vacation spot for Al Capone and the Chicago mob in 1930's.)
Live shows range in style from 'Hee Haw' type fare to Neil Simon plays. (Tommy Smothers & Jerry Van Dyke were in town recently, offering pre-Broadway performances of 'The Sunshine Boys').
Maxwell Blade, the magician / illusionist, has taken up permanent residence in a downtown theater and the Jazz Society performs regularly at the Quapaw on Bath House Row.
Additional night life includes everything from Biker Bars to ballroom dancing at the Arlington. Curiously, the only thing missing is a modern, up-to-date multiplex cinema…business opportunity, anyone?
Magic Springs – Located on the outskirts of town, this attraction is a water and theme park in the 'Six Flags' tradition, open from May through September. During that time period it is also a concert venue for major touring artists.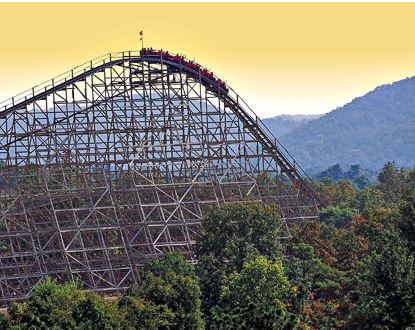 Dining – In addition to the typical national casual dining chains such as Chili's, Outback Steakhouse and On the Border, foodies will feel right at home with more upscale, one-of-a-kind options such as Belle Arti, Jahna's or J & S Italian Villa (great lake view dining). My vote for best lunch in Hot Springs is Café 1217 on Malvern Avenue.
Shopping – This is one area in which Hot Springs is not exactly world class. With the possible exception of the Hot Springs Mall, local shopping is mostly souvenir type offerings. However, many of the downtown shops do include top quality handmade goods, as well as knick-knack items…such as refrigerator magnets that read "Paddle faster, I hear banjos!"
Climate – Hot Springs has a moderate climate and four distinct seasons. Most rain falls in May and April.  July average temperatures: high 85, low 70 – January average temperatures: high 40, low 9
Miscellaneous Factoid – Strategically placed signs about town remind visitors that Hot Springs was the boyhood home of President Bill Clinton. And at McClard's on Albert Pike Road you can stuff yourself with some of the world's best barbeque while sitting on the same stool where our 42nd president did the same. (Here "Slick Willie" refers to a preference in pork ribs, not governing style).
No need to look further if you are in the market for an authentic Middle-of-America vacation experience. Hot Springs is easy to reach by road (15 miles off I-30), air (Little Rock Airport is 45 minutes by car) or rail (Amtrak stops in Malvern, just 15 miles south of the city).