Now is the time for wine and nature lovers to rejoice; not only do Sussex vineyards produce beautiful wines, they also provide opportunities to sample, tour the vineyards and meet the Vintners.
Fizz On Foot, which offers guided walk and wine tasting tours, combines the great outdoors with walks through great British wine country. From a one-day buffet lunch and wine-tasting tour to a four-day, several vineyards trek, you'll see the spectacular Sussex countryside as never before.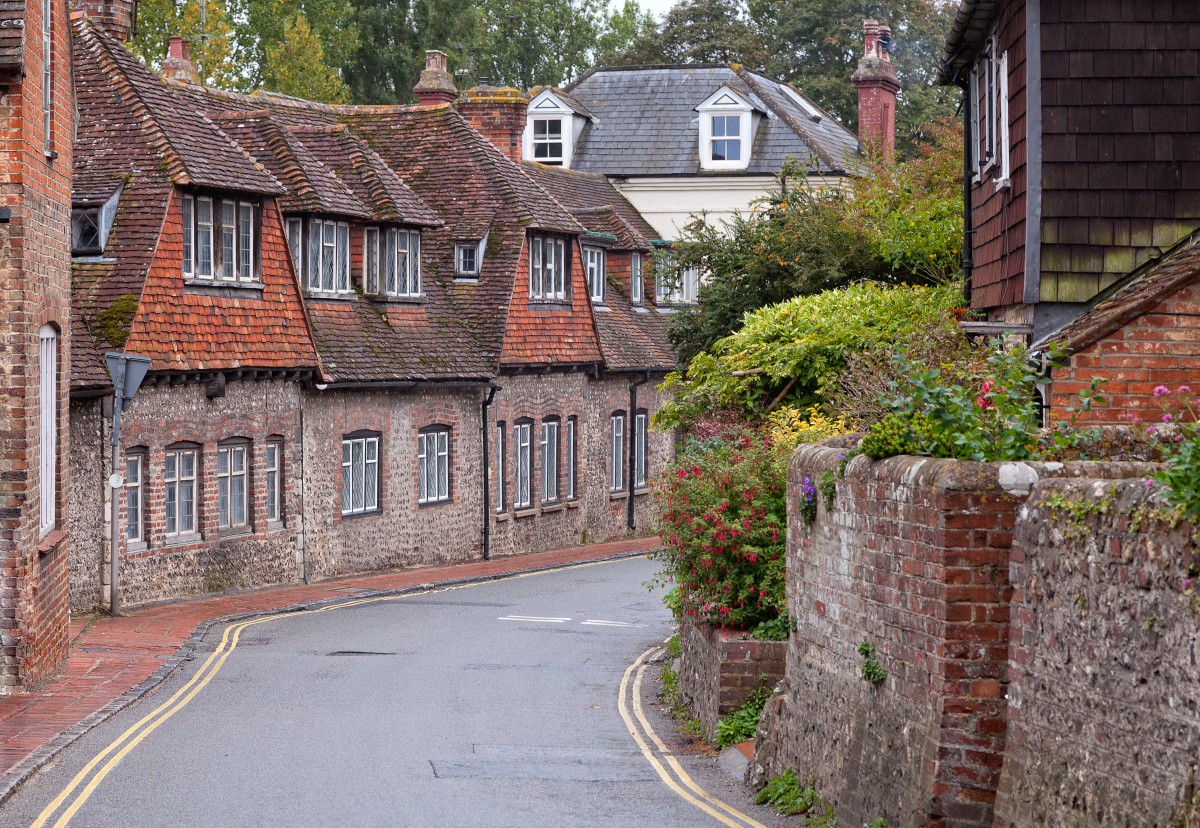 Participants of the Fizz On Foot tour meet up in the jewel box village of Alfriston. At ten o'clock sharp, you'll set off on a guided walk across some of the finest landscapes in Britain. From Alfriston, it's a circular five-mile hike via Friston Forest. On route taking in the Cuckmere River and the postcard-picture village of Litlington, where you'll pick up the South Downs Way, walking beside a hill with the chalked outline of the White Horse sliced into the landscape and a little further, Charleston Manor (where George IV kept his mistress). Cutting through the field into the Friston Forest, you'll take a bridleway through the marshlands, circling back to the Cuckmere River, where you'll retrace your steps past Frog Firle, Litlington, then back onto the village green at Alfriston. The views are breathtaking with an extraordinary range of diverse habitats like ancient woodlands, river valleys, chalk grassland, and mixed farmland.
From Alfriston, it's a twenty-minute minibus drive to Ditching and the historic 200-acre estate of Court Garden Winery, an award-winning producer of five distinctive bubbly's (as well as a range of dry whites, rosé, and red wines). Initially, few connoisseurs took to the idea of English wine; now, though, Sussex wines are quietly winning awards and converting non-believers with their taste and quality.
In the renovated Grade II listed barn, Hugo Corney welcomes you with what can only be described as 'pudding in a glass' – a Classic Cuvée, which is a pale green creamy fruit affair with a long finish. This is followed by a vineyard tour led by Howard Corney, who provides a comprehensive, in-depth, and fascinating explanation about everything from planting and nurturing the vines, to grape variety, to the weather and how it can drastically affect the yield, to the importance of soil and the environment of the wine. The tour continues in the winery, where Hugo takes over, skimming over the winemaking process and the innovative methods used in bottle-fermented sparkling wine production. He speaks about the chalky terroir of Sussex, which is the same as that found in the Champagne region of France, and explains that vineyards in the Sussex maritime climate produce sparkling wines that regularly defeat French Champagnes in international competitions and blind taste tests. The tour culminates in the tasting room where the now long-awaiting sampling of their specialty sparkling wines takes place. This is a tango for taste-buds experience, which begins with a champagne glass of Blanc de Blancs, progressing to the Blanc de Noirs and culminating in their fabulous Rosé – a bubbly you definitely want to get to know. Wine is truly at the heart of important celebratory events, as with each cork popped, a new cherished memory is created. This memorable wine discovery was no exception.
A quick visit to the estate's wine shop to secure a few taste memories and a lethargic minibus return journey soon has the Fizz On Foot group deposited in the Alfriston carpark, where a frantic exchange of phone numbers takes place, together with the promise to meet up for another wine walk. I'm drawn to a personalised tasting tour of several vineyards.
Other Fizz On Foot Tours:
The Seven Sisters Hike with a 'Fizz on Foot' picnic hamper begins with a picturesque nine-mile cliff-top hike, starting and finishing at The Tiger Inn at East Dean. A smoked salmon, cheese, and sparkling wine picnic hamper greet you at the end.
A historical tour of the pretty village of Alfriston, with transport to a local award-winning wine estate for a sparkling wine tasting and buffet/gourmet lunch. You'll return to the local town center/train station.
A hill-top walk from Alfriston to Charleston Farmhouse is a gorgeous walk with spectacular views across the South Downs. At Charleston Farmhouse, you'll do a tour of the home of the famous 'Bloomsbury Set', followed with coffee, homemade cake, and a glass of bubbly. You'll return to the local train station.
The Mount Caburn walk and picnic lunch at Glynde starts with a stunning walk above Glynde, extending across Downland to Lewes and back to the village for some English Sparkling Wine with a smoked salmon and cheese lunch.
Individual guided walks are also available for those wanting a more personalized tour.
Court Garden Estate dates back to the Saxon times and appears on one of the earliest maps of Sussex. The vineyard was established 2005 and has since won numerous national and international awards including two silvers at Effervescents du Monde in Dijon and two golds at the International Wine Challenge.