From early colonial days to the present, the eastern Caribbean island of Antigua emerged first as a naval base and later a favored port for sailors and seafaring adventurers. Down through the centuries, those changes have included the presence of British admiral Horatio Nelson in the late eighteenth century and, in more recent times, yachting enthusiasts of all levels.
The island's naval legacy has its origin in the wider conflict and competition across the Caribbean between the British and their European rivals in earlier centuries. Thanks to its geographic location and abundance of sheltering harbors and inlets, Antigua became vitally important in both defense and offensive naval strategy. At the same time, its location also made the island an essential port of call and center of commerce in the trading routes of this region.
From Early Naval Origins to Contemporary Sailing World
Antigua's nautical diversity nowadays can be found in different dimensions–from events and activities on water to well-preserved locations on land transformed into living museums. The centerpiece of its naval history remains at English Harbour on the winding southern coast. Located within the fifteen square mile area of Nelson's Dockyard National Park, a district that includes Shirley Heights and the sites of some forts, English Harbour's origins were as a base for the British navy during the late eighteenth century. This turbulent era saw other Caribbean islands change hands multiple times between the great colonial powers, but Antigua remained British throughout with its excellent fortification and vigilant fleet.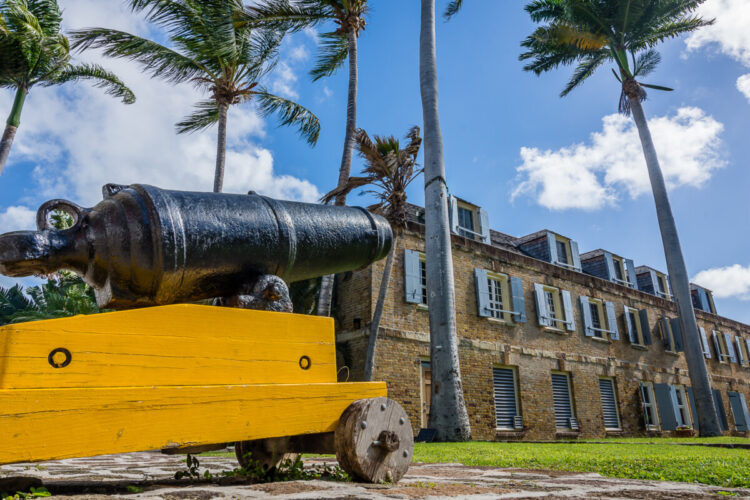 What came to be known as Nelson's Dockyard would survive as headquarters for the British Leeward Islands fleet into the mid-nineteenth century but was gradually abandoned until its post-war restoration began. Today, visitors explore a renovated array of buildings that have taken on new identities and purposes but which still display much of their original architecture and, in many cases, preserve the interior period style and décor. Also outstanding for the legacy and insight they preserve, each in their fashion, are such buildings as the Admiral's Inn, the Dockyard Museum, the impressive Copper & Lumber Store, or Hamilton's restaurant in the old officer's quarters. Outside, reminders of the Dockyard's naval past are also visible, notably the imposing stone plinths that mark the site's origins as a refitting and overhaul base.
A Venue of Regattas and Nautical Challenge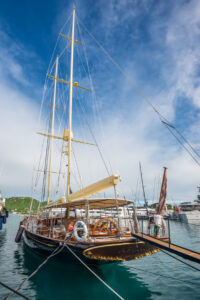 While event organizers around Antigua may frequently enthuse about it as the "sailing capital of the world," there is no doubt that its geographic position, favorable nautical conditions in winds and currents make it a year-round or second home to many dedicated sailing enthusiasts also benefit the island as a present-day hub on the annual Caribbean regatta calendar. The origins of this are found within Nelson's Dockyard and the charter yachting industry that developed there after the Second World War when Commander Desmond Nicholson and family began the restoration of the original dockyard. 
Decades later, English Harbour and other yachting ports of call around Antigua have become established favorites with sailors from across the globe. Some come to race along the offshore waters in small sailboats, while others arrive in large motorized yachts and cruisers. Antigua's upwind locations also mean that many desirable cruising destinations are just a day or two's voyage away – all of which were important for the appearance of the first Antigua Sailing Week, first staged by Nicholson and other local yachters as an informal regatta in the Sixties.   Since then, the event has become an annual star on the global sailing calendar, attracting over two hundred yachts over five days of races in eight classes. From onshore vantage points, thousands of spectators and revelers come to observe the competing craft.
Sailing Week is the highlight of a winter season of diverse racing events along Antigua's coastline, with local facilities here and the expertise of crews and availability of ideal marinas providing the necessary support. Other local events of note that have their own distinct identity include the Antigua Classic Yacht Regatta when competitors showcase the finer features of their traditional yachts and tall ships. Then there are other such special category sailing events that draw their own loyal competitors and spectators – such as the Round the Island Race or Valentine's Day Regatta. Also, races that span the wider stretches between neighboring islands and include Antigua as a key point on their course, such as the RORC (Royal Ocean Racing Club) Caribbean 600 Yacht Race which winds from Anguilla down to Guadeloupe. Recent years have also brought along events for the most advanced class of "superyacht" – such as the three-day Superyacht Challenge Antigua held in January in pursuit of races along the island's dramatic southern coast. 
As in centuries past, the protected inlets at English Harbour and Falmouth Harbour continue to provide an ideal anchor for the sailing craft of both local and visiting competing yachters. The facilities and surroundings at the various hosting venues at English Harbour, Admiral's Inn, or the Antigua Yacht Club exude their authentic ambiance for the ceremonies and celebrations surrounding each host's yacht events. Tradition and historic connection are evoked in more than one dimension – with Sailing Week itself, for instance, concluding with the appropriately named Lord Nelson Ball. 
The opportunity to immerse in the finely restored premises of Nelson's Dockyard and beyond during one of the year's nautical events is always another way to appreciate the ambiance and legacy of the area. Sailor and spectator alike can savor a waterfront alfresco lunch or sunset dinner at English Harbour's Admiral's Inn Restaurant as the yachts pull in or launch seaward. A more elevated and sweeping panorama of the harbor inlets below awaits the visitor while dining at the restaurant and bar built into the original eighteenth-century fortifications at Shirley Heights.
Secluded Bays for Classic to Extreme Nautical Sport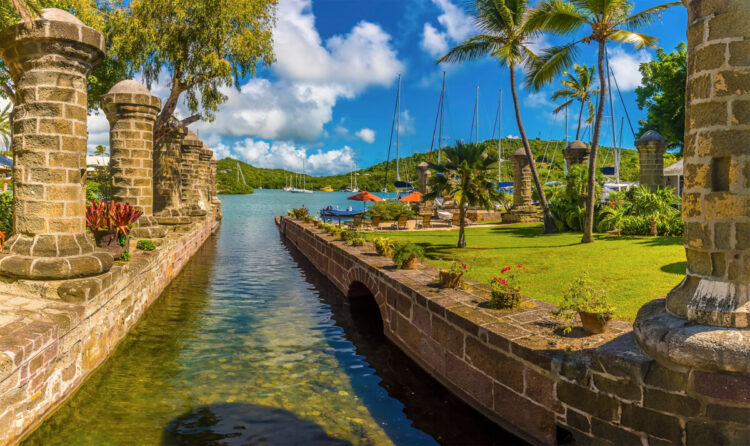 A somewhat different blend of traditional and contemporary watersports and the backdrop lies with Antigua's east coast locations. Here, many of the conditions that made Antigua attractive for its earliest classic yachting have also proven favorable for bringing along more recent categories of water sport. At the same time, traditional sailing retains a presence and popularity among many who visit. 
The best access for extreme watersports is found nowadays at such east coast inlets as Half Moon or Willoughby Bay due to their greater exposure and the challenging variation of calm and gusting winds. At Nonsuch Bay, one of the most spectacular and pristine larger bays on this side of the island, the combination of reef-sheltered waters and variable winds create a fine opportunity for both fans of contemporary watersport and stalwarts of classic sailing. The offshore presence of the islet of Green Island is another access point for all nautical enthusiasts – be it kitesurfer or sailboat explorers. Whether from the elevation of Shirley Heights, the inlets along English Harbour, or the waterfront dining terraces above Nonsuch Bay, Antigua's enduring nautical connection to its Caribbean coastline provides access to its waters for both seasoned and seasoned and new adventurers to savor in their own sailing style.