The San Juan Islands afford visitors to the greater Seattle area the opportunity for a quick overnight or weekend connection with the natural beauty of the Pacific Northwest. On these islands, which are located about three and half hours from Seattle, nature lovers can unwind sans the kitsch that characterizes those seaside island communities marketing themselves to the tourist trade.
The first part of this journey is getting to the islands. While 172 named islands and reefs constitute San Juan County, the Washington State Ferry system transports people from Anacortes to the four more popular islands: San Juan Island (with the county seat Friday Harbor), Orcas Island, Shaw Island, and Lopez Island. Visitors can drive their car to Anacortes and then either park the car or take their car on the ferry. (Advanced reservations are recommended.)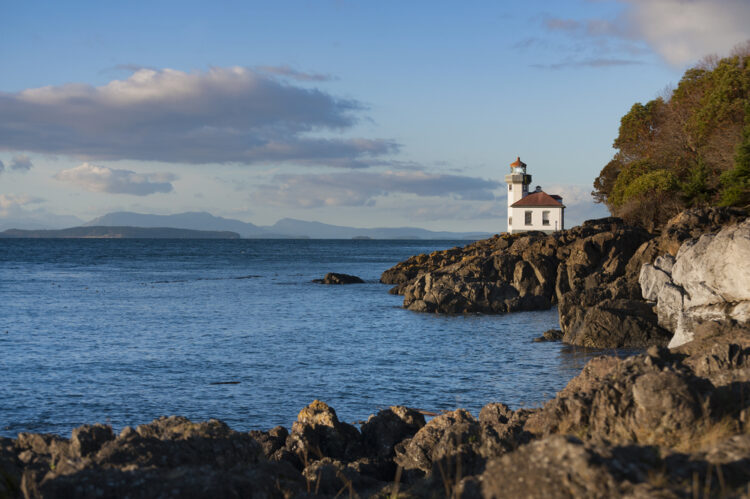 Those choosing to travel by sans car can take the Bellair Airporter from Seattle to Anacortes. Also, during the high season from mid-May through early October, the Victoria Clipper runs a high-speed passenger ferry from Seattle to San Juan Island.  Upon debarking rent a bike, moped or car to continue one's exploration on foot.
While all islands have unique attributes, first-time travelers should start their adventure by exploring San Juan Island, the largest and most accessible island. A trip to San Juan Island cannot be considered complete unless one ventures onto the water. Check out Discovery Sea Kayaks located in downtown Friday Harbor. They offer fully guided half and full-day kayak tours of the island's coastal waters. While paddling in a double kayak adventure seekers can try to spot an Orca whale while savoring the island's wild range of wildlife and rough-hewn scenery. Also, they sell outdoor clothing and kayaking gear for those who realize they need an item they forgot to pack along.
Before embarking on a tour consider getting a filling breakfast that's served all day at the Rocky Bay Cafe. Also, stop by Spring Street Deli to pick up a bottle of water and a sandwich to keep one fueled during the kayak tour.