With a population of 35,000 in town and about 100,000 in the region, Fairbanks isn't a very big city. In terms of truly-unique experiences, however, it ranks up there with much larger cities. Only 140 miles south of the Arctic Circle, Fairbanks makes an indelible impression on visitors.    
It all started on August 26, 1901, when a man named E.T. Barnette founded a trading post on the south bank of the Chena River. Mr. Barnette is said to have had a very strong personality. And he convinced the locals to name the new settlement after an Indiana Senator named Charles Fairbanks. Indeed, Barnette must have known something the other settlers didn't because Charles Fairbanks became Vice President of the United States under Teddy Roosevelt.
The construction of Ladd Army Airfield before World War II helped bring commerce, industry, and new residents to Fairbanks. And because of its unique topography and location, it hasn't stopped attracting visitors since.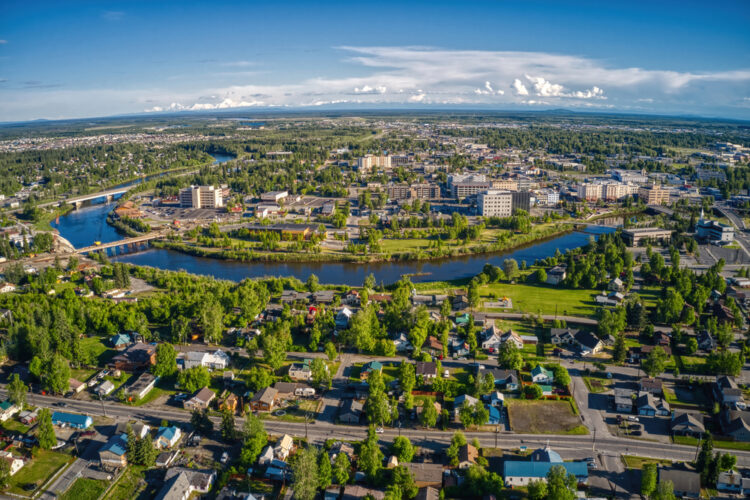 DENALI NATIONAL PARK
If you're taking the Alaska Railroad from Fairbanks to Denali, 120 miles south, the fun starts even before you arrive. This is one of the world's greatest train experiences. You might be sitting in a car reminiscent of an earlier age. And what you'll see out the windows – or from the open-air spaces on the train – will stay with you forever.
Enormous cloud-piercing mountains topped – or covered – by snow. Distant glaciers gleaming in the sun. Dense forests of Black or White Spruce, in which you might get a quick glimpse of wildlife. Small towns perched alongside ice-blue rivers or fog-shrouded mountains. Skies that might be an ominous gray one minute and bright blue the next. Local folks sitting in pick-ups at railroad crossings as they wait for your train to pass.
In Denali National Park, when the sun breaks through the clouds, often shrouding the summit of  Mount Denali, you'll marvel at the 20,310 feet of America's highest mountain. You'll wander through mountain passes and around glaciers to places where you'll see Native Alaskan implements and artifacts on display.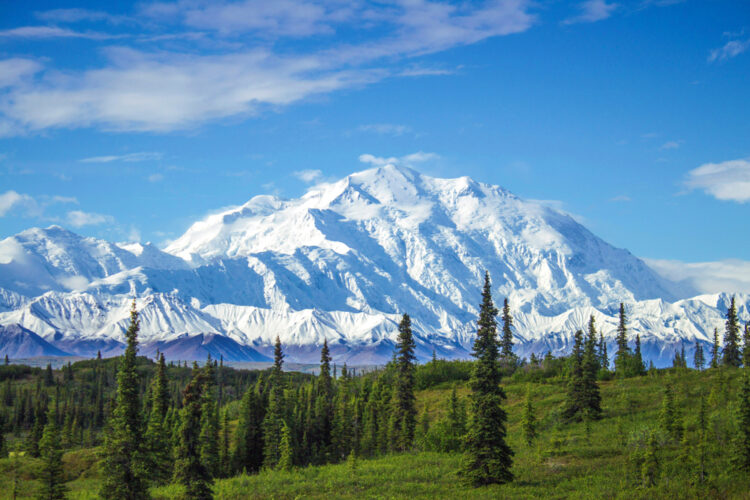 Denali National Park has 6.1 million acres of grasslands and wildflowers and mountains and glaciers, and wild animals you won't see anywhere else. Just a partial list includes bears, wolves, deer, caribou, Dall sheep, moose, eagles and falcons. The park also offers special features like sled-dog demonstrations and Native-Alaskan elders telling tales handed down for generations.
And you don't have to leave at the end of the day. Denali Park Village offers restaurants, lodging (including cabins), tours, hiking and rafting trips, and the Cabin Nite Dinner Theatre.
ONE-OF-A-KIND FAIRBANKS EXPERIENCES
At the University of Alaska Museum of the North, you'll see skeletons of Alaska's first residents, the dinosaurs. You'll see over 4,000 artworks on display, from ancient Native Alaskan art to contemporary works. You'll see how space looks from the far North. You'll learn about the research being conducted here. And you'll see colorful totem poles and Native Alaskan art on the grounds.
Riverboat Discovery features colorful old-time paddle-wheelers, and three-hour tours of scenic waterways with interesting stops. One of them is the Chena Village Living Museum, with an authentic Athabascan village. You'll also get to see an Alaskan bush-pilot take off and land right next to your boat. As you chug down the river, you may pass groups of deer on the banks. You'll also visit the home and kennel of the late, four-time "Iditarod" sled-dog racing champion Susan Butcher, where her husband and daughter will demonstrate how they raise and train these dogs. But the highlight, for most guests, is when they're able to mingle with these surprisingly gentle, affable dogs. Last stop of the afternoon is an authentic Alaskan trading post at Steamboat Landing.
At Gold Dredge 8, you'll learn about the miners who flooded this state when gold was discovered here in 1880. You'll actually get the chance to pan for gold yourself. (And chances are pretty good you'll find some!)  
Though Fairbanks is only 140 miles from the Arctic Circle, this region grows a surprising variety of vegetables and plants. The colorful Tanana Valley Farmer's Market is where regional growers bring their products for sale. There's great variety in the foods, flowers, regional handicrafts and Native-Alaskan items produced by more than 60 local growers/craftspeople.
Fountainhead Antique Auto Museum is not only the northernmost auto museum in America…but perhaps the world. And it just may be the best, as well. It's home to more than 100 pre-World War II automobiles, along with the artifacts, signage, art, clothing, and black-and-white photographs of that era. These classic cars have been painstakingly restored by hand. And if you'd like to come back the next day…the museum is affiliated with three nearby hotels.  
The 44 acres at Pioneer Park offers a look at the colorful history of this region. There's no charge, and you can wander around a Gold Rush cabin, old mining equipment, museums, shops with local artisans, a replica of a Native-Alaskan village, a dry-docked sternwheeler boat, and restaurants. There's a popular Salmon Bake here on summer evenings, and the Palace Theatre offers an Old-Time-Alaska show.
Fairbanks is often called "The Land of the Midnight Sun." Midnight-Sun season runs from late-April to late-August…and, yes, the sun never quite sets at night. At the peak of the season, in fact, it's practically broad daylight at midnight. So don't be surprised if you set your alarm to ring at midnight, open the curtains…and see the locals riding bikes, tending to gardens, or walking their dogs. (If you've a yen to see the Northern Lights rather than the Midnight Sun, try coming from November through February.)
A trip to the Arctic Circle! Northern Alaska Tour Company can take you there. Not only the Arctic Circle, in fact, but also to the Arctic Ocean; the Northern Lights of the Aurora Borealis; Denali National Park; and the legendary Yukon River. I took the one (long)-day trip to the Arctic Circle. And the memories of what I saw will always be with me.
I boarded a tour bus in the wee hours, while it was still pitch-black. And after driving on the only paved road for a few hours, the rise of the sun revealed an other-worldly landscape.
The mighty Yukon River is running under the bridge you're crossing. The towering peaks and forested slopes surround you. Occasional wooden shacks along the road made famous by TV's "Ice Road Truckers" – the only road to the Arctic Circle – each serving as a rest-room, fast-food, equipment, warm-clothing, hot-coffee stop for tired travelers. Ancient native Alaskan villages are often out of sight behind thick woods. Through the tundra, a huge oil pipeline runs alongside the road, supplying much of the U.S.  
There are majestic 9,000 foot peaks in the Brooks Range. And, of course, you must pose next to the "Arctic Circle" sign with a globe showing you're on  top of the world.  
And then a flight back to Fairbanks on an eight-passenger prop plane that brought you up-close-and-personal with the landscape below. Piloted by a young man who spent much of his time flying supplies to outlying Native villages.
This wasn't my first trip to Alaska. But on this trip I truly realized why Alaska deserves its nickname – "The Great Land."