New York City has The Hamptons. Los Angeles has Palm Springs. Denver has Aspen. For many years, the vacation playground for the rich and famous in Chicago was Lake Geneva.  This Wisconsin resort town, only about an hour from the Windy City, has since evolved as a destination accessible for everyone to stay, play, and relax on the water.
A Rich History
It was easy to escape from the big city once the first train service from Chicago to Lake Geneva started in 1871. Politicians and celebrities alike bought land and built homes on the water for summer vacations and weekend getaways.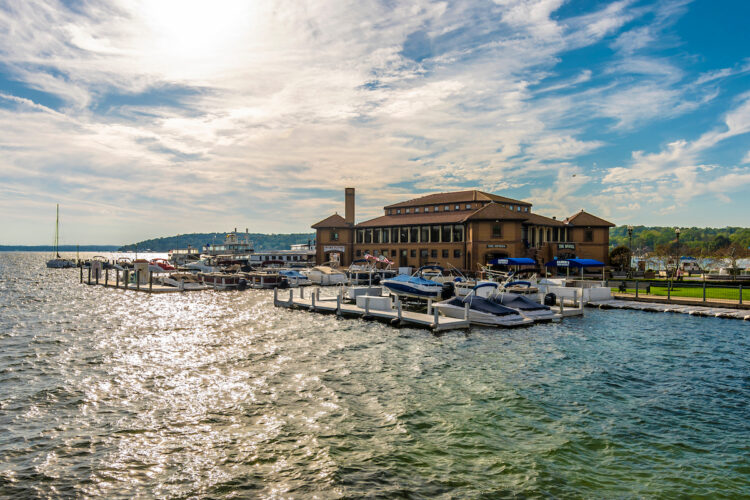 The area became more popular in 1957 when the first ski hill was built. Lake Geneva was then a year-round town and its value increased. The biggest claim to fame was yet to come: In 1968, Hugh Hefner broke ground on the very first Playboy Club Hotel. It would bring in a constant flow of elites to this Midwest waterfront
Stay Comfortably
The Playboy Mansion closed its doors in 1981, but standing in its place is The Grand Geneva Resort. This full-service resort has everything needed for a family vacation or romantic getaway on 1,300 acres. Accommodations include rooms, suites, and villas.  There is a trolley to take you around the property, which includes a ski mountain, petting zoo, horseback riding, golf course, and indoor waterpark.
If you are looking for something more historic, look no further than Maxwell Mansion. This historic property is a magnificent cross between and bed & breakfast and the most exclusive boutique hotel you've been to. Add in the ability to stay (like I did) in a room frequented by Ulysses S. Grant and have a drink in the downstairs speakeasy, and you've got a very unique experience.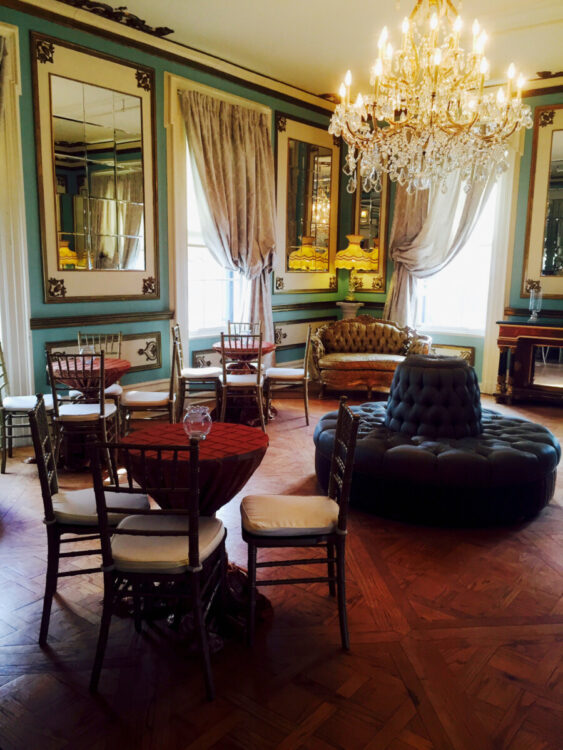 The Baker House is a similar property on the water downtown, with even more of a sense of elegance in the suites of this Victorian Mansion. They also have a brunch so unique and delicious I indulge every time I'm in Lake Geneva. I love the idea of playing "dress up" with their selection of hats and scarves as much as sipping champagne and nibbling fresh baked goods in the parlor, while watching the dock.
For a more modern property, The Ridge is a good choice. It's large, but not huge, and has its own marina. There's also a pool, hot tub, golf, and bocce ball. Crafted Restaurant prides itself in local sustainable food and the lobby has a coffee and wine café.
Stop by for a Bite
The center of Lake Geneva is its namesake body of water with watersports by day and magnificent sunsets to enjoy each evening. Popeyes is in a prime location and legendary. I never miss it, whether it's for their famous rotisserie chicken for dinner or one of their huge Bloody Mary's.
Café Calamari is a must for fantastic Italian food. The Sicilian-crusted filet mignon is incredible. Be sure to save room for the gelato, but don't skip the appetizers.
Even if you don't stay at Grand Geneva consider having at least one meal at the elegant Chop House, Ristorante Brissago Restaurant, or the more casual Grand Café. All three are good and open to non-guests.
Another place I go to every time I visit Lake Geneva is Studio Winery. They combine four things I love: small bites, wine, art, and music. They recently added spirits into the mix.
Leave Time to Play
It's nearly impossible to run out of things to do in this Wisconsin town. If you are looking to add a little more adventure to your mix, check out Lake Geneva Canopy Tours for Ziplining.
The Candle Mercantile is a fun place to do something a little different and more subdued. When you sit at the "bar" here with your glass of wine it's also custom to make products of your choice. Explore their selection of scents to make candles and essential oils.
The whole family will enjoy the Tristan Crist Magic Theater. The small venue makes it a more intimate experience.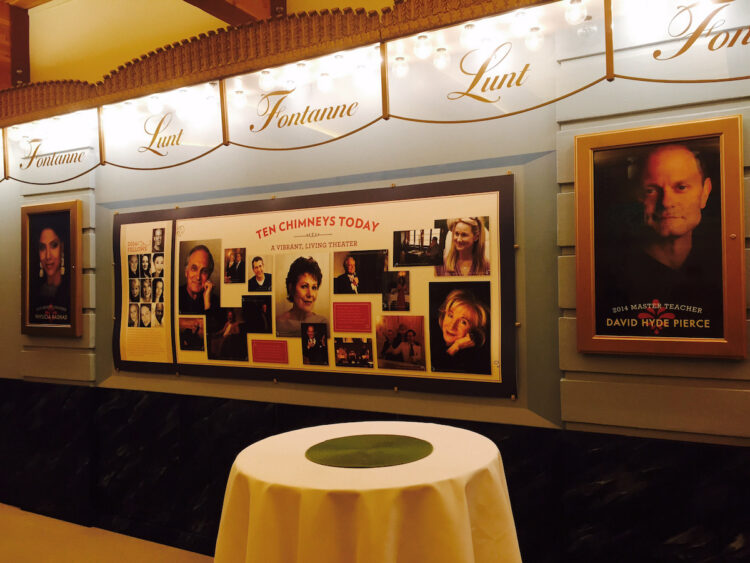 Actually Experience Hollywood Royalty
The history of the rich and famous hasn't completely left Lake Geneva. You can find a lot of it still at Ten Chimneys. This estate was created by Broadway legends Lynn Fontanne and Alfred Lunt. Not only is their mansion open for tours but the museum and school are open to actors' education and the public's observation.  Master Classes at Ten Chimneys are taught by a different well-known actor each year. They have included Jason Alexander, Phylicia Rashad, Alan Alda, and David Hyde Pierce. I had the pleasure of attending the presentation by Master Class Teacher Olivia Dukakis.