One of the fabulous things about traveling is the quirky cast of characters you meet. The rogues and the gentlemen, the heroes and the rascals. But it takes a magical place like Antigua in Guatemala to conjure up a character like Alexander Ferrar.
Walk with me through these ancient, cobbled streets past endless churches left in ruins by the earthquakes. Admire the squat little houses painted in jaunty pinks and yellows. Now pass through a wooden doorway into a room with a bar on one side and tables on the other. Wend down a passageway beneath trailing flowers and walls hung with paintings depicting Greek mythology. At a quiet table at the back, two people are deep in conversation. Well, I'm doing most of the listening while Alexander Ferrar does the talking. We're sitting in Sobremesa, one of the most expensive restaurants in town and almost certainly the best. Ferrar opened the place 14 years ago in a smaller location with just four tables, then moved to this prime site near Antigua's beautiful main plaza, with a rooftop terrace offering stunning views of the town's three volcanos.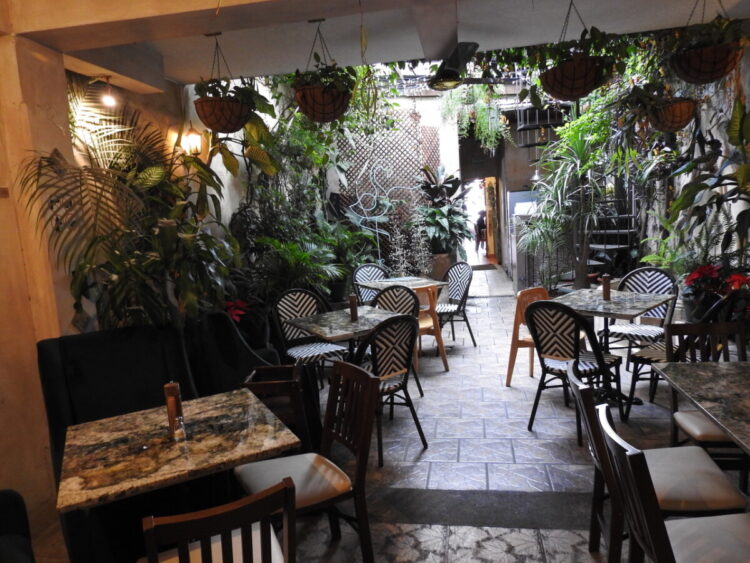 I'm sipping my second Chardonnay and eating jalapeño banana chicken breast with fried bananas and tomato chutney. It's superb, and like everything on the menu, it's designed to seduce your eyes before your mouth. Little explosions of flavor are tingling my tastebuds, and it's so delicious that for a moment, I forget to listen to Ferrar's life story.
Next comes a glorious pumpkin cheesecake with Cognac ice cream and caramelized apple slices. There's lots going on in every dish, but all are perfectly balanced with flavors that complement, not clash
Ferrar is a chef, a painter, and an author, and when he talks, he doesn't just tell a story, he spins a tale with different accents and embellishes it with details you know are in the pages he's already written. "I just published my 22nd book by the grace of God, and it's the best thing I've ever done, from painting to writing to conjuring up bizarre ice cream flavors for our shop round the corner," he says.
He's already explained at length – his explanations are always entertaining, occasionally unbelievable, but never brief – that the Jalapeno chicken is piquant rather than fiery because cream annuls the sting of chili. If you ever get chili in your eye, wash it out with cream, he advises.
Ferrer grew up as a white kid in the Bahamas, then moved to Florida when corruption hounded his family off the island. Our conversation spans mythology and the Mafia; relationships with temptresses and thugs, how a world-class chef taught him to cook, and small-time gangsters taught him some more brutal lessons. He explains the intricacies in his paintings and talks of his 22 books, some exposing the sordid truth of crooked politics or human trafficking in exciting adventures that masquerade as fiction.
He sells his books on Amazon, where his fanciful biography says: "Alexander Ferrar is the nom de plume of the Baron Meinchaupf von Richterschmitz, retired supervillain and rightful heir to the throne of Zenda, who has abdicated and retired to La Antigua Guatemala where his restaurant, art gallery, and exotic ice cream company distract him from his dreams of world domination." Not a boring character, then, but a warning to take anything he says with a pinch of jalapeno, and chocolate brownie flavored salt.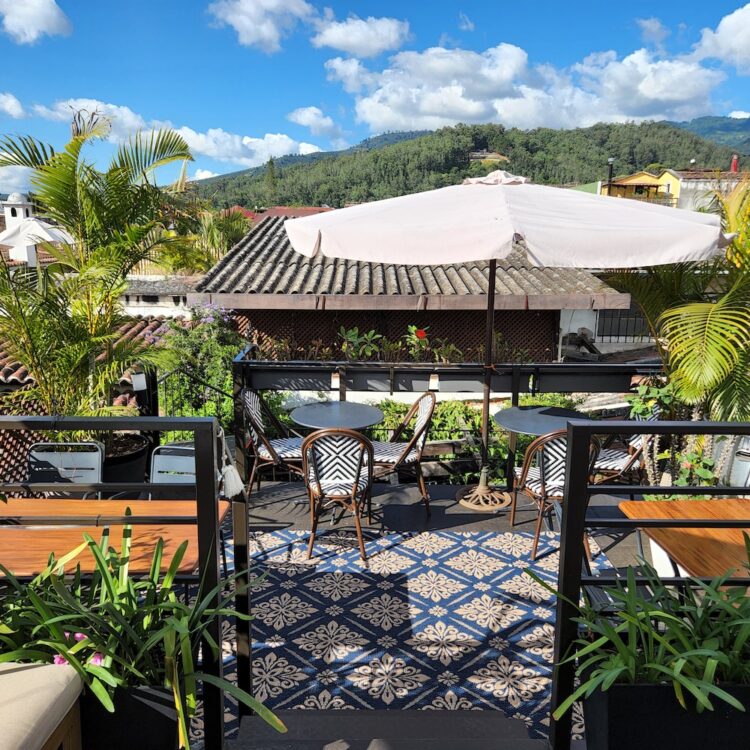 Ferrar came to Guatemala to research a book, with the extra incentive of having fallen in love with a local woman. "I came here on an adventure – I wanted to write my eighth book and investigate human trafficking," he says. "Then I met a girl who was a con artist, and she seduced me into coming here, so she could take all my money and manipulate me into killing her psychotic ex-boyfriend and take over his cocaine business."
I choke on my wine and wonder how many of these madcap adventures are true and how much is fantasy dreamt up for his novels or told to enthrall the diners.  Occasionally he credits the grace of God for rescuing him from a life-threatening escapade, so I ask if he's religious. His James Bond stories take a different twist as he talks about waking up from a coma strapped to a prison bed and suffering from amnesia. I never find out precisely what he'd done to get the life beaten out of him, but he tells me he railed against God for treating him unfairly. Until he realized that if he'd been bad enough to deserve the beating, he'd better clean up his act and thank God for saving him. The next day a brain scan showed that some blood clots that were expected to kill him had miraculously disappeared, he swears."Everything I do now is an effort to redeem myself for everything I did before," he says. "For the past 14 years, I've been with a very good woman who's tamed this beast that I was. I don't even look like a beast anymore, I look like a gentleman, which is why a lot of people find it so hard to believe this interesting person that I was."
Now he's more interested in being a pillar of the community, feeding the homeless, and doing acts of kindness that inspire others to follow suit. He and his architect wife opened Sobremesa together, with his wife designing the interior and Ferrar developing the inventive menu. He'd learned a lot from working in a mob restaurant in Florida, but most of his skills were learned from Marco Saenz, a former flatmate during his early vagabond days in Guatemala. Saenz went on to become a world-class chef, winning awards as the best chef in Latin America and competing twice in the global Bocus d'Or contest in France. "My mentor was the best chef from Mexico to Antarctica. This guy taught me how to cook, and I'm proud to say he's impressed by my food. He gave me some parting advice and said 'everything that I've taught you – forget it and learn it for yourself, and don't be afraid to experiment.'"Experimenting has become his forte, with 147 varieties of ice cream including dark beer triple chocolate espresso brownie and coffee maple bacon.
The aim with Sobremesa was to create a high-class place using top-quality ingredients sourced locally when possible, with fruits, herbs, and vegetables coming from a local hydroponic farm. "We use the best ingredients, we prepare them slowly, and our food is better for you, so it's more expensive," he explains. Cheaper food is so over-processed that it's slowly poisoning us, he believes. "There's an obesity epidemic because people are eating crap, and the reason they're eating crap is that it's cheap. Bread and milk were staples of the human diet for thousands of years, and all of a sudden we're at the pinnacle of human evolution and we can't eat anything. Nah! It's how messed with and how processed a lot of our foods are."
His menu is designed to encompass his heritage of Italian descent, a Bahaman childhood, and a Guatemalan future. "I wanted to make a menu that reflected that, and I wanted to make something new because everybody that opens an Italian restaurant and cooks traditional dishes is plagiarising – you're just making stuff somebody else made. We have some of my family's traditional recipes, but everything else is my invention. The jalapeno banana chicken is the first really bizarre dish that I invented and it's what put us on the map."
It was delicious and coupled with Ferrar's exciting stories and the magical city waiting outside, it created a spellbinding evening.