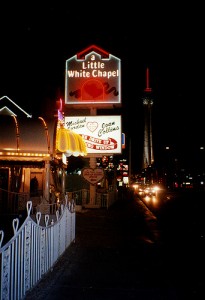 Some come to Las Vegas to get rich quick and others come to get hitched quick. It happens once every five minutes. Celebrities, including Frank Sinatra, Joan Collins, Paul Newman, Elvis, Cary Grant, Elizabeth Taylor, Angelina Jolie and Britney Spears all took vows in Sin City. Getting married is as simple as playing the slot machines. There are no blood tests or waiting periods, making Las Vegas ideal for couples who want to elope. In the city that never sleeps, you can pick any day of the year, any time of day to say "I do."
Justifiably the wedding capital of the world, it's pretty easy to get married in Sin City. Nearly every single major hotel on the Strip has a wedding chapel and offers unique or traditional opportunities to tie the proverbial knot. But for a true Vegas-style ceremony, one of the many downtown wedding chapels is a good bet. Here are some options for Sin City chapel wedding options.
For the cheapest and easiest option, head to the Office of Civil Marriages and have your ceremony executed by a Commissioner of Civil Marriages for a mere $50. Open daily from 8 a.m. to 10 p.m., you just need a witness.  No muss, no fuss. If you don't bring a witness, most other couples waiting will be happy to stand in as your witness if you return the favor.
Chapel of Love | 1430 Las Vegas Boulevard South | (702) 387-0155 | open 10 a.m. to 8 p.m. daily | www.vegaschapeloflove.com
What used to be the site of a Bob's Big Boy restaurant in the 1960s is today the Chapel of Love. It houses a variety of themed kitschy rooms to tie the knot including a Renaissance Fantasy Chapel where you can dress up, a Garden Chapel with a fountain and rainbows, a Lover's Pathway with lots of flowers and the Short and Sweet, which seats just 12. Oh, and there's the drive where you can say "I do" without leaving your car. Sure, it's amidst gentlemen clubs and psychic readers, but hey, it's Vegas. Costs range from $50 up to $1,000.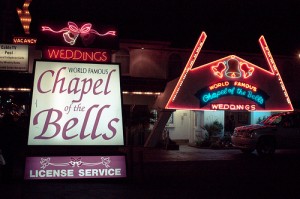 Chapel of the Bells | 2233 Las Vegas Boulevard South | (702)735-6803 | open 9 a.m. to 10 p.m. Sunday through Thursday, open till 1 a.m. Friday and Saturday | www.chapelofthebellslasvegas.com
Offering ceremonies ranging from intimate to grand, this Sin City chapel has been around over 50 years. It's clean (ivory drapes, white chairs and altar) and famous — with a cameo in the several Hollywood films including Honeymoon in Vegas, Indecent Proposal and Vegas Vacation. Celebs who tied the knot here include Mickey Rooney and Kelly Ripa. You can get a basic package for just over $100 or go all out for $400.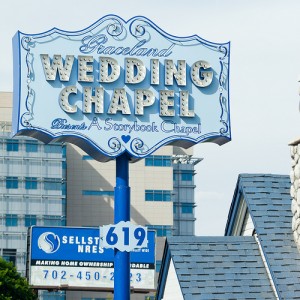 Graceland Wedding Chapel | 610 Las Vegas Boulevard South | (702) 474-6655 | open 9 a.m. to midnight, Sunday through Thursday, open till 3 a.m. Friday and Saturday | www.gracelandchapel.com
If you want to get married by Elvis, here is the spot. This cute white chapel with blue trim is cozy and basic but pretty inside. When you enter you can see all the pics of celebrities who got hitched here — Jon Bon Jovi, etc., and you might recognize the chapel from the movie When Fools Rush In. Some of the best Elvis impersonators perform ceremonies here, including Brendon Paul, who is a dead ringer visually and vocally for the King. Elvis packages include your choice of Blue Hawaii Elvis, Gold Lame Elvis, Jumpsuit Elvis or even dueling Elvises. That's right, both young and old versions. Only in Vegas. Elvis ceremonies from $199 to $800.
Little Chapel of the Flowers | 1717 Las Vegas Boulevard South | (702) 735-4331 | open 9 a.m. to 9 p.m., Monday through Saturday | www.littlechapel.com
Probably housing the prettiest décor of any freestanding chapel in Vegas, this famous chapel is family-owned and features several chapels to accommodate different size parties and tastes. The small, 20-seat Magnolia Chapel is quaint, the Victorian 30-seater is a bit larger and decorated in light browns, and the larger La Capella Italian themed chapel can fit 70 guests. The lovely outdoor garden area can seat 35 for ceremonies under the stars. Service here is serious and the staff makes sure everything is taken care of. The small garden with a bridge and waterfall is perfect for pictures. If you want a more traditional wedding with different packages, this is a good choice. Intimate simple ceremonies begin at $195 but can go up to $10,000 for extremely decadent packages.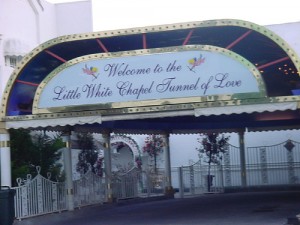 Little White Wedding Chapel | 1301 Las Vegas Boulevard South | (702) 382-5943 | Open 24 hours | www.littlewhitechapel.com
Brittany, Sinatra, Michael Jordan and Bruce and Demi all took vows at this busy and world-famous chapel. Home to Sin City's first drive-thru wedding, there are five chapel choices ranging from intimate (12 people) to very large (80). They also offer a drive-thru window, the "Tunnel of Vows," under an elaborate carport for $50. Packages start at $199.
Vegas Weddings | 555 South 3rd Street | (702)933-3464 | open 8 a.m. to midnight, daily |  www.702wedding.com
This new, 9,000-square-foot building houses three wedding chapels and has the traditional look of a church, with a gabled roof and Chablis stones framing the high arched authentic stained glass windows. The largest chapel is the spitting image of a traditional church, complete with automatic entry double doors and crystal chandeliers. For those really in a hurry, this chapel has the only walk-up wedding window in the world. Prices range from $40 to $2,800.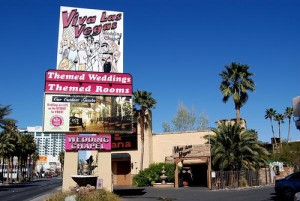 Viva Las Vegas Wedding Chapel | 1205 Las Vegas Boulevard South | (702)384-0771 | open 10:30 a.m. to 10:00 p.m., daily | www.vivalasvegasweddings.com
Choices here are endless if you are looking for a theme wedding — Elvis complete with a pink Cadillac entrance from the bride (the car actually drives into the chapel), Blue Hawaii Elvis, young Elvis, Phantom, Liberace, Star Trek, etc. The larger chapel houses up to 100 guests and the themed '50s diner seats 35. Packages start at $199. Couples can see their names in lights after taking their vows on the neon sign located in the front. Another plus: Viva Las Vegas has a nondiscrimination policy and same-sex couples are welcome.