The San Juan Islands affords visitors to the greater Seattle area the opportunity for a quick overnight or weekend connection with the natural beauty of the Pacific Northwest. On these islands, which are located about three and half hours from Seattle, nature lovers can unwind sans the kitsch that characterizes those seaside island communities marketing themselves to the tourist trade.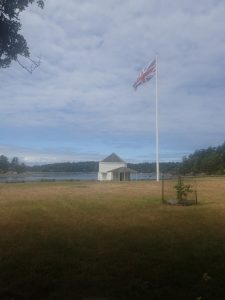 The first part of this journey is getting to the islands. While 172 named islands and reefs constitute San Juan County, the Washington State Ferry system transports people from Anacortes to the four more popular islands: San Juan Island (with the county seat Friday Harbor), Orcas Island, Shaw Island, and Lopez Island. Visitors can drive their car to Anacortes and then either park the car or take their car on the ferry. (Advanced reservations are recommended.)
Those choosing to travel by sans car can take the Bellair Airporter from Seattle to Anacortes. Also, during the high season from mid-May through early October, the Victoria Clipper runs a high speed passenger ferry from Seattle to San Juan Island.  Upon debarking rent a bike, moped or car to continue one's exploration on foot.
While all islands have unique attributes, first time travelers should start their adventure by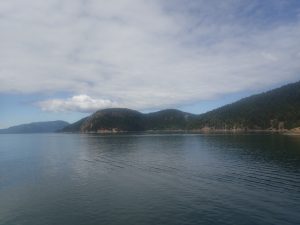 exploring San Juan Island, the largest and most accessible island. A trip to San Juan Island cannot be considered complete unless one ventures on to the water. Check out Discovery Sea Kayaks located in downtown Friday Harbor. They offer fully guided half and full day kayak tours of the island's coastal waters. While paddling in a double kayak adventure seekers can try to spot an Orca whale while savoring the island's wild range of wildlife and rough hewn scenery. Also, they sell outdoor clothing and kayaking gear for those who realize they need an item they forgot to pack along.
Before embarking on a tour consider getting a filling breakfast that's served all day at the Rocky Bay Cafe. Also, stop by Spring Street Deli to pick up a bottle of water and a sandwich to keep one fueled during the kayak tour.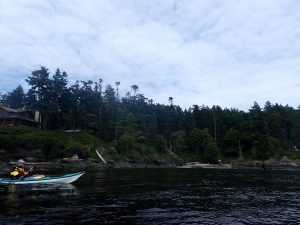 Another must see stop is the 20-acre San Juan Islands Sculpture Park and Nature Reserve. Meander through their five marked trails, stop by their pond, and take in over 150 original works of art set against a stunning natural setting.
For another nature walk, check out the Pelindaba Lavender Farm. Stroll through their organically certified fields and take in the natural healing beauty of this plant. Then stop by their store to sample the variety of botanical, culinary, personal care, therapeutic, household, and pet care products they produce onsite.
The American and English (aka British) Camps situated on opposite ends of the island stand as reminders of that period from 1860 to 1872 when both countries occupied the island. The remaining artifacts attest to the brutal conditions faced by the American Army based at the American Camp while, the Royal Marines based at English Camp enjoyed a more refined way of living. The English Camp is the only US National Historical Park that flies the Union Jack flag.
Complete the day with a trip to Roche Harbor, a sheltered harbor on the northwest side of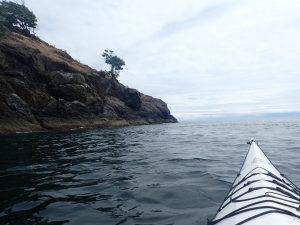 San Juan Island. Toast the sun setting over the marina with a cocktail and dinner at Roche Harbor's Madrona Bar and Grill. Those who might prefer dining indoors could step inside McMillin's Dining Room for their house speciality, a 40-day aged prime rib.
Lodging at San Juan Island ranges from simple to secluded. Take for example, the Discovery Inn. This cozy inn is located just a few minutes drive from the ferry. Situated in a park like setting one finds simple yet comfortable rooms and a seasonal jacuzzi. Those looking for a more secluded stay might want to check out the Hotel de Haro situated on Roche Harbor. This hotel listed on the National Register of Historic Places that has hosted luminaries like Teddy Roosevelt.
A curated guide to San Juan Island can be found here.  For more information about booking a trip to the San Juan Islands including information about visiting neighboring Orcas and Lopez Islands, log on to the San Juan Islands Visitors Bureau's website.