When you hear this phrase, the "bread basket" of the Roman Empire, a panorama of beautiful travel photos may spring to mind, from Greece, Turkey, Spain…
Surprisingly, these are the wrong postcards. The "bread basket" of the Roman Empire was their provinces in North Africa, covering vast swatches of Morocco, Algeria, Tunisia, and Libya. While today's Sahara desert is rapidly expanding, there are still areas of these countries where you can get an idea of the fertile allure that it had for the Romans.
Learning about the Roman Empire in Africa may seem somewhat unconventional. Yet, isn't that what Travelhoppers is all about—finding unconventional and amazing travel experiences? These awe-inspiring sites may be undervalued, but they offer a unique experience not available in Europe. First, Roman sites in North Africa are not major tourist attractions. They are often out of the way and, thus, you may have the entire site to yourself on your own terms, without barriers or restrictions.
Moreover, there are often colorful locals waiting to great you. These crafty vendors can have some incredible treasures, like pieces of Roman pottery or Roman coins. Buy if you're intrigued—the majority of pieces are authentic, and the governments rarely care about you taking these dime-a-dozen artifacts out of the country. Even if you don't want to take something home, it's far more interesting to see these things in your hand, rather than behind museum glass.
Lastly, there's no better way to get a sense of the reach of the Roman Empire than to see it in North Africa. Their ingenuity and consistency stand out, as each site shows you unique features built around a common model.
So where are the best places to go for a little Rome in Africa?
There are three outstanding sites in North Africa—two in Tunisia, and one in Morocco. All are great day trips away from major cities.
Volubilis—Morocco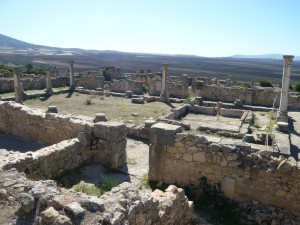 Volubilis is located near the former Moroccan imperial city of Meknes. It was the capital of its Roman province,  so it's a magnificent example of Roman luxury and grandeur. Highlights include the Triumphal Arch at the end of the impressive main road, the beautiful mosaics, a stunning basilica, the "bread basket" vista, and the cultural experience which is the public transportation to and from the archeological site. To get there, take a bus from Meknes to Moulay Idriss (Morocco's most important Islamic city), and then a grand taxi to Volubilis. The grand taxi will not leave until it has enough people to make you feel like a sardine—a cultural experience like no other!
El Jem—Tunisia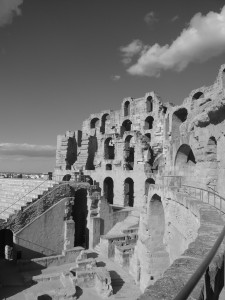 El-Jem is home to the third largest coliseum in the world, which has all of the same features of its famous counterpart in Rome. I recommend  taking an early train from Tunis (it takes about three hours) and visiting the coliseum in the morning before the heat sets in. Blend ancient site-seeing with modern food, and wait out the worst of the heat while eating some typically Tunisian food—pizza with tuna! The pizza will generally be preceded by bread and harissa, the ubiquitous Tunisian appetizer. Harissa (a spicy chile paste) is not to be missed, but start with small quantities if you're attached to your taste buds. After lunch, head over to the nearby museum to imagine yourself as a wealthy Roman in a perfectly restored Roman house, replete with stunning  mosaics.
Dougga—Tunisia
Dougga, like Volubilis, is a destination, not a site that tourists happen upon accidentally. Therein lies its magic—it is perfectly situated so that modern civilization is out of sight and out of mind. To get there, savor the 1.5 hour louage ride from Tunis (a louage is a large passenger van that acts as a long range taxi. It's an affordable way to interact with the locals and get to more out of the way places). The louage will drop you off at the beginning of a dusty road lined with olive trees. A five minute walk will take you back two thousand years, to a thriving Roman city surrounded by lush countryside. The site of Dougga is spread out, leaving you free to stumble upon the next exciting discovery. Dougga is truly the perfect day trip away from Tunis, and the twenty-first century.
Part of the magic of North Africa is its variety, and the Roman sites there are truly not to be missed — your experience there will be a time away from time!