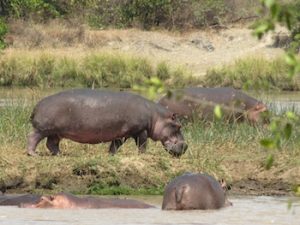 It's about 2am when I scare myself by remembering that hippos are the most dangerous animals in Africa.
I've been taking photos all day of at least 30 hippos in the river right in front of my lodge, especially when they lumbered their enormous frames out of the water and onto an island in the middle. They're huge, solid things with massive mouths and a lot of attitude. Now these nocturnal feeders are hungry for grass, and I can hear two, or maybe three, right outside the canvas walls of my tented bedroom. Oops.
And the noise – they're grunting, bellowing and brawling like drunken yobs leaving a late-night club with no thought for the neighbours.
I try to remember the layout of my lovely suite at Azura Selous, and there's a wave of relief as I recall that it's safely raised on a wooden platform that hippos with their stubby little legs couldn't possibly climb. I hope.
The next morning there are prints in the sand outside my bedroom, and guide Joseph Nenga confirms that it was a mighty big beast indeed. That's why the lodge has genuine Maasai askaris (guards) to escort you to your villa after dark, to check that nothing is lurking to ambush you on the path. One night there is a hippo in the way, and the two askarias wave their sticks and move it along like you or I might shoo away a dog.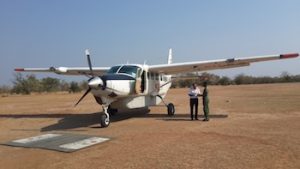 Azura Selous lodge and its 12 concrete and canvas villas sit by the River Ruaha in the Selous Game Reserve in southern Tanzania. Pronounced 'Selou', it's the largest game reserve in Africa and the second oldest in the world, but nowhere near as famous as its northern neighbour the Serengeti.
It's also a World Heritage Site, with Africa's largest populations of elephant, buffalo, crocodile and hippo. Sadly, rampant ivory poaching has decimated its elephants, with the WWF reporting that the number has plunged by 90 percent since the 1970s, from 110,000 to just 15,000.
The vast and rugged landscape is fabulous, but it also means the animals can be widely dispersed, and the chance of ticking all the usual wildlife spotting boxes is slim. During a long weekend, I only saw three giraffe, one snoozing lion and no elephant, zebra or buffalo. Yet the experience was magical. The proximity of the hippos, watching wild dog puppies, taking a walking trail and attempting to fish felt more important than the big five tick-list.
Besides, there's something different about the place. Maybe its isolation has created a self-sufficiency and inventiveness that generates a positive, happy aura you don't always feel in the more mainstream lodges. With no guarantees of spectacular sightings, the managers Jason and Karen du Plessis and the staff make sure they deliver in other ways.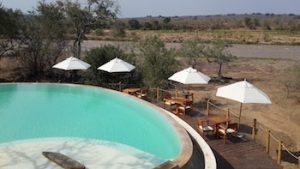 The pool is large enough for a real swim and meals are served at different locations around the camp, making them a treat, not a pitstop. Each villa has a plunge pool and an outdoor shower with a view of the river and its endless hippos, and if you book a massage, the masseuse sets up her equipment on your private deck.
Nenga is an excellent guide, who drives his Land Rover through dry riverbeds and sparse trees before taking us in search of lions. He leads a walk where we only move three yards at a time before he finds something else to show us. Then a thudding sound reverberates through the bush and he leads us to watch two giraffe fighting by bashing their necks against each other. An elegant but deadly way to settle disputes.
Nenga patiently teaches me how to fish when – for the fifteenth time – I forget to lock the reel. Then he hears me say this fishing malarkey would be perfect if I had a chair and a glass of wine, and instantly produces chairs and wine on the banks of the Ruaha.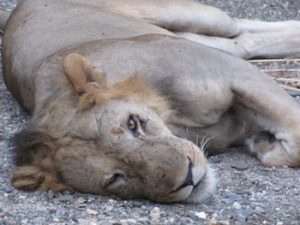 One morning we set off to find wild dogs, with a pack of 11 adults now raising 11 cubs borne by the alpha female. Nenga knows where to find their den, and we park up to watch. With no other vehicles lining up behind us, we can stay as long as we like. About a third of Africa's rare wild dogs are found here, with three packs of dogs and a pride of 17 lions roaming near Azura lodge.
The odd thing is that the lack of animals and the pristine scenery make the sightings feel more special than in smaller reserves, where you feel cheated if your guide fails to conjure up everything. The solitary warthog and the croc that submerges as soon as we see it make you feel like you're disturbing their world, not sharing it with them.
The Selous reveals the vastness of Africa, the real wilderness that has almost been wiped off the map. It covers more than 45,000 km, three times larger than the Serengeti, and its very few lodges are scattered far and wide.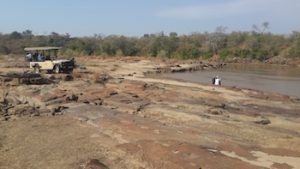 We stop for breakfast during the game drive, after Nenga bumps and cajoles the vehicle down to the river. Vast sheets of sedimentary rock cover the landscape, and at one point they've eroded to form a natural row of seats facing the water. It's nature's way of saying come and sit here quietly, slow down and take a look.
A fish eagle sits in the tree, not moving a feather. Hippos harrumph and a fish occasionally ripples the water. Nenga serves up muesli and yogurt pots, frittata and sausages, muffins and cinnamon rolls, and Amarula coffee. There's nothing happening, there's no one else around, and I feel as happy as a hippo.
Azura Selous (www.azura-retreats.com) is  250 miles from the nearest village, so it makes sense to arrive by plane. From the Tanzanian capital of Dar es Salaam it's a 45-minute hop with Coastal Airways (www.coastal.co.tz) to the Selous. Planes can't land on the untarred airstrip during rainy season, so the lodge closes for April and May!