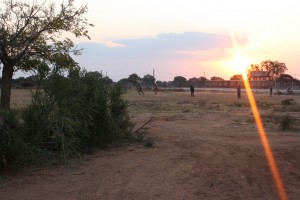 Botswana, with a population of just over 2 million people, is one of the most sparsely populated countries on the planet. If it were a person, standing next to South Africa, boasting nearly 25 times that figure, it might feel inadequate. But the fact that it is so sparsely populated, more than anything, is an undeniable charm. There are few places in the world you can be comfortable with space – a sleepy city or a long stretch of road in a densely populated country feels more unnerving than anything else. A bit too B movie for comfort.
I arrive in Botswana on a crowded bus from Johannesburg, South Africa to Gaborone, the country's capital, touching down in the middle of the night at a service station surrounded by eagerly awaiting taxi drivers. Much like my first point of entry – the service station – I soon find that the city is not something of any sort of beauty; it is in fact void of almost all charm. A capital city, and as such the largest in the country, it's one of functionality, albeit a slow staggered sort. I pass what little time I have to spend there vaguely watching out the window, making out attempts at high rises that seem to stop at the knees and roads falling away from beneath me.
Typical of a country without the wealth of a western or European powerhouse, the intercity busses are overused, under-maintained and very crowded. Before boarding you are harassed by a number of makeshift street stalls selling sweets, water and newspapers, and along the journey these hawkers come aboard intermittently to offer their wares whilst in motion. More often than not it's fried chicken, bought from one of the many fast food stalls along the roads, repackaged and sold on.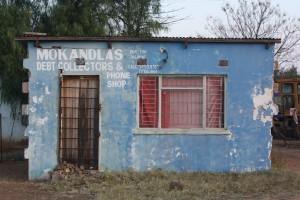 I board one and further north east, to the small town of Palapye. The road heading from the capital to Francistown, Botswana's second biggest city, cuts straight through Palapye, directly passing a Chicken Licken – another fast food chicken chain – and a mini retail park. Apart from this the town is comprised of little else; a small network of roads connect the few shops peddling everything from cut price clothes and electrical goods to household furniture and pirate DVDs. Some big stores, names I recognize from coming through South Africa, occupy the bigger spaces, but along the main road prefab stalls with hand painted signs offering services more simply set up – haircuts, butcheries, many somehow managing to offer diametrically opposed services – line up on top of each other and create a permanent air of marketplace. In comparison to the uncomfortable progress of Gaborone, Palapye has the feel of a town with a far more lethargic approach to advancing itself. In the open spaces, land flat as it is barren, cows wandering the streets and the occasional donkey cart suggests an indifferent laziness. The locals, unresponsive at the best of times, make me feel neither welcome nor threatened, seemingly entirely disinterested in my presence.
Once off the bus – thankfully as, it being winter, the travelling Botswanans on the bus with me had decided to close all windows and pull black curtains down (despite the fact it is about 70 degrees outside) – I arrive at Camp Itumela. Located on the edge of town, it's a welcoming oasis, and also the best place to eat and drink in the town, if not the whole country.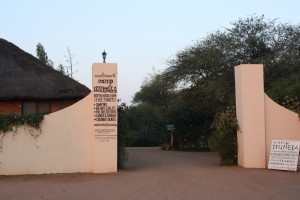 Following a day steadying myself after a solid day of travelling, I head out to a neighboring village where the roads become dusty, electricity cables become few and far between and there are more cows. With the barman from the camp as my guide, our aim, other than to explore, is to find Chibuku, or 'shake shake', as it is known. Made of a mix of sorghum wheat and corn, it's a kind of alcoholic porridge which needs to be shaken up in its blue, red and white carton before drinking (hence the name 'shake shake'). The locals drink it in vast quantities due to it being incredibly cheap, and believing the slightly false idea that it's good for you – it's sold on the idea that it's 'nutritious' – and many take this as an excuse for not eating while drinking it. The taste is somewhere between vaguely fizzy corn milk and vomit, an intensely displeasing and uncomfortable experience which is only made worse by the brew continuing to ferment in your stomach once you have finished the oversized carton.
The following day, recovered from the uncomfortable swelling caused by the Chibuku and with the sun out in its winter force – in the middle of a Botswanan winter, I still sweat prodigiously – I travel out to the Khama Rhino sanctuary. As the name implies, it's a sanctuary for rhinos primarily, but is also home to a selection of other animals including buck (deer), giraffes and zebra. There is the option of being taken around the park, and a lot of tours (often taking European and American tourists across southern Africa), do stop by this sanctuary, but luckily I'm invited along with someone who has their own car. En route from Palapye the driver tells me that he's picked up a dead goat from the side of the road and that it is currently cooking in tin foil beside the overheating engine. I nod, slightly unnerved, slightly in awe of the masculinity of cooking found meat with your car, but think it best not to ask any questions so as not to make myself look stupid.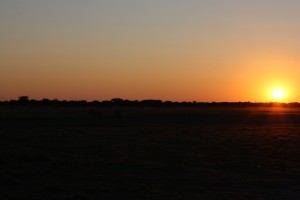 Once we arrive we spend the afternoon driving around the dirt tracks that make up the park. I'm told we're lucky to see what we do – which includes everything mentioned above, funnily enough – and stop for lunch at a designated picnic spot made up of a table. The driver brings out the meat, a long chunk of meat wrapped in tin foil as promised, and opens it to resemble something distinctly un-goat-like. Ever the gracious guest however, I say something along the lines of it smelling gamey, at which point I'm told it's actually a beef fillet, bought from a butcher – I laugh embarrassingly and try and find a place to sit without making myself look any stupider. We finish the day in vaguely romantic fashion watching the sun set over a group of feeding rhinos, before we make our way back to Palapye.
Following a few extra days of enjoying the comfortable laze of the town, where things are on slowdown for the weekdays, and come to a standstill on the weekends, I decide to move on. Further north the country truly opens up, with the natural gems of the Okavango Delta, the Chobe national park, the desert and the wildlife that inhabits them. But as an experience of small town, day to day life in country with a lethargic view on progress, it doesn't come as laid back, or as infectious as Palapye.