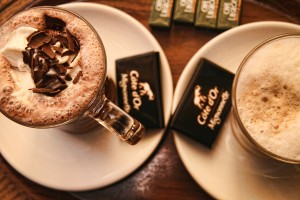 No other brew has the favourable effect that coffee has on the psyche and being. It boosts awareness and focus, recharges creativity, soothes the mind and induces a multitude of other moods and vibes. When introducing a coffee cup to your lips it offers an intense momentary bliss, defining the rhythm of the day – a secret well known to Belgium's café society.
Belgians know there is more to the brew than merely sitting at a sidewalk coffee house. Drinking good coffee is a spiritual experience which affects their intellect and perception and inspires contemplation and hospitality – an experience most fully enjoyed in a setting that enhances these aspects like coffee lounges. These are lively  gathering places for artists, intellectuals and students; a place where you could fire up a laptop, read, discuss politics or have a romantic rendezvous…which may go some way to explaining why coffee is Belgium's second highest import.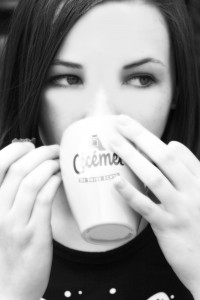 Coffee drinking should be a pleasure, for the eye as well as the taste buds. In order to make the most of the coffee aroma, it is a good idea to accompany it with something sweet – to create a contrasting flavour in the form of a biscuit, a small cake, a fine Neapolitan chocolate wafer or pure, slightly bitter dark chocolate, which perfectly accentuates the taste and aroma of coffee.  In Belgian coffee houses, you're served a little trayed quartet of coffee, cream and a special Belgian chocolate truffle – with sorely tempting Belgian waffles always at the edge of your gaze.
Yet Belgians take the consumption of coffee a step beyond and introduce it to food in countless gourmet recipes. Like salmon marinated in coffee and honey and served with new potatoes cooked in lighted salted coffee. Deserts with romantic foreign names that introduce such delicacies as espresso coffee mouse, or a slightly sweetened cold coffee spooned over Mocha ice cream balls, or coffee flavoured custard topped with a spoonful of meringue, creamy mocha ice cream in pastry cups, or my personal favourite, sponge fingers dipped in a coffee and Amaretto liqueur topped with Tiramisu cream then dusted with cocoa powder.
A glitzy coffee chain dangerously dipped its proverbial toe in the Belgian market but withdrew it quickly when they discovered they'd not only be competing against a strong local brand but also with a culture who considered coffee in a Styrofoam cup as sacrilege. They quickly departed, taking with them coffee menus offering titles like macchiato, latte, frappuccino and java chip. Thus, as history intended, the traditional Belgian coffee relics continue to keep their customers alert and purring productively in their uniquely Belgian way.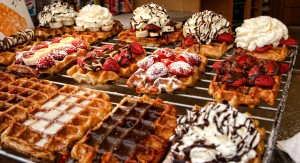 In Brussels, home to the European Union and Belgium's Royal Court, linen table cloths and white china crockery is still the norm. So too is the atmosphere which accompanies the shouted orders and the constant vocal hum of other patrons. Coffee sets everything in motion, making ideas appear more quickly and abundantly, which is exactly the ambiance in which many high level political discussions are tabled, changing the course of many nations.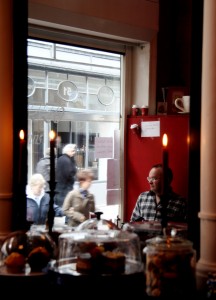 The most atmospheric Brussels coffee houses at which to enjoy a good cup, and the ever present chocolate indulgence, is Wittamer's who, together with a delicate puff pastry, offer superb Brûlot's – a coffee drink which consists of sugar, cinnamon, cloves, finely shredded lemon peel, a touch of warm cognac which is then set alight, then piping hot espresso added to it. The Royal Winsor Hotel's Waterloo Bar has a cozy atmosphere with High Tea everyday from 3pm till 5:30pm, serving finger sandwiches, pastries and little cakes including the luxurious mocha gateau which is slightly bitter yet moist and their speciality, rich Java cake.
For a day of people-watching head to the umbrellad tables of the Grand Place, which was originally built as a merchant's market in the 13th century and is now considered the most beautiful Square in all of Europe – it's a setting you don't so much look at as bathe in. There is a selection of sidewalk café's to choose from including The Aroma Coffee Lounge whose speciality is coffee served in cafetière's and La Chaloupe D'or Taverne who make the best Irish coffees – a strong espresso, with a little sugar, a shot of whisky and topped up with three tablespoons of thickly whipped double cream.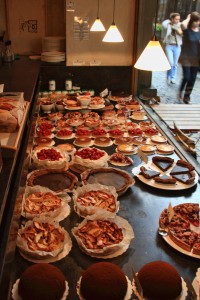 Curiosity will compel you to investigate further and try more than two Grand Place's cafes as not only will your perception of the Square change as you move around, but your coffee experience will too.
In 1896 a small coffee business opened in the port city of Antwerp – the world's largest diamond centre for more than 700 years. The owner, Franciscus Rombouts went on to become the chosen coffee brand of the Belgian Royal Court and the undisputed leader in the world's coffee filter market. It comes as no surprise to find some of Europe's best coffee houses in Antwerp.
In the trendy South district is Patine on Leopold de Waelplaats. It's an old fashioned and homely coffee house with high beamed ceilings, slate tiled floors, a chandelier made of empty wine bottles and an assortment of corkscrews suspended from the ceiling. The owners are very friendly and their home-baked fruit tarts and frothy cappuccino's are out of this world.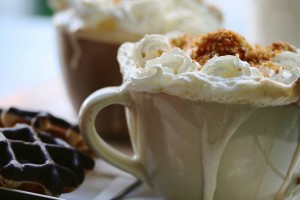 Your nose will lead you to the aromatic and laid back Caffènation in Hoplandstraat where you'll be welcomed in by the friendly staff who love to share their knowledge about coffee. Their Barista, Bert, spoke at length about the importance of the cup you're served in. "Firstly, it should be made of china and, in the case of espresso, should in addition be of good quality. The coffee infusion is poured into the cup at a temperature of 200 F, whereas the temperature inside your mouth no more than 140 F. If I pour your coffee into a high quality china cup it will disperse all the heat. In this case, you'll have to allow both the coffee and the cup to cool down, which results in the loss of the finest characteristics of the coffee – and the cream will disappear. But if you use thick china like this," he said, inclining his head at my cup, "thicker china resists the impact of the heat, enabling the coffee to be drunk at the right temperature. In the case of espresso, the shape of the cup is also very important. A tulip-shaped cup is preferable, as this allows the cream to form to its full advantage."
Bruges maintains the very highest culinary standards and has dozens of fun coffee bars and a local population famed for its love of the good-life with high levels of expectation. Many Bruges coffee houses include a free shot of banana liquor with each coffee served, claiming it brings out the flavour of the coffee. An outstanding cocktail found in Bruges is the Café Glace – a cold espresso, slightly sweetened, double thick whipped cream, crushed ice and a shot of cognac blended in a shaker and served in a wide-rimmed glass.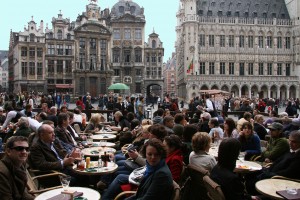 Further south, towards the Ardennes is the small town of Dinant, where Adolphe Sax, the inventor of the saxophone, was born. One of the most favoured coffee shops is the Café Leffe, which sits right beside the Cathedral of Notre Dame. From the wrap-around terrace, the views across the River Meuse are superb and offer a vantage point from which to watch the motor boats sedately cruising beneath the Charles de Gaulle Bridge, so named as he was injured there during WWI. The waffles that come with the coffee are the best in all of Belgium.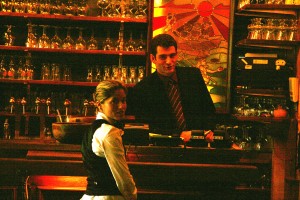 As the Parisians, Belgians spend considerable time deciding which of their most-loved cafes to visit. The choice is immense and mood-enhancing. It could include old haunts to those that have never been heard of outside the given district; even architectural design and ambiance are a matter which could affect the Belgian mindset and depends on if they want to be alone, or need company to achieve that solitude. Some find mod glass and chrome environments conducive to structured business thinking: others find peace in a coffee shop with nothing fancier other than a small garden out back.
An unmistakable signature of the Belgian culture is its coffee shops – from Brussels to Antwerp to Bruges and remote hamlets in the mountains, no town is without at least one.