Thirteen minutes. That's all it took from arriving in Barcelona to encounter one of its greatest claims to fame – the slickest pickpockets in Europe.
If you're going to hit, best get hit by a professional, I always say. And they're at their slickest and quickest on the underground trains at Barcelona Sants railway station. Barcelona treats its notoriety as a pickpocketer's playground with a zesty inverted snobbery, with the landlord of the apartment I was renting cheerfully shrugging off my story with the comment, "At least they don't kill you for your wallet here."
But the city is slacking, our tour guide Sybille Spinola cheekily moaned the next day. It's only second in the global rankings, with Prague taking pole position for pickpocketing. "We'll beat Prague next year," she joked, prompting me to instinctively clamp a protective hand over my rear end.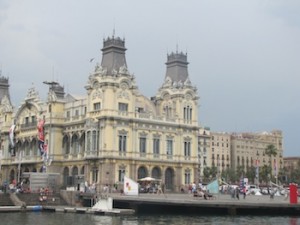 Thankfully our thief had been a decent chap, and the look of horror on my partner's face when he realized his wallet was missing was surpassed by one of gratitude when he saw the thief had extracted the cash but had the manners to drop the wallet on the train floor with all else intact. It's a dodgy start to anyone's experience of the city, but after recuperating with some vino and a tasty array of tapas – paid for by the credit card our smooth criminal had left behind – Barcelona began to work its magic.
It's a city designed for feet, and in the ancient center that's the only way to explore the narrow streets peppered with bars, boutiques, and thick-stoned churches and palaces.
I'm a huge fan of the free New Europe walking tours, and we met Spinola as she took charge of a gathering throng in Barri Gotic, the Gothic Quarter where much of the city's ancient history played out. Spinola vivaciously blended history, anecdotes and quips to bring an ancient cast of characters to life, cramming centuries of action into an amazing three hours. We heard of sieges in the city, with the inhabitants sealing themselves off in defiance of the rest of Spain until they could hold out no longer. Siege mentality is familiar territory for Barcelona, which has fought for centuries for its region of Catalonia to be declared independent from the rest of Spain. Demands for independence are flaring up again, and many buildings display the Catalonian flag to show they are Catalonian first, and Spanish by accident.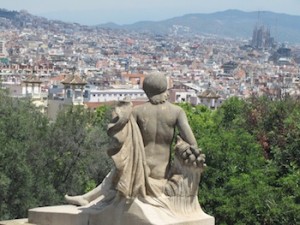 Then Spinola told us of Agatha, a young virgin killed by the Spanish Inquisition for defying its warped version of Catholicism. She had her breasts cut off as one of several punishments, and became the patron saint of breadmakers. I remembered her when the large round pastries we ate for lunch came with a definite nipple-shaped nobble in the center.
The open-topped tour bus is another great way to see the city with three criss-crossing routes. We spent a day hopping on and off, dipping in quickly and planning where to revisit later. An obvious stop is Sagrada Familia, the famous unfinished church and Antoni Gaudí's final masterpiece. It looks no nearer to completion than it did when I last saw it four years ago. It will be a shame if they ever lay the last stone, since it's really more famous for being unfinished than it is for its architecture.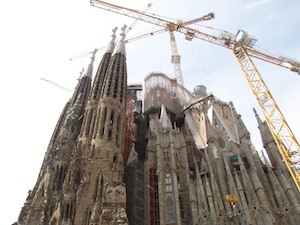 When you look at the bizarre details of birds and trees and Biblical scenes on its facades, all topped by a dripping wax effect, you have to suspect that old Gaudí was fractionally loopy by the time he was wiped out in a careless collision with a tram. The whole city is rich with Gaudí's wacky works, like his undulating Pedrera building and a giant mosaic chameleon up at Park Güell.
We broke our sightseeing for a sunny lunch on the beach by the Olympic Village, created for the 1992 Olympics. It didn't take long to remember that the departure of money and the arrival of food and drink are never equally balanced on a beach front, so we made it a frugal lunch and then strolled back around the headland in search of ice cream. Instead we found the nudist beach, pointed out to us clearly and wordlessly by a guy who was striding confidently across the sand.
Exhibitionists of a different kind hang out in in Las Ramblas, the street that intersects Barcelona from the harbor to the hub of Plaza Catalunya. One night, four street gymnasts good enough for Cirque du Soleil were performing. We arrived just as four women from the audience had been lined up for a grand finale.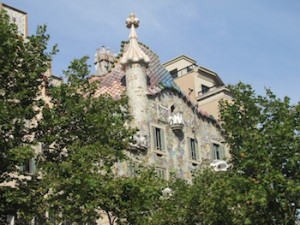 First the gang took their hats around, telling the audience they wouldn't complete the show unless we tipped them first, rather than applaud then dash away without leaving a cent. It was a fair point, and once the hats were jingling one of the crew performed something like a double twist, treble somersault right over the women. From a standing start. Astonishing! We clapped, and snuck away with the evaporating crowd.
Las Ramblas is another popular spot for pickpockets, but you get equally fleeced by the overpriced restaurants. It's far better to duck down a side street where the prices and service are both more welcoming. Diverting down an alley led us to a skinny but deceptively capacious restaurant offering paella for two for 18 Euro. It was delicious, served in a large pan in an atmospheric old room lined with dark wood and draped with sailing paraphernalia.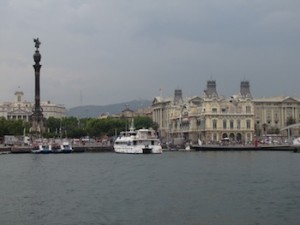 Another afternoon we strolled to the harbor and caught the 5pm jazz cruise. It's actually one man with a saxophone, and since he doubles as the barman the music is sporadic. But bobbing around on a boat in the sun, looking back at the gorgeous city with occasional blasts of music was a magical way to spend a couple of hours.
You don't need wine to be intoxicated by Barcelona. Each night as we meandered back to the apartment we were renting, the vibrant buzz of people having fun in the warm air that embraced us was enchanting.
Some evenings we strolled to the Born district where many of the locals live. One tapas bar enticed me in by looking suitably scruffy, offering unpretentious food and a great chance to practice my Spanish. Barcelonans speak Catalan rather than Spanish, but generally understand them both. Yet when I asked for a glass of wine, the waiter poured me some in a shallow porcelain bowl and also left me the entire bottle. Had he misunderstood?
No, he explained, but the bowl is traditional, and if he leaves the bottle I can drink what I like and he'll charge accordingly. Then instead of having to serve me each time I need a top-up, he can sit back peacefully and contemplate being Catalonian.