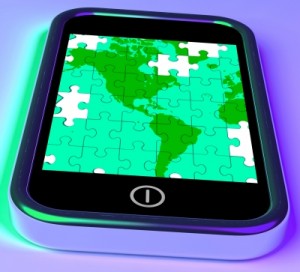 Traveling today can take all kinds of twists and turns from unexpected delays to problems with airfares. Wouldn't it be great if you had your own travel assistant who would advise you of the best way to resolve the issue and seek out helpful information for you? Well, that's exactly what a travel app can do. Once you start looking for travel apps you will find there are dozens upon dozens to look through in order to decide which one is best for you. Here's a few that are sure to help you out:
Wi-Fi Finder – Available FREE on iPhone, iPad and Android 
We all know the pain of data roaming charges and I have even found myself sitting in fast food restaurants just to get free access. Let's face it – when you are traveling, finding free Wi-Fi is a difficult thing to do, especially if you are unaware that free Wi-Fi is often much closer than you think. This app will give you directions to your nearest free Wi-Fi spot.
Fetch – Available FREE on iPhone, iPad, and iPod Touch – Requires iOS 7.0 or later.
This app is like taking your own personal assistant with you. It can assist you with the purchase of airplane tickets, hotel accommodations, and car rental reservations. It will also remember your choices for the next trip you take. It even refers real people to you who can further assist you in finding the best price for anything you want as requested via voice, email, or photo message.
Gate Guru – Available FREE on iPhone, iPad, and iPod Touch – Requires iOS 6.0 or later.

How many times have you been in a restaurant in the airport and wondered how long it will take to get from where you are seated to the departure gate? Sometimes Gate 56 is far, far away from the restaurant you are speed eating at! The folks at TripAdvisor have devised this travel app that allows you to input your travel data which then accesses their real-time database. It will then send you relevant information pertaining to your flight, including delays as well as discounted car rental in conjunction with a partner company.   
WunderWalk – Available FREE on iPhone, iPad, and iPod Touch – Requires iOS 6.0 or later.
Phew! At last you have finally reached your destination, but as you step out from your hotel you suddenly wonder where to go, It's OK, it happens to the best of us. So how are you going to know what to see and do? This app will access Google Maps and Foursquare and show you the way to go. You can download the app before you leave so you can keep the itinerary for later.
Google Translate – Available FREE on iPhone, iPad, and iPod Touch – Requires iOS 6.0 or later.
Parlez-vous anglais? Do you speak English? When visiting another country, that's the key phrase an English speaker needs to know in order to invite someone to engage in conversation. Most tourist areas do have English-speaking locals who are able to communicate – that's when this app comes in. Simply speak English into your phone's microphone and the app will repeat what you said in the desired language. Can't read a sign that's in a foreign language? Snap a picture of it and the app with translate it into your language of choice. 
Carousel (Dropbox) – Available FREE on iOS 7+ and Android 4.0+ devices
A majority of people now take photos on their phones, leaving their seemingly bulky traditional digital cameras at home. In fact, more photos are now being taken, shared and uploaded with the ease of a few clicks because of the convenience of camera phones. But when you are on vacation, what do you when you suddenly get a message on your phone stating there is no available memory space? This app will let you know when you have reached capacity and offer to back up everything onto Dropbox. It then deletes the duplicate photos from your phone, giving you the free space you need. It also has built-in safety checks so that you don't accidentally delete the perfect photo.
Most importantly, don't forget to pack your smart-phone! By using these great travel apps, you can locate Wi-Fi at your given destination, have your own personal travel assistant, find out everything you need while in the airport, translate what you speak, hear, and see, and store your photos safely online. Check out these apps – you simply need to download and install and you're all equipped for whatever journey awaits!