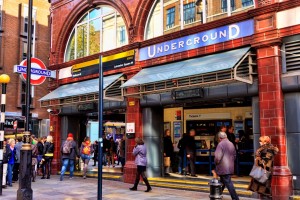 Few passengers careering between tube stations know there is an underground city beneath London.
In the 19th century, digging under-water deep-level tunnels was hazardous. Numerous attempts to cross the Thames underground had failed, with many lives lost. Today, the East London Line uses the Brunell's Thames Tunnel, being the first successful under-Thames crossing.
When steam traction was exchanged for electricity, deeper tunnels could be dug using compressed air and a large circular drilling shield, which were then lined with cast iron rings. Tunnels were speedily mined and many stations were built on each of the lines created, most of which are still in use today.
Along the entire 255 mile underground track, some forty Underground Stations have fallen into disuse. Several remain almost intact, trapped in a sooty time capsule of the era when they were closed. Aldwych, for example, is at the end of a disused railway siding, right in the heart of London; Down Street, where Churchill held several WW2 cabinet meetings; and Brompton Road which was used as a WW2 anti-aircraft command centre – military maps can still be found on their underground walls today.
During the Second World War the platform levels of St. Mary's (Whitechapel Road) were bricked up and used as an air raid shelters. Rooms were created by bricking up the platform which is still accessible via an entrance at surface level.
An innumerable amount of documents need to be studied before any development can take place as a detailed map of the tunnels and the capital's subterranean innards does not exist.
The Cut and Cover stretch of track shared by the Metropolitan & District Line between Paddington and Bayswater pre-dates electrification. The steam locomotives that served those lines needed to surface periodically to vent off steam and smoke. When riding this line, you may spot flashes of daylight as, when developing this stretch of the line, it became necessary to demolish numbers 23 and 24 Leinster Gardens – part of an up-market street of terraced houses. This demolition would have formed a break in the uniform row of homes and was met with council resistance. So it was decided to build a false facade which matched the houses on either side of the break, and use the gap behind the facade as a steam venting point. The illusion is quite effective – the painted windows and doors have a similar appearance to the surrounding buildings.
The abandoned tunnels and passageways on London's Underground network on the whole, don't lead off to secret government laboratories nor are there secret tunnels to Buckingham Palace or the Houses of Commons. Many of these tunnels are remnants of the early days of the stations.
Vauxhall Cross is a fictitious station in the James Bond film 'Die Another Day' and Broadcasting House does not have a secret platform on the Bakerloo Line for the BBC.
When the underground network was first devised and built, escalators had not yet been invented. As such, access to all the deeper stations could only be made with elevators. The invention of the passenger escalator was one of the innovations that made deep level underground stations possible. In fact, almost all the deep level stations on the Central, Piccadilly and Northern lines were originally built for access via elevator, with a spiral emergency staircase built in a secondary smaller vertical shaft. As the use of the stations increased and escalators became more widely available, most of the busy stations were converted for escalator use. This left the lift shafts and their access tunnels abandoned.
Many such lift shafts and tunnels can still be found – at Shepherd's Bush station on the Central Line, St. Paul's or South Kensignton's Piccadilly Line, for example.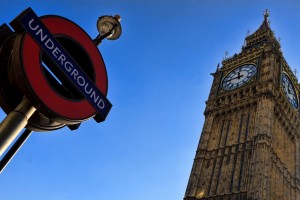 As Northern Line congestion increased in the '30s, a plan was developed to build a second tunnel that would act as an express route beneath the existing Waterloo branch of the Northern Line. These plans were shelved at the outset of WW2 and work began in 1940 on building deep level bomb shelters. Ten shelters accommodating some 8,000 bunk beds were built. However, several were re-assigned to the military, as General Eisenhower used the Goodge Street tunnel as the HQ of America's wartime operations in Europe.
During the 1930s three subterranean civil defense strongholds were installed in north London and 'the hole in the ground' was excavated under the Treasury in Westminster to provide secure space for top politicians and civil servants.
Four subterranean fortresses were built more recently beneath central London to house vital government activities in event of nuclear war; the northern section of Kingsway Tram Tunnel has been equipped as an emergency control centre should London be faced with a major disaster.
Although Tower Subway was not strictly part of the Underground System, it was the worlds' first underground railway. Constructed using the circular drilling shield, it housed a single carriage, which was cable operated and used as a shuttle service between the two banks of the Thames.
Apart from being used as an air raid shelter during the Second World War, Aldwych also stored priceless art pieces from the British Museum.
Today Aldwych is being maintained by London Underground mainly as a museum piece and film set. The ticket hall is frequently hired out for art exhibitions, book launches and private parties.
Sightings of ghosts and strange experiences have always formed part of Tube legends. It's not surprising given that the railway is nearly 150 years old and more than 255 miles long – much of it in dark tunnels and along routes that pass near or under sites that mark significant events in London's history.
There are, allegedly, passengers who appear and disappear, tales of strange reflections and reports of folk who feel they're not entirely alone, even though there is no one else in the vicinity.
A 15-strong TV crew recently looked into reports of the supernatural beneath the lively West End at Aldwych, one of London's disused stations, where it is said to be haunted by an actress from the old Royal Strand Theatre that stood above the station. In fact, my guide stated that, like me, the film crew went down as non-believers in ghosts and creepy things and again, like me, returned reformed. I was down there alone with my guide and can honestly say I've never felt more afraid in my life. I could hear whispers and I felt 'things' brushing up against me!
At Elephant and Castle Station, there have been reported sightings of a pretty girl who walks the length of the last train, only to disappear before she gets to the front.
At Covent Garden a tall man in a frock coat and a top hat has been spotted on the platform for the past 50 years. The figure is said to be actor William Terris, murdered near the Adelphi Theatre at Christmas 1897.
Before the British Museum station closed in 1933, the ghost of an ancient Egyptian, dressed in a loincloth and head-dress would appear late at night. This tale takes a stranger turn when the black and white thriller, Bulldog Jack, was made in 1935. It included a secret tunnel from the station to the Egyptian room at the Museum. But on the same night the film was released, two women disappeared from the platform at Holborn – the next station along from the British Museum. Unusual markings were later found on the walls of the closed station and more sightings of the ghost were reported.
Hat-maker Anne Naylor was murdered on Farringdon station in 1758 by her boss and his daughter. Some claim to still hear her screams on the platform.
People living close to Highgate station still claim to hear eerie sounds from an abandoned war-time cutting.
South Kensington – Their have been reported sightings of a train screeching through the station with an ear-piercing whistle, with a guard hanging off the side. Both disappeared into the tunnel, never to be seen again.