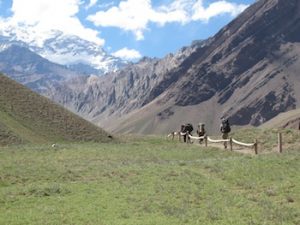 This one looks delicious, I thought as I swirled the wine around in my glass and took an indelicately large slurp.
"Ah yes, a definite aroma of diesel and a lingering taste of salami. Is that normal for a Malbec?" I wondered as I eyed its odd neon hues.
"No," my partner said, "but the sommelier did advise us not to try wine tasting on the pavement."
We couldn't resist, though. The tables outside The Vines of Mendoza looked so inviting in the warm night air. Now five of Argentina's regional specialities were neatly arranged in front of a pungent platter of cheese and smoked meat we'd ordered to soak up the alcohol. It was delicious, but even the hearty Malbecs struggled to match the flavoursome olives and chorizo.
The Vines of Mendoza wine bar and its knowledgeable young staff were a fabulous find. We had rather carelessly planned a fourteen-day trip to Argentina without going anywhere near a vineyard. Not visiting a wine farm is almost as sacrilegious as declaring yourself vegetarian in this land of beef and vine. Time, rather than unwilling tastebuds, was the problem. Argentina is a mighty big country to tour, from its long, skinny tail near the Antarctic right up to its broad shoulders that muscle out its neighbours Brazil and Chile in a macho Latin American manner at the top.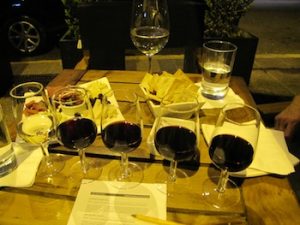 Mendoza is the heartland of its wine industry with more than one thousand vineyards in the foothills of the Andes. Reds account for 90% of the output, with white wine not taken very seriously at all. "Argentineans have a very bad concept of white wine and some say it's not wine at all," our sommelier said in his gorgeous lilting accent.
It's true – white wine is a bit sissy when you're wolfing down giant hunks of well-seared cow, or strutting around in cowboy boots and manfully leading your woman around the dance floor in a fiery tango. You can hardly do that with a delicately perfumed Sauvignon Blanc in your hand.
Vines of Mendoza offers ninety-eight wines by the glass, costing anywhere from about $3 to more than $50 each. It's a delightful place, with a selection of tasting menus and a room where you can even mix and match various blends to create a bottle of your own. I'd never pretend to know better than the local wine professionals, but the room was bustling with ambitious amateurs gleefully mixing their own blends.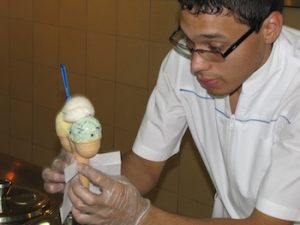 As I sampled wine number three, I started to laugh as the words 'tart and rough' jumped into my head. "I meant the wine, not the pedestrians," I giggled as three raunchy-looking girls in miniskirts tottered past. Reading the tasting notes written in 'Spanglish' grew more hilarious as the night went on. The token white in my line up was a Torrontes, another signature grape for Argentina and endearingly but nonsensically described as having "notes of trying yellow straw gilding with greenish tones."
My partner took a glug of Qaramy Finca 2005 and was flabbergasted. "Oh my, there's a lot of that going on," he said. It was so strong even the goat's cheese quivered in awe.
The notes to a Malbec De Angeles 2009 doubled me up in giggles. "Interesting personality and medium body, complex but easy drinking." That summed me up perfectly too by that stage.
Then an open-topped bus drove past with youngsters hollering and squealing from the roof. The last day of school, our Vines man explained. But Argentineans don't need an excuse to be loud and lively late at night.
Setting your internal clock to local time isn't as easy as winding your watch back. It's a country where anyone eating before 10pm is clearly a foreigner, since at that hour the locals are still deciding where to have their pre-dinner drinks.
Later we strolled past buzzing restaurants and diverted into the nearest heladería for decadent ice cream. If there's a national flavour, it has to be Dulce de Leche, made by boiling milk and sugar to a thick caramel, then serving it on top of everything. Dulce de Leche with Brownies was my favourite ice cream, but you can feel your arteries twisting as it seductively slides down your throat.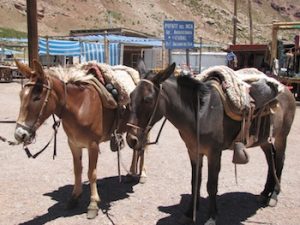 Mendoza is a lovely old colonial city where it never rains. It's kept fresh by fifty thousand trees watered purely through an irrigation system channelling water from the Andes. The channels were there long before European settlers arrived, but the city, like much of Argentina, has distinctly European architecture. Five large, open squares flanked by grandiose buildings form the town centre, and as we crossed Plaza Independencia a tango show was in full swing. About ten couples dressed in formal outfits strutted in a dance that's half fight and half seduction, while a portly singer poured his soul into songs about lost love.
The Andes provides a beautiful backdrop to Mendoza, with Mount Aconcagua imperiously looking down on the town with its white cap luring – and often claiming – mountain climbers. The next day we passed a graveyard where the bodies of climbers they've managed to recover are buried. We drove upwards through a deserted ski resort, with chairlifts suspended above hills of grass, patiently waiting for the Andes to hurl down the white stuff that often makes this truck-filled road into Chile impassable.
We stopped short of the border near a small lake at the start of the Aconcagua trail. A bitter wind ruffled my jacket like a flag, with the hood flapping so violently I could barely hear our guide. Walking up to the lake propelled by the wind was a doddle, but walking back facing what was merely a minor breeze by Andean standards left me breathless. We said good luck to three climbers that passed us, kitted out for a major exploration. A small article in the paper two days later reported one dead, one injured and one missing climber.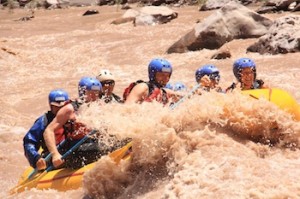 The next day we rafted down River Mendoza, its water as caramel brown as Dulce de Leche ice cream. The magnificent scenery was stark and barren, and proved a striking contrast to the elegant green streets.
Wine tasting on the pavement wasn't the most magnificent part of my Argentinean journey – the mighty Iguazu Falls wins that award. But sitting in delightful Mendoza absorbing the exuberant street life is the perfect snapshot that lingers long after the taste has faded.