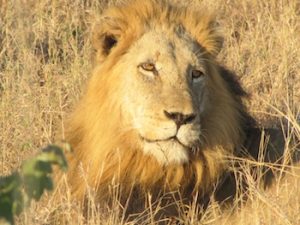 If you're a solo traveller, you'll have noticed how the world tends to revolve around couples.
You'll probably be hit by single room supplements unless you're happy to stay in a hostel dormitory, and may feel rather lonely having dinner for one in restaurants full of happy friends and lovers.
And then when you see a brilliant sight, there's no one to share it with except distant acquaintances on social media.
That's why I haven't been on a safari for a while, even though I live only four hours from the Kruger National Park, Africa's Big Five game viewing hotspot. Now I've discovered Ezulwini and nThambo Tree Camp, two lodges that make solo safaris anything but lonely. Both are run by young and friendly staff, offer ample luxury without the least bit of snootiness, and communal dining that creates instant camaraderie as guests of all nationalities swap their stories. Better still, nTambo doesn't charge a single room supplement.
Both lodges are in private reserves that have unfenced borders with the Kruger, and since their dirt roads are less traveled than those in the Kruger itself, the animals often prefer these more secluded corners.
The enjoyment begins long before you arrive, with a daily minibus shuttle running from Johannesburg's OR Tambo airport right to the edge of safari territory, so you can get there without hiring a car.
The Ashtons Tours bus is a brilliant service, with a driver who points out sights along the way and two refreshments breaks en route. The daily shuttle from the OR Tambo airport runs to drop-off points that serve several lodges in the area. My fellow passengers included an American air stewardess making her 17th trip to South Africa, a German student working at a game reserve, and a local grandmother going to visit family in the country town of Hoedspruit.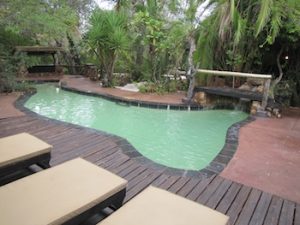 The game lodges are used to picking up passengers from the drop off points, and Ezulwini's ranger Frans Letebele soon whisked me off in a Land Rover and had me spotting wildlife even before I checked in.
Ezulwini is run by lively Lauren Saad, one of the first women in South Africa to qualify as a ranger. She's aiming to offer the same quality as the Kruger's more upmarket lodges, but at half the price.
Frans and his tracker Conrad Khoza are two Shangaan tribesmen with the bush in their blood. They track down some great sightings, with hippos giving us a wary eye when we climb out of the vehicle to walk down to a river. Later a herd of buffalo surrounds our vehicle, but keeps a friendly distance, then elephants amble by so close that you could reach out and pat them.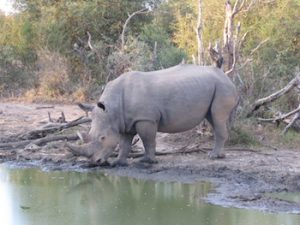 Between the dawn and sunset game drives, you can spend the afternoon by the secluded pool or stroll along an impressive wooden skywalk to a lovely lounge at tree level overlooking a waterhole.
Long wooden pathways keep the six rooms nicely isolated. "I don't want to lose the bush feel," Lauren says. "You must feel like you are still part of the bush, not in a luxurious bubble, because there is nothing more magical than what's out there."
Some evenings she takes her guests down to a wine cellar built into a rock face and tells stories about the camp by flickering lamplight. A barbeque around the campfire follows, with the staff forming a lively choir to welcome you with African songs. Other meals are served on the wooden deck, with a choice of menu for dinner. The mussel pot, chicken schnitzel and trifle was a great combination.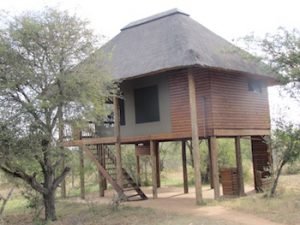 Two days later I'm transferred to nThambo, another camp where single travellers are made to feel right at home. There's a lounge with an honesty bar, a little pool on a deck, and delightful bedrooms made of wood and canvas perched on stilts high above the bush. They have balconies looking over the plains and en suite bathrooms, so you don't need to worry about what's below if nature calls in the middle of the night.
The biggest attractions at nThambo are tracker Isaack Nkuna and guides Matt Roberts and Luan Oosthuizen, who tell fabulous stories rather than relate facts and figures. They're brilliant at finding the animals, and we saw the incredible sights of a leopard shinning up a tree and a trio of fully-maned lions. After the morning game drive you can join a bush walk to discover the smaller side of nature.
One afternoon we had just set off on a game drive when we were summoned back because a cheetah had killed an impala right between guest rooms three and four. Matt accelerated into a 'Ferrari Safari' and got us back in time to see the cheetah still licking its lips, before it began dragging the carcass into the bushes to feast in private.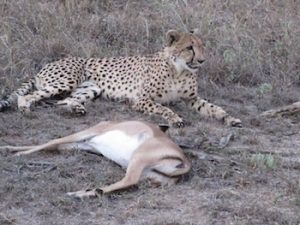 I was suddenly very glad that my bedroom was safely up on a stilted platform, and even more grateful some time after midnight. I lay awake listening the roar of a lion and the shifts of a leopard so close that I could hear its heavy breathing.
No matter what you might think, you're never really alone out in the African bush.