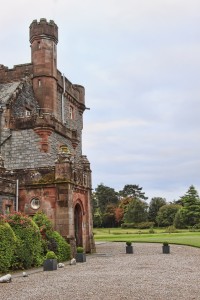 Just a short drive from Oban, on Scotland's west coast, is the quiet Isle of Eriska. Set against a backdrop of mountains, ocean mist and Scottish landscapes there is a certain mystique about it. Rattling over an old wooden bridge you immediately enter a concealed whisper-quiet world of lavender, purple rhododendrons and wildflowers. Round a bend in the road and there she is, the Grande Dame herself, the five-star Eriska Hotel – a Victorian Manor House set in swathes of manicured lawns and edged with 350-acres of ancient forest.
The very stately 25-roomed Manor, set on its own private island (built just five years after Thomas Edison invented the light bulb), is a genteel affair. From the remote picturesque location, the tranquil surroundings and the awe-inspiring Manor with its tall stained glass windows and meticulously cared-for grounds, everything is perfect.
In today's world it's a real treat to take time to sit beside a roaring fireplace and read a book or enjoy an exquisite afternoon tea of moist sandwiches, warm scones, strawberry tarts and chocolate raspberry slices. Later walk it off around the picturesque Loch Creran and watch the fishing boats. On route (passing an indoor sports centre and spa treatments chalet) you may well come across wild deer and badgers roaming the island. Although the scenery will dominate keep an eye out for the chef collecting watercress and herbs from his natural larder (near the golf course).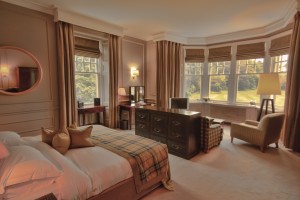 The corner location of my spacious double-deluxe room on the first floor provided great vistas across the estate. It is luxurious, beautifully furnished and has every amenity imaginable.
Dining in their Michelin starred restaurant is an experience unto itself as the food is exceptional. Chef Ross Stovold has a fresh approach to food, creating a fusion of classic and modern with foraged supplies from the seashore. He's inspired by the land and what the season brings to the plate and captures the flavour and taste of the region, making great use of local produce, ensuring a superb dining experience.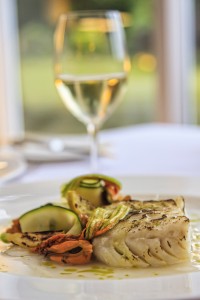 The timeless quality of the Eriska Hotel is unrivalled; in fact I'd go as far as saying it's the best hotel I've stayed at in the UK.
Self-catering option: For a multi-generational getaway requiring greater privacy and flexibility, rent the self-catering cottage – Arnott's House. It comes with three large ensuite bedrooms (one downstairs), a large well equipped kitchen, a comfortable sitting room and enormous conservatory – you won't be lacking for space. The cottage is a short walk from the Manor and its facilities but may as well be a million miles away as the only creatures that could disturb you are the local deer that pop over in the evening to graze.
The Eriska Hotel, owner managed by Beppo Buchanan-Smith, is closed each January for four weeks. Room rates start at £333, half board. The self-catering cottage weekly rate starts at £1,500. (eriska-hotel.co.uk).
For more information about holidaying in Scotland, see visitscotland.com.