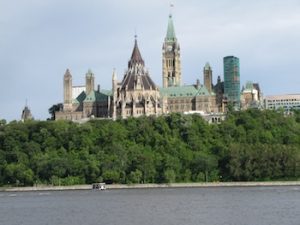 After visiting Canada's party city of Montreal and its astonishingly beautiful neighbor, old Quebec, I was expecting to find Ottawa a little dull.
I imagined the capital city to be dour and intellectual – a place with museums on every corner where you nod wisely at the artworks and debate politics over lunch.
It has museums and politicians aplenty, but I liked it immensely the instant I stepped off the bus in the city center. I loved its look, feel and friendliness, with grandiose historic buildings, gorgeous fountains and eclectic street sculptures. It's an invigorating mix of pretty yet playful, functional yet funky. Everyone seems particularly happy too – even the few beggars asking for change do it politely.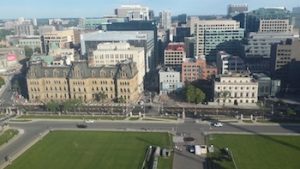 The one thing you can't like unless you're a snowman is the weather, even though I arrived in spring in a vain effort to dodge the cold winter and beat the summer tourists.
On my first evening I joined a Haunted Walk where the most spine-tingling part was the bitter cold. Ottawa seems amazingly law-abiding, where crime is minimal and a murder would be the story of the decade. Which is brilliant until you're on ghost walk, which tend to rely on dastardly deeds and ghoulish murders. In crime-free Ottawa, the best our ghost walk guide can do is point out the canal where workers died of 'swamp fever' when the city was first built in 1826. We shiver anyway, as the icy winter wind takes another chilling grasp.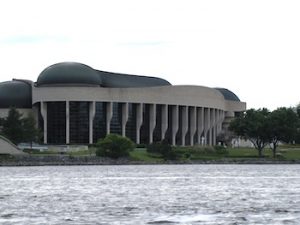 The next day I defy the cold by catching the open-topped tour bus, to bask in glorious views of the Houses of Parliament under green copper roofs and the Ottawa River snaking past. Some tourists block the pavement in front of Parliament to take selfies, and a posse of imposing dark-suited heavies neatly swings around them without breaking their stride or their conversation. The moment sums up Ottawa, a hardworking capital that also looks a million dollars.
I jump off the bus at the Canadian Museum of History, full of totem poles and intriguing artifacts from the First Nation people. There's a fascinating section about a gold rush and the brutal conflict between the natives and the miners. When I weigh myself to find out what I'm worth in gold I clock in at Ca$2,675,049.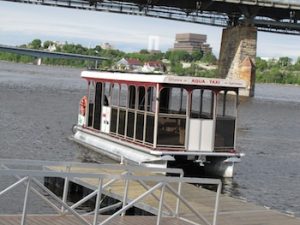 Since I'm worth so much I reckon I can afford a taxi back to the city center across the Ottawa River. So I summon a taxi, but this is no ordinary cab. In fact I feel a little cheeky pressing an intercom on a jetty and watching a taxi-boat chug back across the river to collect this solitary passenger.
Taxi driver Jean-Marc Henot is delightful company, telling me how he works during the wicked winters as long as there are passengers to carry, until ice gradually makes the river impassable.
The view from the boat is brilliant, and I take endless photos of Parliament Hill and other historic buildings in the skyline above the riverbank.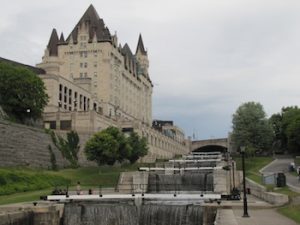 When I jump off at Rideau Canal I see some locals wearing t-shirts while I'm muffled up with a scarf, sweater and an anorak. When you live in temperatures that can plunge to -10°C (14 ºF) anything above freezing point must feel balmy.
Rideau Canal becomes the world's largest ice rink every winter when a stretch measuring 7.8km (4,8 miles) freezes over. Some people commute to work on ice skates, and I picture that parliamentary posse swooping along in dramatic trench coats and inscrutable sunspecs.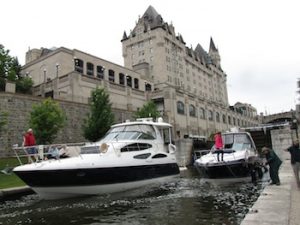 The canal is also a Unesco World Heritage Site with eight manually operated locks to lower boats through the city into Ottawa River. It was the first part of the city to be built when troops led by Britain's Colonel John By settled here, and being a self-possessed Brit, he naturally called the place Bytown. Today the ByWard Market that he also founded is a district of pubs, restaurants, boutiques and an open-air market, with wide streets that once allowed horse-drawn carriages to deliver produce to the traders.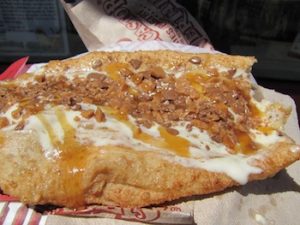 I stop for supper in the Aulde Dubliner pub, where the waitress recommends a hearty shepherd's pie. The food in Canada seems universally good, whether it's pub grub, an ordinary restaurant or a ready meal in the supermarket. The only things I can't stomach are BeaverTails, sold from a brightly painted market stall. These large slices of fried pastry come blathered in sugar, maple syrup, cream, chocolate and butter, turning your fingers, your face and your innards into a real sticky mess. They're hailed as a traditional dish but they obviously don't rely on repeat business.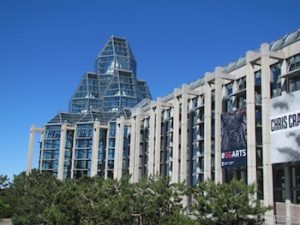 I wipe the gunk off my fingers and head over the road to the excellent National Gallery, where I manage to spend three hours despite not being very arty. Admittedly the last 20 minutes are because I'm lost, but at least that leads me to a room of naughty erotic etchings by Picasso.
Almost next door is the Royal Mint, where the witty guide remains good-natured despite two kids trying to hijack the show by outdoing each other with endless questions. The mint only produces special coins, not ordinary currency, and the guide boasts about its eternal fight for supremacy over the Australian Mint in terms of purity and design skills. He's so inspiring with his information and anecdotes that we all feel proud to be Canadians – until I remember that I'm not. Still, any country that issues commemorative coins starring Batman and Superman gets my vote.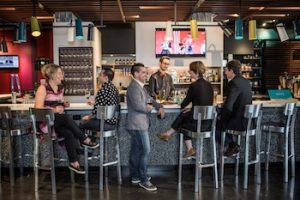 Ottawa's main attractions are within walking distance of the center, so the Alt Hotel makes a perfect base for business or leisure. Breakfast is eaten around a bar that at night becomes a comfortable place to wine and dine even if you're traveling solo.
One morning I set out early to queue for a free ticket to tour Parliament. It's one of the most popular attractions, possibly because everyone hopes to bump into the gorgeous Prime Minister Justin Trudeau. The main building feels like a church inside, with high arched ceilings and stained glass windows, before you finish in the 100m tall Peace Tower for great panoramic views.
A new flag is raised on the tower every day and the used flag is sent to a citizen whose name is on a waiting list. Perhaps you can judge how much Canadians love their country by the waiting list, which is 57 years long.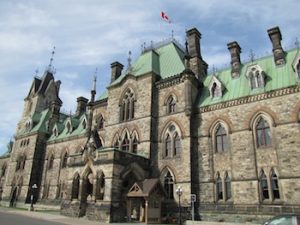 Back outside the pavement cafes have sprung into life at a hint of sunshine, and I order rose wine to match the merry mood. I quiz the waiter about the weather and he boasts about going to work one morning and knocking off later to find half a meter of snow to contend with.
I can't imagine how the city or the people keep functioning in such conditions. I draw my scarf tighter and head for the warmth inside. Perhaps that's what everyone else does too.
Ottawa Tourism has an excellent website at www.ottawatourism.ca for events, attractions and accommodation.
The Alt Hotel, 185 Slater Street. Toll-free reservations: +1844-258-6882 or www.althotels.com/en/ottawa/