If you come away from Venice thinking, "It's too crowded and it smells," you're doing it wrong. Sure, the labyrinthine city's glory days are long gone, and many of the palazzos along the Grand Canal have been converted to restaurants or left to rot, their first floors already reclaimed by the sea, but the city is more than just a shadow of its former self. There's a reason, after all, that the tourists still flock and that the honeymooners (like my husband and I), will fork over a hefty sum for a glimpse of history that comes only from the crimson velvet seat of a gondola at sunset.
So how do you get away from the crowds in Saint Mark's Square and their selfie sticks to discover the side of Venice that lies beyond the day-trippers? The answer, of course, is to get off the beaten path. And to stay overnight.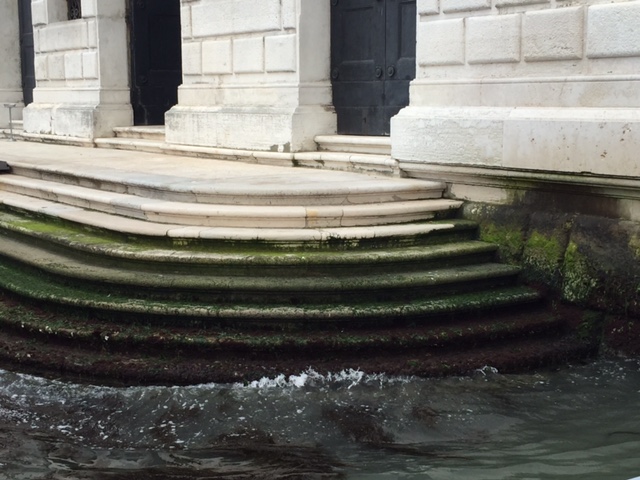 What to See
Instead of the Doge's Palace or the Basilica San Marco, set your course for two lesser known museums: the Peggy Guggenheim and the Palazzo Mocenigo. The former sits in Palazzo Venier dei Leoni on the Grand Canal, in what was once Peggy Guggenheim's home. It houses, amongst other things, her personal collection and included works from some of the most renowned 20th-century artists; these range from Picasso to Pollock. Open daily from 10 a.m. – 6 p.m., except on each Tuesday as well as Christmas Day, the museum provides an intimate yet somehow expansive space in which to contemplate Venice's more recent history.
To travel further back in time, visit the Palazzo Mocenigo. You'd be forgiven for walking right past this museum as its façade does little to advertise the treasures inside, but it contains an impressive collection of costumes and textiles; these are all displayed against the back drop of 18th-century Venetian splendor. Although Gothic in origin the palazzo underwent extensive rebuilding in the 17th-century and housed the San Stae branch of the Mocenigo family, which produced a total of seven doges between 1414 and 1778. Unlike the Doge's Palace however, the Palazzo Mocenigo offers a more intimate glimpse into everyday Venetian life (if, of course, "everyday" life included ornate ceiling frescoes and engraved gilded cornices).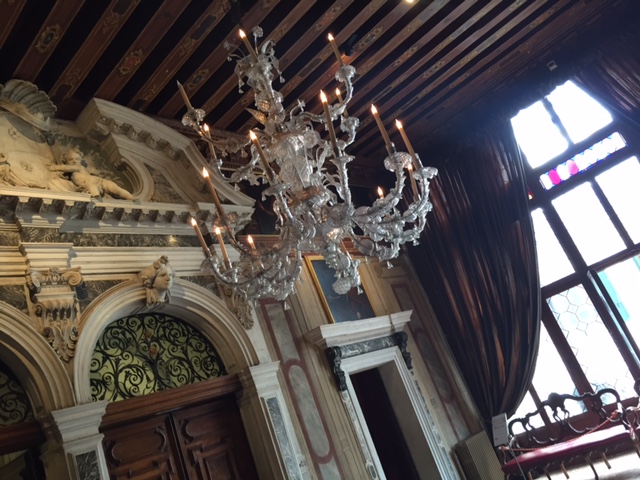 The textile collection, with its nod to the Venetian traditional of Carnival, will fascinate historic costume buffs, while the rooms dedicated to perfume production comprise an olfactory feast for the senses. During the high season, the museum is open from 10-5 except for Monday, when the museum is closed. The purchase of an optional €24 Museum Pass will grant access to nearly a dozen additional museums, valid for a six month period.
Where to Eat
Being honeymooners, my husband and I treated ourselves to a meal alongside the Grand Canal for our first night in Venice. After paying extra for seating with a view which is common practice in Venice, we enjoyed a fantastic meal of octopus and, naturally, pasta.
A far more memorable dinner, however, was the one we ate the following day at the southern foot of the Ponte de Gheto Novo, which leads to Venice's historic Jewish Ghetto, the first neighborhood in Europe to bear such a name.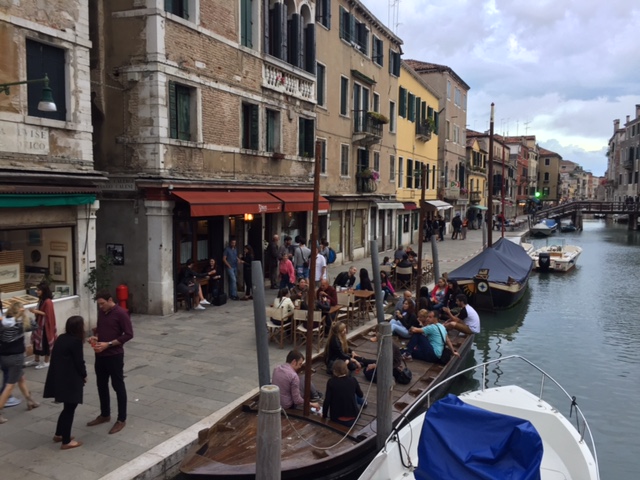 The ghetto was instituted in 1516 and restrictions and curfews remained in effect until the army of Napoleon Bonaparte conquered Venice, and dissolved the Republic in 1797. However it remains the center of Jewish life and culture, with synagogues, a Jewish community center and even art galleries dedicated to the work of Jewish artists.
Because so few tourists bother to trek this far north you're far more likely to find locals sipping Aperol Spritz, the fizzy bright orange-colored cocktail especially popular during happy hour, than ugly Americans demanding ice in their water. Some bars will even let you grab a drink and take it outside, where you can enjoy it on the deck of a boat docked in the canal across the street. Keep an ear out for live music as well; In this seemingly undiscovered part of Venice, you'll experience local life without the patina of tourism dollars.
Where to Stay
To me, the best part of any trip to Venice is getting lost. All roads lead to Rome (or in this case, Saint Mark's Square) so it's easy to find your bearings eventually if you're not on a tight schedule. Spend some time wandering aimlessly, and whenever you need a break, pop into a café for a cappuccino, treat yourself to a massive gelato or grab a quick pizza margherita to keep your strength up. Bear in mind that there's usually an extra charge for "eating in" (as opposed to purchasing take out) but when the people watching is as good as it is in Venice, it's worth the price.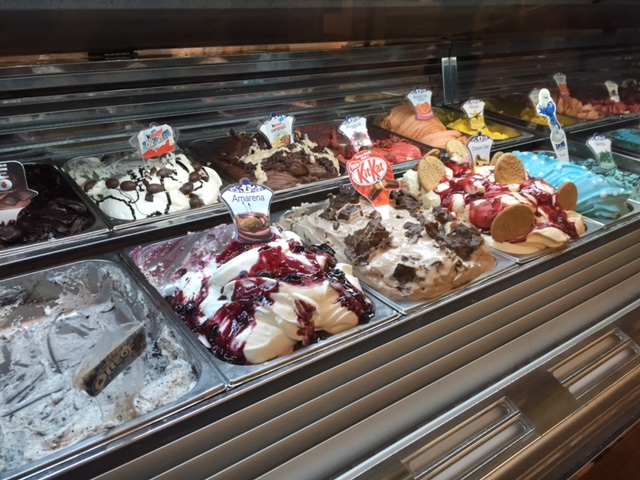 For a truly stress-free experience, stay overnight. During our honeymoon, my husband and I stayed at a great AirBnB, just a short walk from the train station. This allowed us to hit a museum or two in the morning, then head back to our accommodations for an afternoon nap. It also allowed the day-trippers time to return to their cruise ships, and the souvenir peddlers a chance to close up shop. Without such distractions, you'll be able to experience the magic of Venice first hand.
Spring for a gondola ride if you can (we lucked out by scoring the day time rate just as the sun was beginning the set) or get up early to grab yourself a chocolate croissant before they're all gone for the day. Either way, you'll have Venice all to yourself and if you're lucky, you might just forget that you're living in the 21st century.