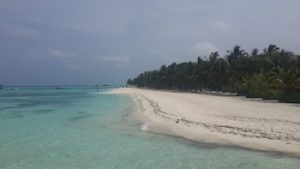 On most tiny tropical islands the activities for the day are pleasingly predictable: snorkeling, diving, a spot of swimming and cocktails served in coconut shells.
If that's all you require, the non-stop action at Club Med Kani in the Maldives can feel rather disconcerting.
I was dubious about the enforced jollity of zumba classes, aqua-aerobics, sunset yoga, cookery lessons, a stage show every evening, and even a disco until the early morning hours. But on the second day, I found myself checking the notice board to see what was on the agenda – and not just so I could avoid it.
Club Med used to run notorious party resorts for the young and wild, but the company has spent the past decade preening its image to move upmarket. Its once free and single customers now have kids in tow, so the focus has switched to affluent families and active couples.
The Kani resort in Malé Atoll has relaunched, after a revamp and also the addition of a children's activity centre. Yet even as a solo, kid-free older client who's cynical about rah-rah entertainment on an island, I had a fabulous time.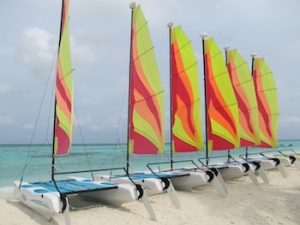 You can't not love the Maldives if you're at all keen on the ocean. Its 26 ring-shaped atolls are made up of more than 1,000 coral islands with gorgeous beaches and blue lagoons. They sit in the most amazing turquoise waters so clear you can see the bottom, and swim for hours in the lukewarm waves.
I was out snorkeling as soon as I'd dumped my bags, joining one of the free twice-daily boat excursions. I saw a turtle and lots of colorful fish, although the coral has been bleached in many areas as global warming turns the Indian Ocean up too high.
I tried paddle boarding too, despite my appalling lack of balance. The instructor showed me what to do, and tied my leg to the board so I wouldn't lose it for him. After a wobbly start, I stood up and started paddling out to investigate a darker patch where deeper waters lie. I was so enamored with my newfound skill that a speedboat eventually whizzed out to catch me and ask me to stay closer to the shore.
Braver souls can try flyboarding, an amazing hoverboard contraption propelled by water jets so powerful you can rise up to 15m (approx. 49 ft) above the sea. Two Rasta brothers run the operation, spending their days performing somersaults and swoops high above the water. One evening, the brothers even performed acrobatics in the dark as everyone enjoyed a gourmet dinner on the beach thanks to jazzy lights on a wetsuit.  A suckling pig was the buffet's centerpiece, with food stations stretching along the shore so nobody had to do anything as down-market as join a queue.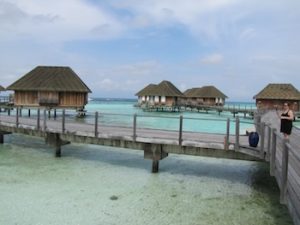 Kani is staffed by a constantly cheerful crew of GOs – great organizers – who make sure the GMs – great members – are having fun. The delightfully polyglot gang comes from more than 20 countries, with Dany, a professionally charming Haitian in charge of watersports, Lorenzo the snorkeling maestro from Mauritius, a South African yoga teacher, and chefs from Japan, China, India, Italy and France manning different food stations in the Velhi restaurant. The food was always delicious, and if you tire of buffets you can order à la carte in a restaurant by the beach.
When you want solitude, the long, fine, sandy beaches have plenty of space; each beach bedroom has a patio and a personal strip of sand. At one end of the island are more posh villas, raised on stilts above the water and  include a clubhouse that serves Champagne every evening.
Club Med offers constant food and drink for an all-inclusive price, and most activities are also free. Sometimes they're a little short – a 30-minute yoga session isn't long enough to get your ohmm on, and 45 minutes of snorkeling in a chaperoned group just leaves you wanting more.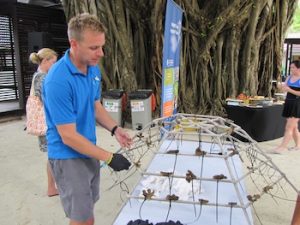 Sadly, global warming has damaged more than 90% of the coral in the past year leaving it bleached and broken in the beautifully clear but lethally over-warm water.
Marine biologists from SeaMarc are working to repair the damage with an innovative method of coral propagation, and Club Med has invited them to work at its Kani resort, getting the guests involved. I watched marine biologists Stephen Bergacker and Sebastian Stradal arrive with a bucket containing short pieces of live coral gathered only a few minutes earlier from a healthy reef. They then showed us how to attach the living coral to a dome-shaped metal frame using cable ties. When the frame was covered, Bergacker picked it up, walked along a jetty and dropped it into the ocean. As it settled, I saw several other frames already on the ocean floor a meter or so beneath the surface.
Actually, there are 5,000 of these coral incubation domes scattered around the Maldives, with more being added every day. For two weeks, the coral is too traumatized from being broken off and relocated to do anything except recover. Then it begins to grow, and after two years the frames are no longer visible beneath the vivid colors of new growth, attracting fish and other marine life back to areas that global warming has decimated.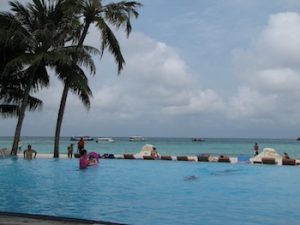 The island is 35 minutes from the small and fabulously efficient Malé International Airport, where the main entrance is across the road to the jetty. Tourists are met by a fleet of boats rather than a fleet of taxis, which instantly makes a holiday feel quite magical.
The only non-watersport excursion from Kani is a tour of Malé, which is one of the smallest capitals in the world. Other than that you tend to stay in the resort, which is why Club Med works so hard to keep its customers entertained and coming back for more.
Parents can safely leave their kids for all-day water sports, arts and crafts, and beach games. Older kids hang out playing soccer, volleyball, kayaking and dancing; there is also a gym and an excellent spa for adults.
My 80-minute massage by a Balinese therapist started and ended with ginger tea, and was punctuated by exuberant birdsong. I walked back past the swimming pool just as the zumba dancers started. If I hadn't been so snoozy from the massage, I swear I would have joined them.
* For further details, see: https://www.clubmed.co.za/d/Indian-Ocean/Maldives